Sales Have Ended
Registrations are closed
Thank you for reserving your seat. We will follow up with more information prior to the event.
Sales Have Ended
Registrations are closed
Thank you for reserving your seat. We will follow up with more information prior to the event.
Description
The Spring 2019 Gemstone Roundtable is Here!
Most people only see gemstones after they've been set. The Gemstone Roundtable gives you the opportunity to see stones through the eyes of a jeweler.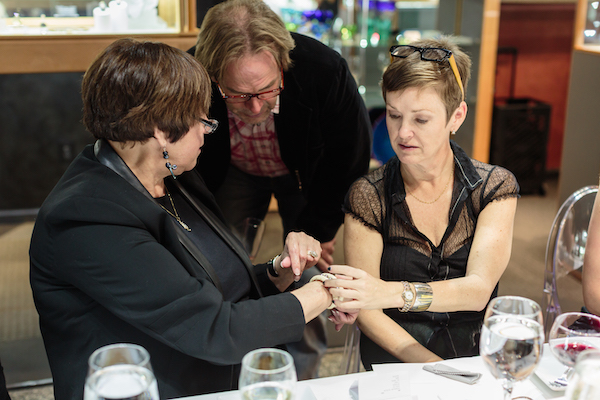 Learn about and hold loose, pre-cut gems of all kinds, shapes, sizes, and colors. You'll sit with gemstone expert, James Alger, and award-winning jewelry designer, llyn strong, for an exclusive and memorable night out.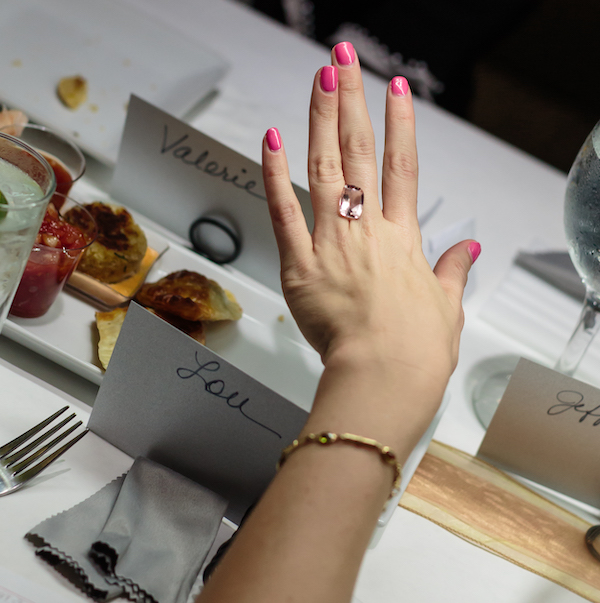 James will present, describe, and pass out exquisite gemstones for you to review. You'll be able to discover what stones suit your personal style and envision what each stone might look like in a piece of your own design. Remember to ask llyn for a sketch of the piece you're envisioning!
Admission is free and dinner + drinks are complementary. Seating is limited. A reservation is required.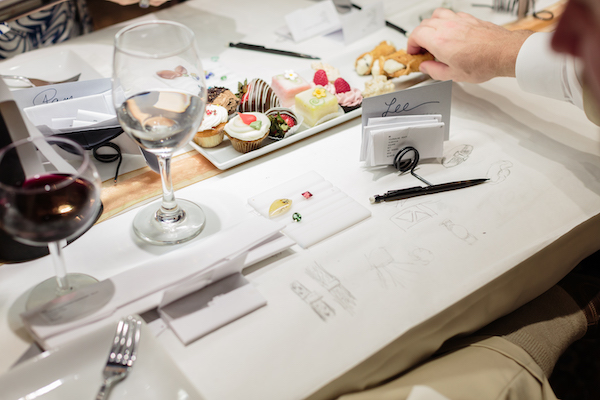 Frequently Asked Questions
Is the setting and/or custom jewelry design included in the price of the stone?
No, the price on the gemstone is for the stone itself and does not include custom work or setting.
Can I drop in?
No; the Gemstone Roundtable is a sit-down dinner requiring a 3-hour time commitment.
What type of food and beverages are served?
The event is fully catered by Reeves Catering, offering heavy hors-d'oeuvres, dessert, wines, champagne, and cocktails.

What types of stones will be at this event?
A wide range of high-quality colored gemstones cut and/or carved by some of the best lapidary artists in the world.
Will I be able to purchase loose stones at the Gemstone Roundtable?
Yes, all of the gemstones in this event will be available for purchase.

How much do the stones presented at this event cost?
We show a wide range of gemstones ranging in value between about $200 and $100,000.
Am I able to make a request to see a specific type of gemstone?
Yes! Our dealers have a huge inventory of stones but are only able to travel with a portion, so please let us know when you make your reservation if there is a certain stone you'd like to see.
Will I be able to view loose diamonds at this event?
Yes, though the majority of the stones will be colored gemstones, we will also be showing some loose diamonds and diamond strands at the Gemstone Roundtable as well.
I made a reservation but am no longer able to attend the event. What do I do?
Please contact us via phone 864.233.5900 or email info@llynstrong.com to cancel your reservation as soon as possible. Since this is a catered sit-down dinner and there is often a wait list as seats fill, we appreciate as much notice as possible if you are no longer able to join us.