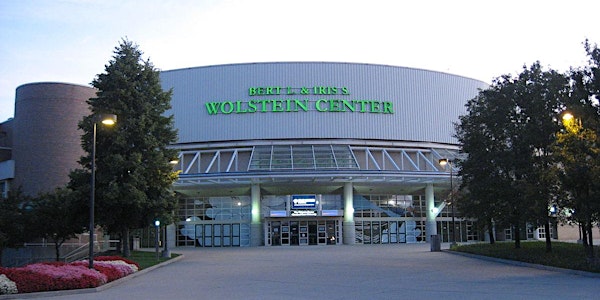 Spring 2018 Annual Reading Conference-Partnering for Literacy Success
Event Information
Location
The Wolstein Center Conference Pavilion at Cleveland State University
2000 Prospect Avenue
Cleveland, OH 44115
Refund policy
Refunds up to 1 day before event
Description
Get registered for an upcoming event
you won't want to miss...
The 2018 KSU/UA/YSU/CSU & OCIRA
Spring Annual Reading Conference!!!
This year's Annual Reading Conference Theme is

Partnering for Literacy Success!

The conference will offer 5 Keynote Presentations throughout the day as well as approximately 30 breakout sessions to engage in.

We will also feature CSU signature partnership initiatives including our new Campus International Buildings and our Cleveland Teaching Fellows.

Parking will be available in the South Garage at Cleveland State University and tickets will be validated at the conference check-in table.

The following link provides the CSU Campus map:

Register early as seating is limited!!!
******************************************************************************************
We are delighted to host the following Keynote Speakers at our upcoming Spring Conference:
Cathy Collier, Michelle Houts, Stacy Hughes,
Robin Echels Cooper & Kevin Cordi
Cathy Collier (ILA Board Member)
Catherine Collier has worked in education for the last 28 years but has been a teacher practically since she was born. She forced her brother and sister to play school and loved getting a new box of carbon papers to make two worksheets at once. She has spent her 28 "official" years in education as a teacher of students with disabilities, a third-grade teacher, a kindergarten teacher (her favorite) and, currently, as a reading specialist. She spends as much time as she can wrangle in kindergarten classrooms and working with Early Emergent and Emergent Readers. She has spoken at conferences and workshops about early learners. She also maintains her own blog and collaborates on two other blogs about early literacy.
Michelle Houts (Children's Author)
Michelle Houts is the award-winning author of several middle-grade novels, picture books, and biographies for young readers including Winterfrost, a 2014 Bank Street Best Book and Junior Library Guild selection, and The Beef Princess of Practical County, which was awarded the 2010 IRA Children's Book Award. She was raised in Central Ohio.
Stacy Hughes (National Geographic)
K-8 Sales Consultant at National Geographic Learning -Building lasting relationships with school districts by helping them with product implementation and success throughout the adoption. I want your students to be engaged with our amazing content! If you engage the student, the learning is never ending!
Robin Echels Cooper (local storyteller/consultant)
Robin is a storyteller, performing and visual artist. Robin grew up on a small farm in Chardon, Ohio she enjoyed listening to songs and wonderful stories. She has been writing and sharing stories all her life. Robin received her Bachelor of Arts degree in Communications with minors in art and theater from Ohio State University in Columbus, Ohio. She has been telling stories professionally since 1992. Ms. Echols Cooper's unique style takes you on an animated journey as she weaves tales from around the world. Her family stories bring you home. She has performed in a wide variety of venues. She presents creative specialized workshops in the art of storytelling.
Kevin Cordi (national storyteller/consultant)
Kevin Cordi is an American teacher, storyteller and author who has been awarded The Film Advisory Board of Excellence Award and The Storytelling World Award. He is a regular performer at storytelling festivals including the National Storytelling Festival. Cordi started the Youth Special Interest Group for the National Storytelling Network and founded the Voices Across America Youth Storytelling Project. Cordi also wrote the book "Playing with Stories: Story crafting for storytellers, writers, teachers and other imaginative thinkers" in 2014. He is the founder of the international StoryBox Project. Since 1995, he actively sends StoryBoxes loading with stories all over the world and they travel from place to place collecting more stories. This project has been mirrored all over the country and the world. He served as the Co-director for the Columbus Area Writing Project at the Ohio State University. He is currently teaching at Ohio Northern University in Ada, Ohio. He was commissioned as the first Academic Storyteller in Residence for The Ohio State University. He used stories and narrative understanding to build programs for equity and social justice
On Conference Day, selected books from our wonderful Key Note Speakers will be available for sale at the Conference Event through the CSU Bookstore.
Additionally, authors will be available for Book Signing following the afternoon session.
If you have questions about this event please email to:
LiteracyEducation@csuohio.edu
We look forward to seeing you on Conference Day!

The Literacy Education Faculty at CSU
&
The Ohio Council of the International Reading Association (OCIRA)
Register for the Conference TODAY!!
****************************************
Conference Day Schedule
8-8:30
Registration & Breakfast
8:30-9:15
Welcome & Morning Keynote Presentation
9:30-10:30
Break Out Session #1
10:30-10:45
Vendor Exhibits & Transition Break
10:45-11:45
Break Out Session #2
12:00-1:45
Luncheon Program with Keynote Speakers
2:00-3:00
Break Out Session #3
3:00-3:15
Vendor Exhibits & Transition Break
3:15-4:15
Afternoon Plenary Session with Keynote Speakers
4:15-4:30
Prizes, Awards & Closing
4:30-5:00
OCIRA General Session
ANNUALREADINGCONFERENCE–Friday,April20th,2018
Date and time
Location
The Wolstein Center Conference Pavilion at Cleveland State University
2000 Prospect Avenue
Cleveland, OH 44115
Refund policy
Refunds up to 1 day before event