Description
The 2016 recruitDC Spring Event Agenda!
7:00 – 8:30 Registration and Networking Breakfast
8:30 – 8:45 Welcome Remarks
8:45 – 9:45 Keynote Presentation
Finding new recruits online is easy but getting their response in this noisy world is an art! Katrina Collier | The Searchologist | Social Recruiting Specialist - Trainer & Speaker
The explosion of social media has enabled companies direct access to people like never before and in 2016 using social media for recruiting is not a new concept. But with the explosion came the noise and recruiters must work smarter if they want to engage & attract candidates to their roles.
Discover tools that you can use to map across social networks to improve candidate engagement.

See real examples of companies who are getting it wrong (and why) and learn from those who are getting it right.

Simple steps that you can implement immediately to maximise your return on social recruiting
9:45 – 10:15 Welcoming Our Sponsors
10:15 – 11:00 Break
11:00 – 12:00 Breakout Sessions
Track: Back to Basics
How to Source Like a Boss Marie Burns |TalentAmp |Founder
This WILL NOT be one of those presentations where you want to get up and run out the door as soon as you realize you've heard the content time and time again. No, we're actually going to learn cool stuff that will change how you get from A-Z in recruiting every_single_day. And ALREADY a smart-tip: don't forget to eat your Wheaties for breakfast - brain power is required.
We'll discuss how to overcome today's biggest recruiting challenges, implement new strategies and prioritize where you should spend the majority of time so you can keep up with the best in our quickly evolving recruiting industry.
We'll cover:
The latest and greatest sourcing tools you need in your back pocket. Many just coming on the market!

Partnerships, untapped social communities and key areas to focus where we typically don't as an industry.

Branding and messaging above and beyond basic recruitment marketing.

How to use all the above to create a highly productive recruiting strategy to keep you #winning.

Real world challenges. We'll get down and dirty, solving things in session.

An up-to-date Recruiting Playbook designed specifically so you gain the competitive edge.

How to execute all of the above, meaningfully and successfully.
Track: Advanced Recruiting
Taking the drama out of salary negotiations Amy Miller | Microsoft | Recruiter
Real world war stories, questions to ask, and how to be your business and candidate's advocate in the salary discussion.Yes, it CAN be done, and I'll show you how - by effectively navigating challenging salary discussions with both sides of the deal. I'll also bust some of the most common myths and refute crap salary advice our candidates are bombarded with daily.
Track: Management & Strategy
The Road Ahead: Talent Acquisition Technology Elaine Orler | Talent Function | CEO & Founder
Where is your organization on the road to talent acquisition technology? In today's modern world, technology and innovation are constantly evolving – improving upon the latest innovations. Talent acquisition technology is no different. With new innovations promising to ease challenges and improve processes, and a constant stream of solutions flooding the market, how does one view the road ahead to identify which technologies align with their organizational needs?
While working to engage, recruit and hire great talent, keeping up with all of these constantly evolving technologies can be overwhelming. Moreover, as the competition for talent increases and the skills gaps continue to widen, the ability to attrt qualified candidates, and retain them once hired, has become a game-changer. For companies to stake out a competitive edge in talent acquisition, a firm understanding of the latest market trends and solutions available is integral to a successful talent acquisition process – identifying, engaging and hiring the talent they need.
Join industry expert Elaine Orler for an interactive discussion on the road ahead in talent acquisition technology – engagement, intelligence and responsiveness – putting the candidate center stage. Orler will share insights and offer real-world examples of organizations leveraging innovative methods and solutions to change the way they engage top talent, market their employment brand and attract individuals through a positive candidate experience. Attendees will take away a deep understanding of current talent acquisition trends and learn how the latest technology can be used to meet candidate and employer expectations and support recruiting efforts.
12:00– 1:15 Lunch
1:15 – 2:15 Breakout Sessions
Track: Back to Basics
I'm a Recruiter. Now What? Conor Nicholson | NSS RPO | President and CEO
This session is intended for recruiters who enjoy the field but want to improve. They feel overwhelmed while being pulled in a thousand directions. While they work hard, they often feel they haven't accomplished half of what they wanted to.
Early in their careers, recruiters can feel lost as there is no clear path to get better. This is a deeply personal presentation as this was me 12 years ago. I was coasting and knew it was time to pick up my game. With a few years of experience, all I really had to show was potential. The desire was there, but I lacked the proper systems and processes.
A recruiter has to simplify their workday and focus on their single most important goal: to make quality hires. For the first time in my life, I wrote down concrete goals with hard deadlines. I was keeping score. Next, I had to figure out how to attain these goals. I had to hit a certain # of submittals per week. Ditto for interviews, offers and hires. I was determined to become a quality recruiter.
A good recruiter is always pushing, always trying to move the ball into the end zone. We'll talk about a singular focus on making hired. We'll also talk about finding your unique, true voice and how to prioritize your daily tasks, so they align with your goals. Last but not least, we'll have a discussion about how to truly partner with your Hiring Manager.
Track: Advanced Recruiting
Practical Tips to Identify and Engage Talent Shannon Pritchett | SourceCon | Editor

Innovative sourcing is an application of human creative skill and imagination. This is also how we define art; yet with sourcing, there is an appeal of technology and experimentation that as much scientific as artistic. Using both sides of our brain to accomplish a successful sourcing strategy is a gift that we can deliver to our most important clients: our candidates. This presentation will paint a clear picture of the variables needed to deliver an effective and inventive sourcing strategy.
Expect to learn about:
New websites to find talent

Valuable techniques used by industry leaders

Best practices in candidate identification and engagement

A streamlined sourcing approach to reducing your sourcing time
Track: Strategy & Management
Employee Generated Content (Think Glassdoor) - HR's Swiss Army Knife Christopher Kurtz | PeerThru Consulting | Founder & Principal
Employee sentiment, engagement and branding are all being packaged and sold as Big Data for HR. Guess, what? It's also being shared on social media and you may not need all that.
As an early leader at Glassdoor, I helped a variety of clients across all industries cross the line from fear to engagement and find tremendous insight and value in their Employee Generated Content. What I share are the pitfalls and amazing nuggets found in wholeheartedly embracing and engaging with EGC after moving past the fear.
2:15 – 2:45 Break
2:45 – 3:45 Panel
Oh Yeah, Now Try It In A Startup Matt Charney | Recruiting Daily | Executive Editor Panelists – Sam Cicotello, VP People Operations, Social Tables; Yair Flick, Founder, SmartLogic and Chris Stone, President, EMoxie
Washington DC is known for many industries including tech startups. But how do recruiting professionals work in this very different environment? After learning about great practices and skills this day, we are going to end the day with turning things inside out, upside down and maybe completely out the window with a panel of local startups and hear about how they ramp up and keep their great teams together.
3:45 – 4:00 Closing Remarks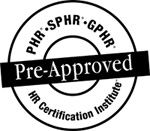 *
*"The use of this seal is not an endorsement by the HR Certification Institute of the quality of the activity. It means that this activity has met the HR Certification Institute's criteria to be pre-approved for four (4) recertification credits."

Thanks to our Sponsors!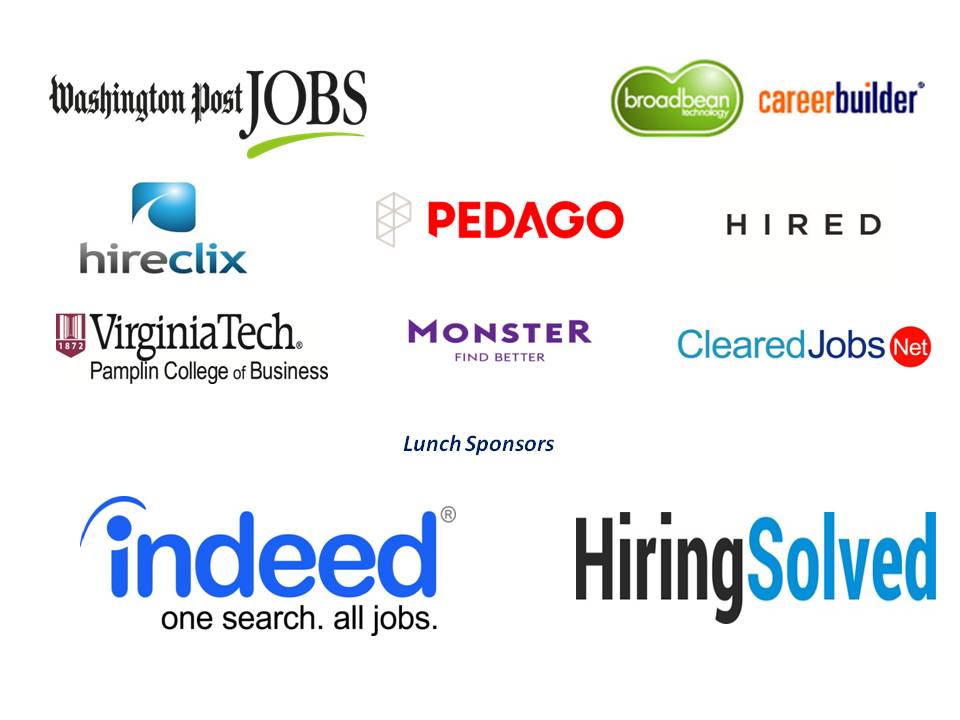 As with all recruitDC events, ticket sales are final. There are no refunds, but you can switch your ticket with a colleague. Those transactions are your responsibility. If you transfer your ticket to someone else, you can alter the name on your ticket through your Eventbrite account.
All recruitDC events are for networking and continuing education purposes. We ask that your purpose in attending the event be solely for networking and learning best practices and not for business development.
Organizer of Spring 2016 recruitDC Conference
recruitDC is a lively group of local DC area recruiters who have a passion for the best in recruiting practices and sharing those practices with others. We also want to bring together the local DC area recruiting community to really connect and create a "community" for networking, talent mentoring and support.