Spring 2014 recruitDC

Thursday, May 22, 2014 from 8:00 AM to 3:30 PM (EDT)
Event Details
About the Spring recruitDC
recruitDC brings together the best and brightest in the local Washington DC area recruiting community to share our challenges with meeting demands that change daily – even hourly! This full day event on May 22nd hosted in Rosslyn at the Artisphere will touch upon key issues facing our community interspersed with networking and entertainment.
Thanks to our Sponsors!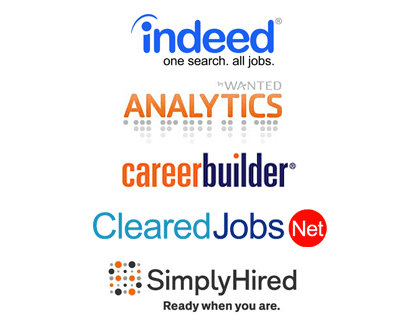 EVENT AGENDA
8:00 am to 8:45 am Registration and Networking
8:45 am to 9:00 am Welcome Remarks
9:00 am to 10:00 am - Keynote Presentation - Personal Branding: Navigating the Social Web in Strategic Ways, Laurie Ruettimann, Contributing Editor, The Conference Board | @lruettimann
Some people say that the only thing you can control is your character; however, more and more human resources consultants are recommending that you manage your "personal brand." Managing your personal brand—the unique attributes that describe your knowledge, skills and abilities to clients, customers and future employers—is an essential part of building a comprehensive career portfolio for all HR and recruiting leaders.

But sometimes everything about being online feels wrong. From compliance requirements to privacy concerns, recruiting and human resources professionals are right to weigh the merits of technology with the serious concerns of damaging a personal, professional or corporate brand.

In this session, Laurie Ruettimann will explain the five steps to establishing a healthy, productive online presence on the social web and solidifying your personal brand without taking unnecessary risks. She will also explore the top reasons why your personal brand and professional reputation are inextricably linked. Finally, she will define a healthy set of parameters so that all human capital professionals understand the current state of technology and how to navigate the social web without creating an indelible and unfortunate mark on a personal or professional brand.
10:00 am to 10:30am Coffee Break and Networking
Break Out Sessions : Choose from one of two sessions
10:30 am to 11:30 am
Option 1: Talk Tech to Me
Are you ready for the truth? Do you want to know what you're doing wrong in attracting and recruiting technology professionals? Top technical talent can be very particular about the types of positions they'll consider. If you aren't hitting the key points to motivate them to consider the position your offering, you won't be successful. The problem:  how do you know what those key points are? To successfully recruit a top technical candidate, you need to speak their language and understand what they do before you speak to them. To make this more difficult, this region has the added nuances of government/cleared recruiting. In this panel, we invite expert tech talent to give us their perspective.  Four technical professionals will take the stage and turn the tables on the recruiters. We'll hear what they think when you call them and they hear "I've got this great opportunity that'd be perfect for you!" Our panel has been encouraged to be brutally honest about their interactions with recruiters, but will also enlighten us with the best ways to engage with them during the interview process. Be warned – honesty can often be tough to hear, but valuable.
Moderators:
Doug Munro, Director of Technical Recruiting, Optimos and

Matt Duren, Technical Recruiter, Tenable Network Security.
Or
Option 2: Get Plugged In! Trend-setting Sourcing and Recruiting Tools  
There's no shortage of applicant tracking systems and sourcing tools designed for recruiting ALL types of talent. But it's not about just collecting candidate data - it's how you interpret it and use it. Opower's Recruiting Team is using unconventional tools to find, attract and engage with candidates and then measure the engagement. They will discuss why they chose their CRM/ATS combo, the latest sourcing tools that utilize big data to find the right candidates, and personal interaction/communication with candidates and then measuring the interaction using analytics. Did the candidate respond to an email? What email campaign was the most successful?

Your employees and hiring managers are the best sourcers! Opower will also share the latest referral tools that also use big data and make it easy for your employees to source and refer top talent.  Tools discussed will include: Greenhouse, Jobvite, Gild, Entelo, LinkedIn, Connectifier, ToutApp, YesGraph, Hirable and more
Presenter: Jennifer Boulanger, Director, Talent Acquisition, OPower
11:30am to 12:30pm: Lunch
12:30 pm to 1:00pm: Surprise Entertainment (you won't want to miss this!)
1:00pm to 2:00pm: Breakout Sessions (CHOOSE 1)
OPTION 1: Recruiting within the new OFCCP rules: What you need to know to be safe? 
OFCCP rules have changed once again. Do you know what you need to about your sourcing techniques to remain compliant?  Do you understand the new outreach rules to veterans? The landscape continually changes with OFCCP and yes we are dealing with more paperwork. This is enough to make a recruiter want to leave recruiting. Join us as we share some quick and easy changes that will help you in being compliant, maintain your successful practices and keep you on track to make your goals, and most of all still want to be a recruiter.
Presenter: Derek Zeller, Senior IT and Intel Recruiter, ARTI
Or
OPTION 2: Everything I Needed to Know About Recruiting, I Learned from Tina Fey
In a world where nearly everyone has an online presence, the real differentiator in recruiting today is building candidate trust and interest. It's the ultimate improv business activity - no script, no net! Let's face it, the best candidates don't trust their career to a recruiter who reads a script. Come and learn how to use improv techniques to turbo-charge your authenticity, engagement, and influence. Matt Grove combines his more than 20 years of improv with his recruiting experience to help you be more real, more engaging, and more successful with your candidates.
Presenter: Matt Grove, Principal Consultant, Recruiting Toolbox, Inc.
2:00 pm to 2:15 pm: Coffee Break
2:15 pm to 3:15 pm: Closing Keynote: The Candidate Experience: Myth, Magic and Metadata
We know our customers. They make buying decisions every day. But, do we know candidates? We influence them but is it we or they choosing to buy? Are employers really ready to flip the hiring model and build paths with greater transparency, two-way communication and candidate self-assessment? Do we even know enough about the roles and skills we need (let alone the environment we provide) to satisfy ourselves and share openly with the prospects considering us? This conversation will include local DC-area employers pioneering customer/candidate connections explores the meaning, the data and the connections to performance. Join your peers and add your voice to our growing understanding of the impact our candidates' experience makes on referral, conversion and retention rate and more.
Moderator: Gerry Crispin, Founder CareerXroads and Candidate Experience Awards
Panelists: 
Tim Strike, Director, Recruiting and Staffing, General Dynamics Information Technology Christina McClung, Director, Card Recruiting, Capital One;  and Ben Martin, VP, Talent Acquisition, Lockheed Martin
3:15 pm to 3:30 pm: Closing Remarks
This program has been approved for 4 (HR (General)) recertification credit hours toward PHR, SPHR and GPHR recertification through the HR Certification Institute.  Please be sure to note the program ID number on your recertification application form.  For more information about certification or recertification, please visit the HR Certification Institute website at www.hrci.org.
The use of this seal is not an endorsement by the HR Certification Institute of the quality of the program.  It means that this program has met the HR Certification Institute's criteria to be pre-approved for recertification credit. 

As with all recruitDC events, ticket sales are final. There are no refunds, but you can switch your ticket with a colleague. Those transactions are your responsibility. If you transfer your ticket to someone else, you can alter the name on your ticket through your Eventbrite account.
All recruitDC events are for networking and continuing education purposes. We ask that your purpose in attending the event be solely for networking and learning best practices and not for business development.
Attendee List
Sort by:

Date

|

First Name

|

Last Name
When & Where

Artisphere
1101 Wilson Blvd, Arlington
Arlington, VA 22209


Thursday, May 22, 2014 from 8:00 AM to 3:30 PM (EDT)
Add to my calendar
Organizer
recruitDC
recruitDC is a lively group of local DC area recruiters who have a passion for the best in recruiting practices and sharing those practices with others. We also want to bring together the local DC area recruiting community to really connect and create a "community" for networking, talent mentoring and support.