Description
About the Spring 2012 RecruitDC

recruitDC brings together the best and brightest in the local Washington DC area recruiting community to share our challenges with meeting demands that change daily – even hourly!

This full day event on May 23rd at the George Washington University Marvin Center will bring together our local recruiting superstars plus a few talented national speakers to inspire, challenge and educate you on current topics and trends in recruiting.
Thanks to Our Sponsors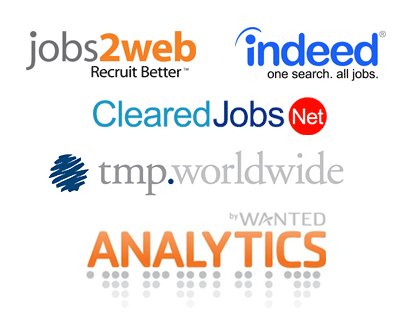 Photo Gallery from Fall 2011 RecruitDC
Agenda
8:00-9:00am Registration
9:00 – 10:15am Keynote : Choose Your Challenge: Lead or Be Led: John Vlastelica - Managing Director, Recruiting Toolbox, Inc.- Recruiting isn't rocket science, but it's not easy, either. As recruiters and recruiting leaders, we have 1,000 things competing for our limited time, and can sometimes struggle to lead and be the credible expert that can take our recruiting efforts to the next level. In this engaging and irreverent keynote, you'll learn 8 things that the best recruiting pros do better than the rest. These include: The keys to executive influence, critical for your success in recruiting; How to accurately diagnose problems with hiring managers, and get to the root issues and solve the real problems; and how to confront bad behaviors and lead the critical conversations you need to have with stakeholders.
John will explore HOW the most effective recruiters and recruiting leaders actually LEAD
10:30am – 11:30am Break Out Sessions

This is NPR: Leveraging Social Media To Recruit For A Big Brand Without The Big Budget - Lars Schmidt - Director of Talent Acquisition, NPR. National Public Radio (NPR) is a thriving media organization at the forefront of digital innovation. Lars Schmidt will discuss how he's re-imagining NPR's talent acquisition model by building a strong employment brand leveraging social media, brand advocates, and a rapid experimentation approach. He'll be sharing examples and metrics about what's worked, what hasn't, and how to build internal champions and support within your organization with limited budget and resources.
Predictive Staffing Modeling - A Case Study Larry Clifton - Sr. VP Recruiting, Workforce Planning & Development, CACI. One of the key components of CACI's overall success is attributed to its predictive staffing model which basically connects all the human capital dots and ties them directly to the company's strategic business plan. This powerful approach allows CACI's Recruiting, Workforce Planning, and Development Team to stay ahead in the war on talent and deliver impressive results/savings to the company's bottom line.
Managing Your Career - Are you Becoming a Recruiting Rock Star, or Are You Spiraling Toward Rock Bottom? Bob Corlett - Founder and President, Staffing Advisors with his Panel of Rock Stars. In this panel discussion with recruiting experts, we will discuss: Things that will sabotage your career, Mistakes not to make that are short of sabotage, but counterproductive; Critical skills you must learn in the next five years; What are the best ways to showcase your skills; What are the best low effort, high yield personal branding strategies; How do people make the jump into hot growth opportunities?
11:30am – 12:45pm Networking Lunch
Was there a topic in the morning sessions you want to discuss further? Have a particular critical issue you would like to discuss with your peers? Topic discussions tables will be set up to continue your discussions over lunch. You can also suggest a topic for a table discussion.
12:45pm – 1:45pm Break Out Sessions
The 'Over Qualified' Candidate: Should we consider? Michael Heller - Managing Principal, Pillar One Consulting. It seems that the market is awash in over-qualified talent. Everyone is talking about them and how to deal with them, from the National news media to President Obama, who is proposing a tax incentive for companies that are willing to hire candidates who have been out of work for more than six months. But as a recruiter, how do you ensure that you're recruiting the best talent for your team? How do you effectively assess a candidate's skills and interests and long-term potential with your organization? And, how do you overcome the objections of your hiring managers who may not want to deal with employees who have more experience than they do?
College Recruiting in 2012 Steve Tiufekchiev - Chief Strategy Officer, RECSOLU – Panel Discussion - In uncertain times, is there is a case for investing in college recruiting, and if so, what is it? As the military prepares to cut in excess of 120,000 active duty personnel over the next five years, what opportunities exist for sourcing new "seasoned" college grads from veterans returning to school to pursue their studies? Join a panel of college recruiting experts as they share tips and strategies for successful recruiting of traditional and non-traditional new college graduates.
Becoming a Trusted Advisor: The Key to Successful Internal Client Relationships Alan Strauss - Managing Partner, Startfinder Panel Discussion- Over the past decade, talent acquisition professionals have been seeking a "seat at the table" with corporate executives. The question is…Are recruiters entitled to be at the table with executives or have recruiters earned the right to that seat? In this session, a panel of talent acquisition executives will discuss what it means to be a trusted advisor and how that will improve a talent acquisition professional's abilities to develop strategic, consultative relationships with their clients.
2:00pm – 3:00pm Skilled, Trained and Ready to Fight for our Jobs Kathleen Smith, ClearedJobs.Net — Companies are always looking for highly skilled, well trained, motivated talent, yet we have over 900,000 unemployed veterans in the United States currently with more veterans returning every day to rejoin our communities. Even with large-scale veteran hiring initiatives that include a federal tax credit, many recruiters are challenged with how to hire a veteran or how a veteran will fit within their company. We plan to take this issue head on and provide the recruitDC community with the inspiration and tools to bring veterans into their talent pipeline.
We are honored to have with us Colonel David Sutherland, Special Assistant to the Chairman of the Joint Chiefs of Staff - Warrior and Family Support at The Department of Defense. His service and concern for our veterans drives his passion to find programs, organizations and partnerships to support veterans in returning to local communities. Following Colonel Sutherland we will have a panel discussion that will include local recruiters who are on the recruiting frontlines, who will share their tips on how they incorporate veteran hiring into their talent acquisition programs.
3:00-3:30pm Closing remarks with prize giveaways
This program has been approved for 4.25 HRCI credits.