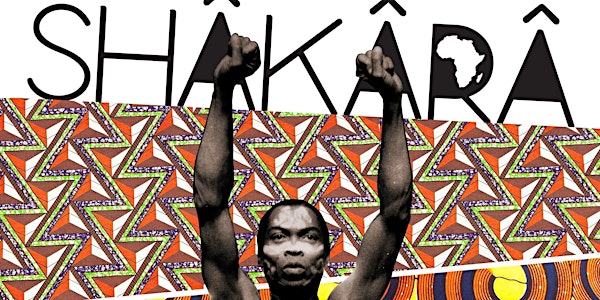 Spread Love presents SHÂKÂRÂ 2019
When and where
Location
595 North Event Center 595 North Avenue Northwest Atlanta, GA 30318
Description
Greetings Spread Love family!!

If you're buying tickets on the DAY OF the SHAKARA Event (11/23), please bring a PRINT OUT of your ticket(s) or be prepared to SHOW your tickets on your mobile phone.
Give Thanks!!
~ Spread Love


***************************************************************************************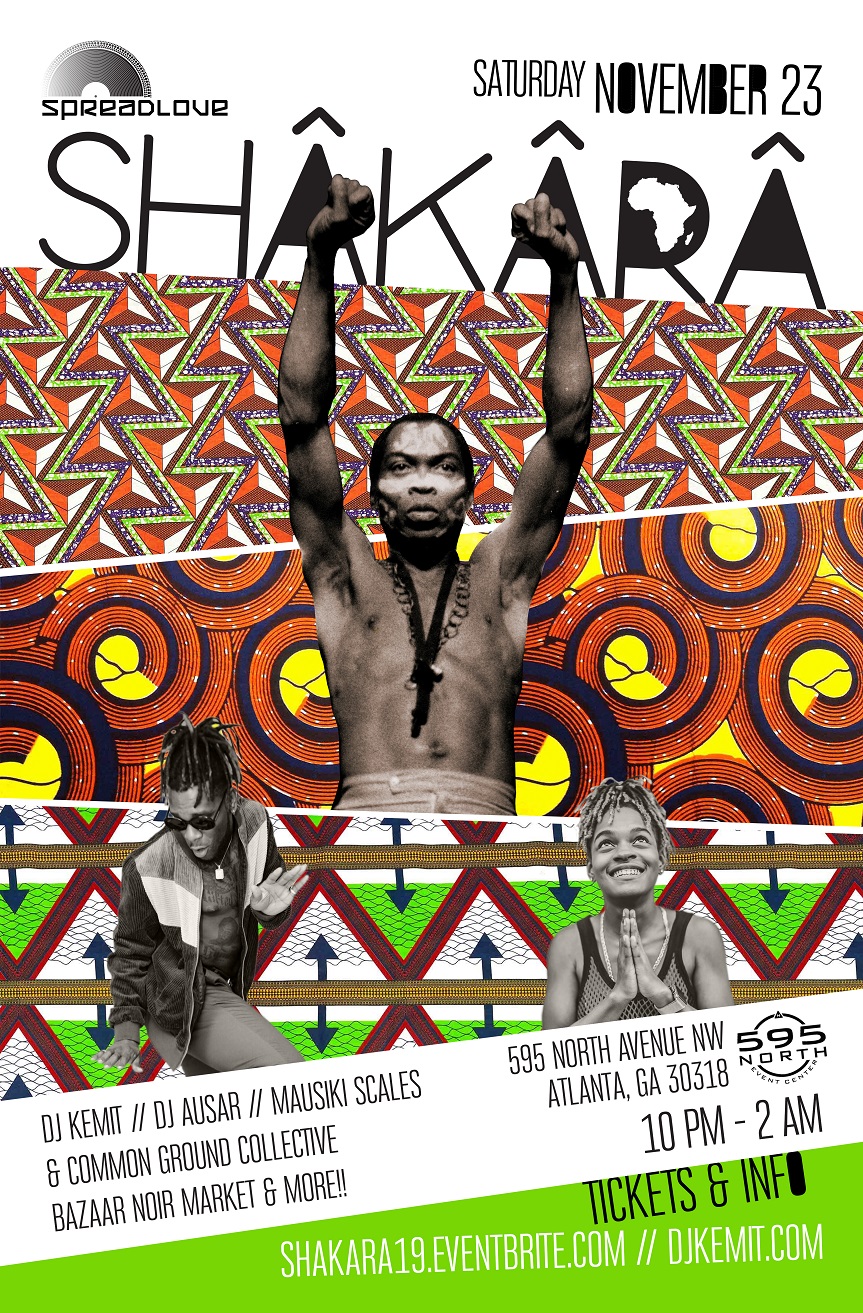 "The music of Africa is big sound: it's the sound of a community."
~Fela Anikulapo Kuti
We'd love to see you and your crew at Spread Love presents SHAKARA on Saturday, November 23rd!
Always deeply rooted in Fela Kuti's empowering legacy, SHAKARA shines a big, bold, bright light on the African Diaspora through forward-thinking music, visionary films, stirring art, plus an indie craft market, and holistic health and wellness suites!
We're taking the festivities back to 595 North Event Venue -- located just minutes from Mercedes Benz Stadium, Georgia Tech and The AUC.


WORD TO THE WISE:
Tickets are going fast!!! Get your ADVANCE TICKETS now! This event sells out, and only a small number of tickets will be available on the day of the event.
WHAT TO WEAR/BRING:
The Spread Love experience is all about self-love and self-expression! Come as you are! Come ready to dance! Come ready for an intimate and positive vibe with lots of cool, vibrant people! Bring good vibes!!
PARKING:
Free street parking and paid lots available. Uber and Lyft are HIGHLY RECOMMENDED.
GOT QUESTIONS?
Interested in vending? Want to volunteer? Celebrating a special occasion? Send an email to spreadlove.da.da.da@gmail.com.


Spread Love!
---

ADVANCE TICKETS... $20
Buying advance tickets is HIGHLY RECOMMENDED! Advance ticket-holders will receive priority entry to the venue. A limited number of General Admission tickets will be available on a first-come, first-served basis. When the venue reaches near capacity, ONLY ADVANCE TICKET HOLDERS will be admitted.
This is an adult event. Must be 21 to enter. ID required.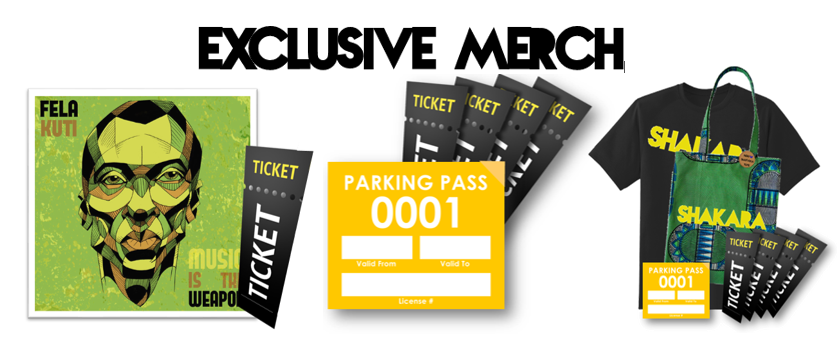 ONE ADVANCE TICKET plus MIX CD - Afrobeat Hits inspired by the originator of the sound... The ONLY place to get this Exclusive Merch is at the event.... $30.



EXCLUSIVE SHAKARA TOTE plus ONE TICKET. The ONLY place to get this Exclusive Merch is at the event....... $30.



EXCLUSIVE SHAKARA TEE plus ONE TICKET. The ONLY place to get this Exclusive Merch is at the event.... $40.



FOUR TICKETS plus ONE VIP PARKING PASS - Reserves (1) SECURED SPACE in the lot located directly across the street from the venue, plus 4 Tickets. ... $100.



EXCLUSIVE MERCH!!! THE ULTIMATE SHAKARA BUNDLE ~ 4 TICKETS, ONE PARKING PASS, ONE TEE, ONE TOTE. ... $130.




DJ KEMIT
The world's most admired deejays say that DJ KEMIT is one of the GOAT's. Producer and co-writer of First Couple Michelle and Barack Obama's favorite song, "4evermore." Once a member of the Grammy-winning group Arrested Development. Hit-maker known for his deep, soulful, spiritual sound with Lounge Lizards and KemeticJust. Countless bops on labels like Josh Milan's Honeycomb, Carlo's Mena's Ocha Records, Osunlade's Yoruba Records, and Kai Alce's NDATL. Celebs like Janet Jackson, Jane Fonda and Prince (Rest in Power!) relish his private sets. Seriously. Need we say more?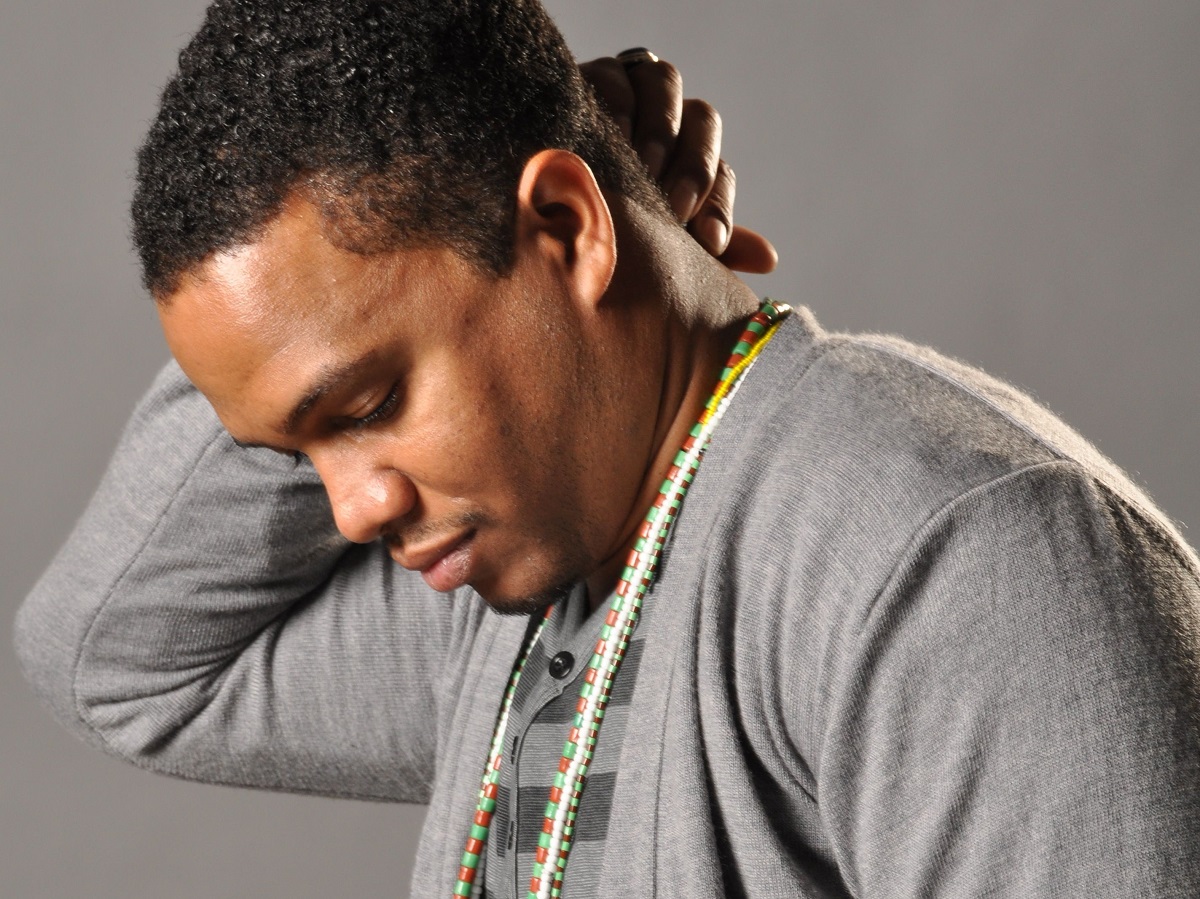 DJ AUSAR
A radio tastemaker at Atlanta's WRFG 89.3, DJ AUSAR created "The Kalakuta Show" as a vehicle for social movement by blending Afrobeat, funk, jazz, rare grooves, and broken beats from all over the world. DJ AUSAR has spun with the likes of Hugh Masekela, Roy Ayers, Blitz The Ambassador, and Daz-I-Kue of Bugz in the Attic. He works with SymphonySpace in NYC to present the Fela Kuti tribute featuring multi-Grammy winners Arturo O'Farrill & the Afro Latin Jazz Orchestra, Wunmi, Sahr Ngaujah, Tosin Aribisala, and Bryan Vargas. His original compositions will blaze the SHAKARA soundtrack!
MAUSIKI SCALES + COMMON GROUND COLLECTIVE
Creative Loafing said it best: "A magnificent fusion of Afro-Beat, Soul, Hip-Hop, and Funk-Jazz, fused into the best party you'll ever have. MAUSIKI SCALES has been a force in the Atlanta indie music scene for almost two decades as a sought after keyboardist and founder/musical director of the critically acclaimed ensemble, the COMMON GROUND COLLECTIVE. Recently honored with the Georgia Governor's Award for the Arts and Humanities, Mausiki is also a folklorist and historian who translates his knowledge into musical arrangements that leave his audiences moved and moving…literally.
Whether performing as a trio or a full 10-piece ensemble, Mausiki Scales and the Common Ground Collective are known for taking fans on a fearless exploration of the pulsating rhythms of the African Diaspora, seamlessly connecting the dots between afrobeat, funk, hip hop, soul and New Orleans jazz…in a single performance."
We're delighted to partner with BAZAAR NOIR for another amazing shopping experience at SHAKARA!! From the VEGGIE TASTE fest to MELANATED CHAKRAS, we love the vibe they promote! From headwraps to home goods, shae butter to shekeres, BAZAAR NOIR brings forward the spirit of the African Market!
Plus... ART EXHIBITS, RARE & INDIE FILMS, FOOD VENDORS, OPEN BAR, SIGNATURE DRINKS, AND AFRICAN ANCESTRY DNA KIT GIVEAWAY!!!
Want to volunteer at SPREAD LOVE presents SHAKARA? <<CLICK HERE>>


#Atlanta #FelaKuti #FemiKuti #SeunKuti #DJKemit #DJAusar #CommonGroundCollective #MausikiScales #Africa #Vibe #BazaarNoir #africanmusic #afrobeat #highlife #funk #soul #soca #afropop #afrofusion #zook #kwaito #afrohouse #juju #fuji #gqom #bongoflava #africancinema #blackart #africandiaspora
Copyright © 2019 Spread Love, All rights reserved.