Spread Love 5th Annual FELABRATION!! feat. DJ KEMIT, RICH MEDINA & MORE!!!
Location
595 North Event Venue
595 North Ave, NW
Atlanta, GA 30318
Description
Back by POPULAR DEMAND!!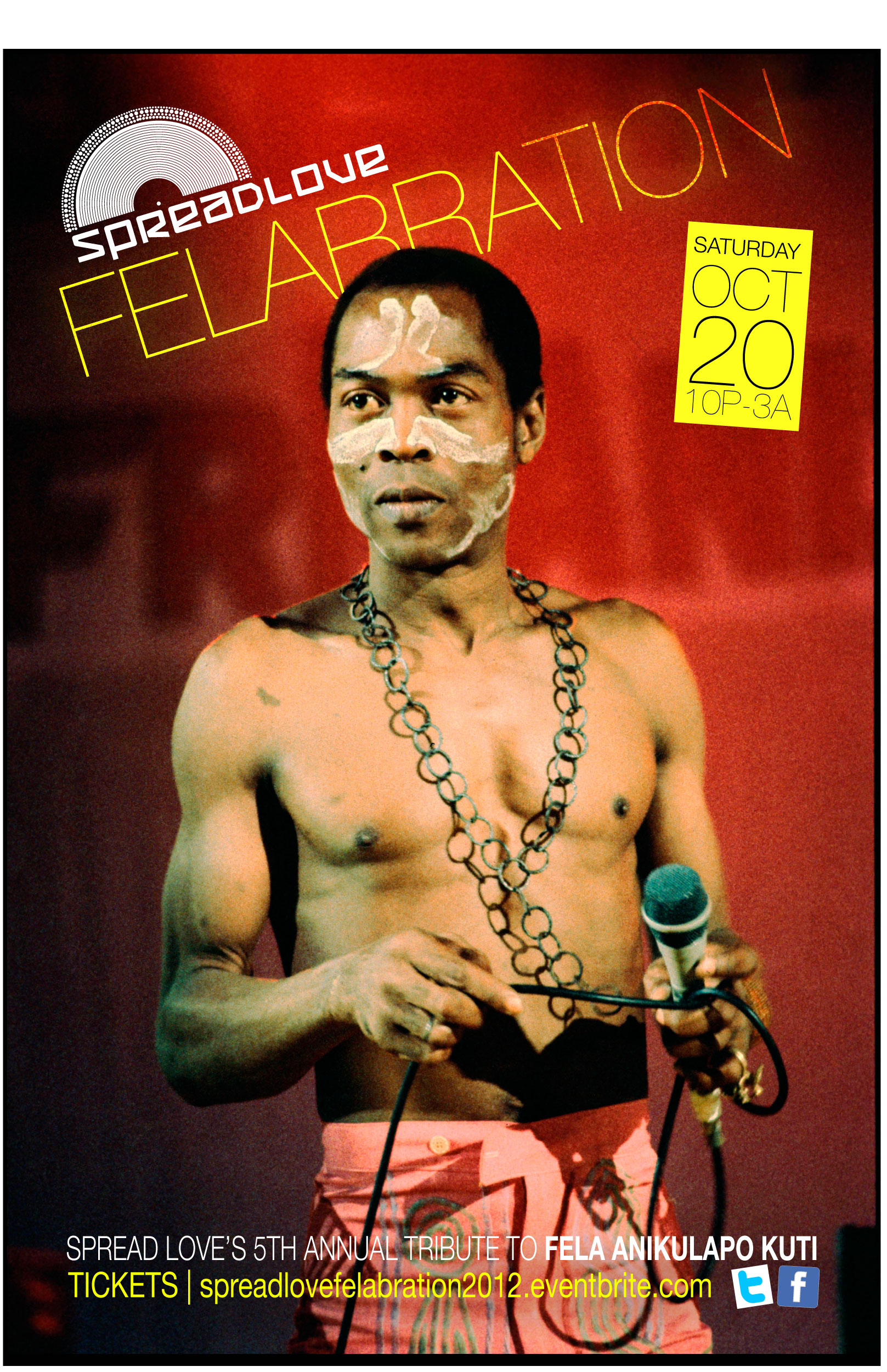 Spread Love's 5th Annual
F E L A B R A T I O N !!

Celebrating 5 years of Atlanta's Love for FELA ANIKULAPO KUTI!!!

SATURDAY, OCTOBER 15, 2011
10 pm to 3 am (at least!!!)
595 NORTH AVE, NW ATLANTA 30318

An incredible night of interactive art, live music, film, edutainment, call to action, drummers, dancers and deejay sets featuring
DJ KEMIT
(Spread Love + Kickin Up Dust + Soul Makossa)

RICH MEDINA
(Jump N Funk)

MARK HINES
(Jump N Funk)

DJ AUSAR
(Kalakuta Show - WRFG 89.3 FM)

GUERILLA DANCE PROJECT
~ African Drums & Dance Group


FACE & BODY PAINT
by artists Keya DeLarge, Sauda Jackson & Deborah Conton!!

BAZAAR NOIR
ARTISTS MARKET

MUSIC & PRODUCT GIVE AWAYS!!

SPREAD LOVE + KNITTING FACTORY MUSIC AND T-SHIRT GIVE AWAYS!!


SATURDAY, OCTOBER 20th - SPREAD LOVE & JUMP N FUNK will pay homage to the life of Nigeria's warrior poet and the Godfather of Global Soul with FELABRATION!

FELABRATION takes its audience through an interactive journey of the life of Africa's most prolific musical pioneer: first, with a documentary, "Music is the Weapon," live art, traditional African body/pace painting, and highlights of the FELA! Broadway Musical!!

Leading the evening's tribute are turntablists DJ KEMIT and RICH MEDINA, with a musical libation befitting a king.

Also featuring live video mix by MARK HINES!!! If you attended FELABRATION last year or the STEVIE WONDER TRIBUTE, then you know how incredible MARK HINES is with the archival video mix.

We're blessed to have the entire GUERILLA DANCE PROJECT joining us with traditional African dancers and drummers!!

And of course, you can get fully involved with face and body paint by KEYA DELARGE, SAUDA JACKSON & DEBORAH CONTON!!

WE'LL BE SELLING SPECIAL EDITION "FELABRATION" TEES DESIGNED BY GOLDI GOLD & C. FLUX SING!!

Check out the entire history of FELA with an interactive exhibit!!

Enjoy BAZAAR NOIR artists market and DELICIOUS FOOD & DRINKS!!


In October 2008, we were honored to have the star of the FELA! Broadway Muscial, SAHR NGAUJAH, appear at our first annual Spread Love FEALBRATION in Atlanta.

Here are links to youtube video clips of a few of the Spread Love FELABRATON annual events:

This first video includes a clip of Sahr's appearance at the event in 2008:
http://www.viddler.com/explore/SpreadLove/videos/12/

http://vimeo.com/7215849

http://youtu.be/4YAil0omW80

http://youtu.be/U1A1zpadCjk

http://youtu.be/0JkHdLTk8Ww

Here are also photos of last year's Spread Love FELABRATION events:
http://jcroomsphotoblog.blogspot.com/2010/10/photoblog-spread-love-felabration-595.html

PHOTO SLIDE SHOW:
http://s289.photobucket.com/albums/ll213/SpreadLove_2008/Felabration%202010%20-%20photos%20by%20John%20Crooms/?albumview=slideshow

Join the Spread Love Facebook group (http://www.facebook.com/#!/groups/116384024362/) to stay up on all the cool FELABRATION details and contests!
From Atlanta, Charlotte, Nashville, Dallas, New Orleans, Miami, Mobile and beyond ~ the Spread Love FELABRATON is an annual tradition for lovers of Afrobeat, African Dance and Drum enthusiasts, and fans of Baba FELA KUTI!!
And with the FELA! Broadway Musical at the Atlanta Civic Center during FELABRATON weekend, this is the perfect time to gather your roadtrip crew and come to play in ATL. Enjoy incredible music, art and beautiful people while you're here!!
In keeping with the SPREAD LOVE FELABRATION tradition, we are ecstatic to welcome back our brothers from another mother ~ Master of the Mix ~ RICH MEDINA and video mixologist, MARK HINES of JUMP N FUNK!!!
We'll also be joining forces with Knitting Factory Records for some incredible give-aways and gorgeous surprises!!
Needless to say, you've gotta be at the FELABRATION!
TICKETS ARE GOING FAST! AND THIS EVENT HAS SOLD OUT IN ADVANCE EVERY YEAR, SINCE THE FIRST FELABRATION IN 2008!!
We're forever loving FELA!!!

Spread Love, y'all!