Spotlighting Latino Leadership on Climate Change in California and Beyond (...
Description
Climate change is a Latino issue. From extreme heat and dirty air, to polluted water and natural disasters, our changing climate is impacting millions of Latinos living in the United States today and we are deeply concerned about how these changes are affecting us and our future. It's no wonder that 9 in 10 Latinos in the United States support action on climate change.
The time for action is now. This September, leaders from all over the world will come together in San Francisco for the 2018 Global Climate Action Summit. To truly fight against the impacts of climate change, the United States must lead and Latinos are poised to play an instrumental role in the fight.
The Latino Community Foundation (LCF), Voces Verdes, and the Natural Resources Defense Council (NRDC), invite you to join us in celebrating Latino leadership at this premier affiliate event during the Global Climate Action Summit:
Spotlighting Latino Leadership on Climate Change in California and Beyond
Join us for an intimate discussion with Latinos leaders from California, the U.S. and the world who are playing an integral role in the fight against climate change. Bringing Latino leadership to this global event reaffirms our community's commitment to fight claimed change, encourage greater leadership among Latinos, and mobilize Latinos everywhere on this critical issue.
We hope to see you there!
Event emceed by actress Lana Parrilla

Special Keynote from
California State Senate President Pro Tempore Emeritus Kevin de Leon
Charly Alberti, Goodwill Ambassador for the United Nations Development Program and Soda Stereo Drummer
Elected Leaders Panel
Eduardo Garcia, Assemblyman (AD-56-Coachella), California State Legislature
Eloise Reyes, Assemblywoman (AD-47-San Bernardino), California State Legislature
Rey Leon, Mayor, City of Huron, CA
Community Leaders Panel
Susana de Anda, Co-Founder and Co-Executive Director, Community Water Center
Mark Magaña, Founding President & CEO, Green Latinos
Luis Olmedo, Executive Director, Comite Civico Del Valle, Inc
Ruth Santiago, Attorney, Comité Dialogo Ambiental, Inc.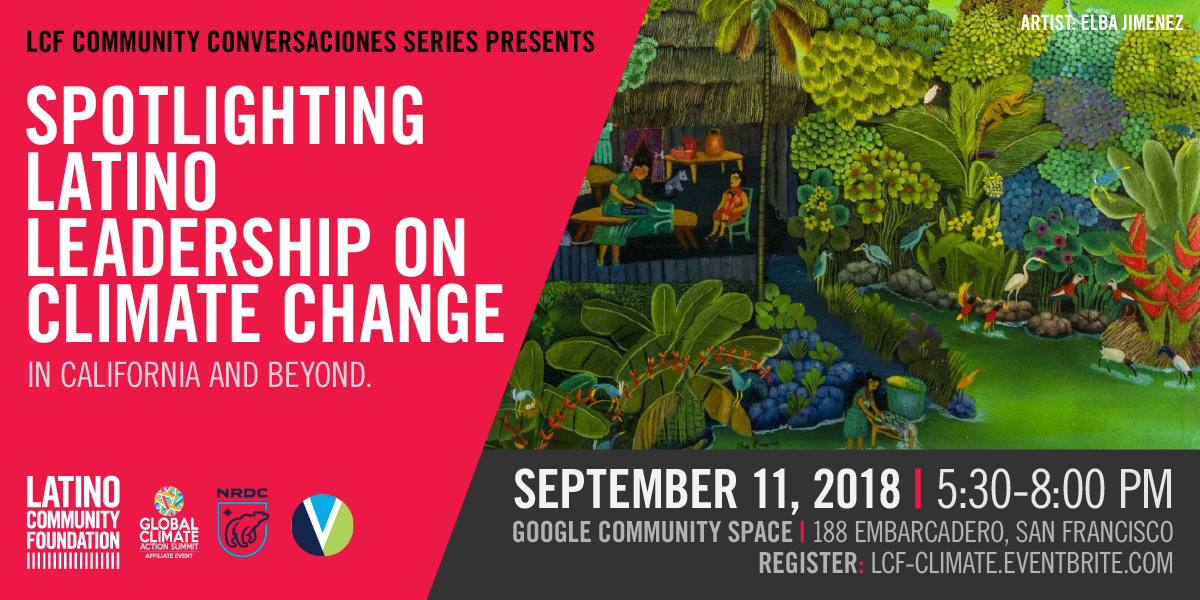 *Event is free, but any donations will be used to support LCF's mission of unleashing the power of Latinos in California.*
**Attendance at this event by a public official will constitute acceptance of a reportable gift.**