Description
Speakers
Sarah Butler-Sloss, Founder, Ashden

Dr Alex Money, Founder and Programme Director, Smith School of Enterprise and Environment, The University of Oxford

Professor Hesham El Askary, Professor of Earth System Science and Remote Sensing, Chapman University

Lucia Bakulumpagi-Wamala, CEO, Bakulu Power

Professor AbuBakr Bahaj, Head, Energy and Climate Change Division, Sustainable Energy Research Group, The University of Southampton

Jasandra Nyker, CEO, BioTherm Energy

Engineer Ibrahim Samak, General Manager, Engcotec
Wadé Owojori, M4D Utilities Programme Manager, GSMA

Mansoor Hamayun, CEO, BBOXX

Ana Hajduka, CEO, Africa GreenCo

Alex Katon, Executive Director, InfraCo Africa
The Event
Renewable energy and access to electricity is critical for development and in achieving the Sustainable Development Goals (SDGs). Currently, over 600 million people on the continent have no access to energy, with average electricity grid access a mere 20%, and just seven countries on the continent having electrification rates exceeding 50%.
Sub-Saharan Africa has access to a wealth of primary renewable energy supplies, with the potential to source an additional 10 terawatts of solar energy, 1,300 gigawatts of wind power, and 1 gigawatt of geothermal potential. Accelerating investment in renewable energy can help Africa achieve much-needed structural economic transformation and poverty reduction.
Join us for a day of high-level presentations, panel discussions and Q&A sessions as we explore defining challenging and opportunities impacting access to electricity today, and celebrate and 'spotlight' the individuals, research groups, academic institutions and businesses driving scientific, technological and commercial innovations that will come to define the future of renewable energy in Africa.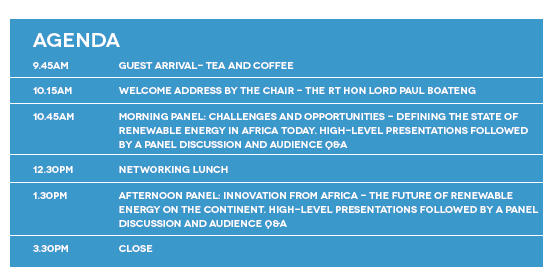 The PEI Spotlight Seminars
The PEI Spotlight Seminars shine a light on the pioneers driving scientific, academic and commercial innovations in and for Africa.
The dominant rhetoric surrounding the continent is still largely a negative one, whether it's corruption, conflict, poverty or disease. This extends to numerous features of Africa's development agenda, and science, technology and innovation is no exception.
Whilst it is important not to ignore the many very serious challenges Africa faces, including the lack of scientific capacity and underfunded educational institutions, it is also important to recognise that Africa and Africans can and are making significant contributions to global science in numerous fields.
The PEI Spotlight Seminar series is about celebrating and 'spotlighting' those individuals, research groups, academic institutions and commercial organisation making scientific, technological and commercial advancements that are of benefit not just to Africa but to the world.
The PEI Partners Forum
The PEI Spotlight Seminar is part of the PEI Partners Forum – a membership platform through which the PEI provides businesses and other organisations with an engaging and valuable platform to collaborate, promote their work and explore key issues related to scientific, technological and commercial development on the continent. Learn more about the PEI Partners Forum here.
Our Partners
This event and the work of the Planet Earth Institute is made possible due to the generous support we receive from a diverse range of partners and supporters.