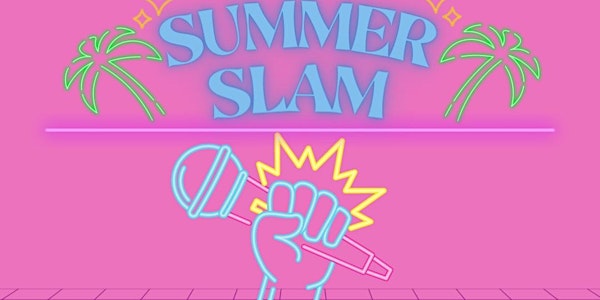 Spotlight Poetry presents Summer Slam
Location
Taverna Costera
1031 S Main St
Las Vegas, NV
Join us for the hottest poetry slam of the summer! Giveaways, local vendors, and more.
About this event
Spotlight Poetry Slam Rules:
1. Only ten (10) poets will compete! Sign-ups will take place at the venue. Sign up list goes up at 7:30 PM, closes at 7:55pm, then the show will start at 8:00 PM.
2. This poetry slam will be Traditional Style with 3 rounds with the low and high scores dropped and only three (3) minute poems allowed
3. No Hate speech allowed!
4. First place will receive $200. Second place will receive $100. Third place will receive $50.
For more information, please visit: www.spotlightpoetry.com
Buy your tickets now! The first 40 people to purchase their tickets will receive a free Spotlight Poetry Beach Ball!
Pre-Sale Ticket : $15 / Day of Show Ticket : $20