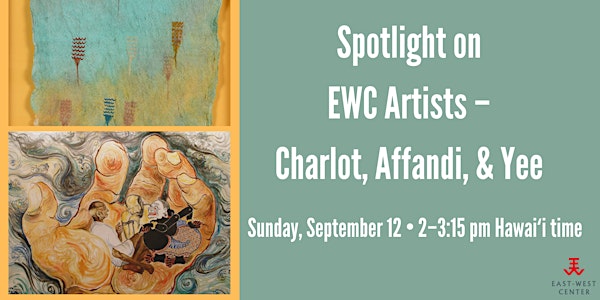 Spotlight on EWC Artists: Charlot, Affandi, & Chiang
In this exhibition closing event, hear stories behind some of the beloved pieces of our Permanent Collection by EWC artists in residence
About this event
To close the East-West Center Gallery's exhibition "Beyond the Surface: EWC Permanent Collection Works" we share stories of two of our early artists in residence. We will also highlight our newest acquisitions by kapa artist Auliʻi Mitchell commissioned for "Beyond the Surface," and share a sneak peak of our next exhibition, "Living Legacies: Paintings and Performances of Bali."
In this event:
Bronwen Solyom dives into the story of the creation of two murals by artists Jean Charlot and Affandi gifted to the East-West Center in 1967.
Kate Lingley of the University of Hawai'i at Mānoa's Art History department delves into the life and work of Chiang Yee (1903-1977), an artist famous for his illustrated travelogues using the pen name 'Yaxingzhe' or 'Silent Traveller'.
Pictured above: "Wisdom of the East" mural by Affandi at Hawaiʻi Imin International Conference Center at Jefferson Hall
Pictured below: Part of series "Impressions of Pakistan" by Auliʻi Mitchell, now on display in EWC Gallery's exhibition "Beyond the Surface"