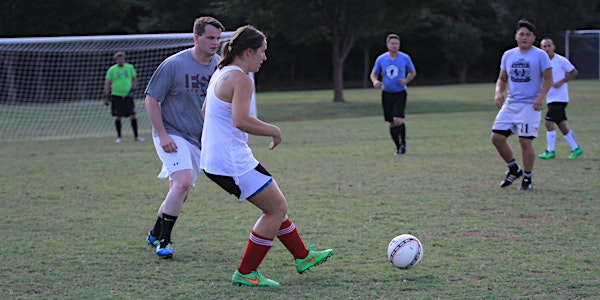 SportsLink FALL SOCCER THURSDAY COED HAT LEAGUE
We're forming a soccer league of individual players!
When and where
Location
OrthoCarolina Sportsplex 13333 Dorman Road Pineville, NC 28134
About this event
We are forming a Thursday Coed Soccer League on Thursday nights with the games on artificial turf at OrthoCarolina and Ramblewood Park. The league will be a rec/intermediate. The league starts Thursday, November 3rd with game times likely later in the evening, TBD by OrthoCarolina's field schedule and Ramblewood Park.
Basic League Info:
6 game season plus playoffs
We will be forming four teams, teams will play each other twice, then single elimination playoffs
Format is 7v7 unless registrations are less than 40, then the league may be 6v6.
League is coed, ratio dependent on ratio of men/women signups.
Game Starts : Thursdays 8:15-9:45, may have earlier game times if played at Ramblewood Park location
Cost is $70. Includes league fee, 90 day SportsLink Players Card and team SportsLink t-shirt. (If you have an active SportsLink Players Card, we will add 90 days to the expiration date on your Player's Card).
Games Location will be at OrthoCarolina and Ramblewood Park (10200 Nations Ford Rd).
Our goal is to have 11 players per team. The max we will take is 12, the minimum 10 (if we decide to go to 6v6, 10 players is the goal, 9 min, 11 max)
We will recruit for Goalies, but if we cannot find one, field players will have to alternate in the position. Goalies will get a discounted league fee ($30).
This is a hat league, no team signups. No teammate requests can be honored.
This will be a social league. Please bring great a great attitude with the interest in meeting people and playing soccer combined.