Sports, Music & Entertainment Summit (SMES)
Description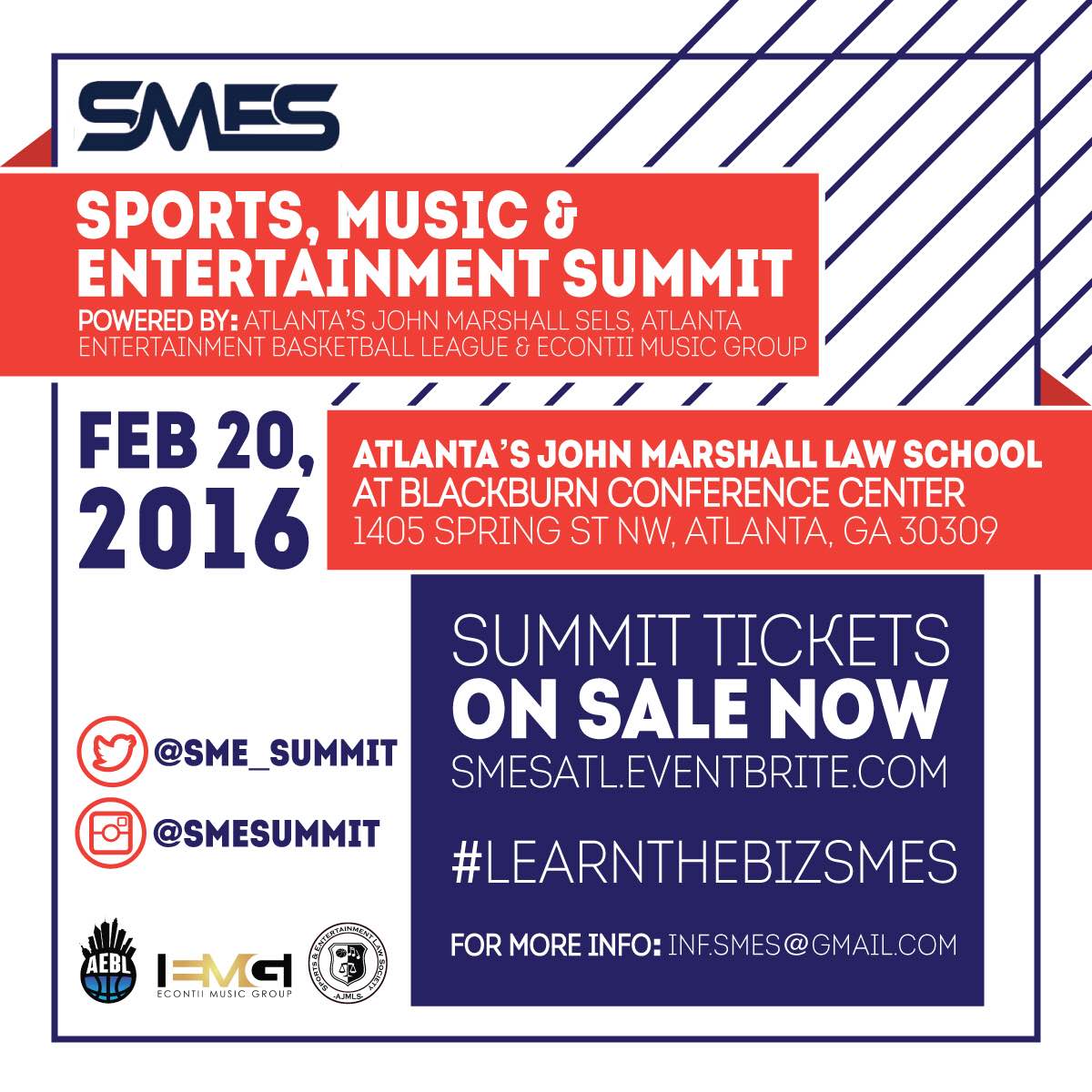 Atlanta's John Marshall Law School's Sports & Entertainment Law Society (SELS) will be hosting the 2016 Sports, Music and Entertainment Summit (SMES) at the Blackburn Conference Center in Atlanta. SMES is an educational platform that provides students and professionals alike an in-depth look into the sports, music and entertainment industries.
About: SMES is the premium forum for students and professionals interested in connecting, learning and building meaningful relationships in the sports, music and entertainment industry. The summit focuses on educating attendees on issues that each respected industry may face and also gives attendees an opportunity to learn from professionals who have navigated through the sports, music and entertainment industry successfully. SMES creates an inclusive learning environment through keynote speakers, panels, break-out workshops and networking mixers.
SMES will bring together some of the top names in the sports, music, television, film, technology and legal communities to discuss the most relevant issues facing artists, athletes and professionals. Panelists and speakers will also discuss their journey in their respected industry, how to navigate through the industry and how to be successful in one of the most prominent fields.
For more information please see below:
Date: February 20, 2016
Time: 9am - 6pm
Location: Atlanta's John Marshall Law School - Blackburn Conference Center - 1405 Spring St NW, Atlanta, GA 30309.
Tickets/Registration: http://smesatl.eventbrite.com/
(Tickets Are Non-Refundable or Transferrable)
** The views and opinions expressed directly or indirectly by guests or members of the SELS Student Association are those of one or more members or guests of the SELS Student Association and do not necessarily reflect the views or opinions of Atlanta's John Marshall Law School (AJMLS), AJMLS faculty or staff, or the AJMLS student body as a whole.**