Sports Industry: Black & Latino Athlete | Black & Latino Professional

Wednesday, October 21, 2015 from 6:00 PM to 9:00 PM (EDT)
Event Details
 Catalyst Network Foundation Inc.
Present
Best of Both Worlds: Black & Latino Athlete | Black & Latino Professional
Drink Specials
After Work Mixer following the Panel Discussion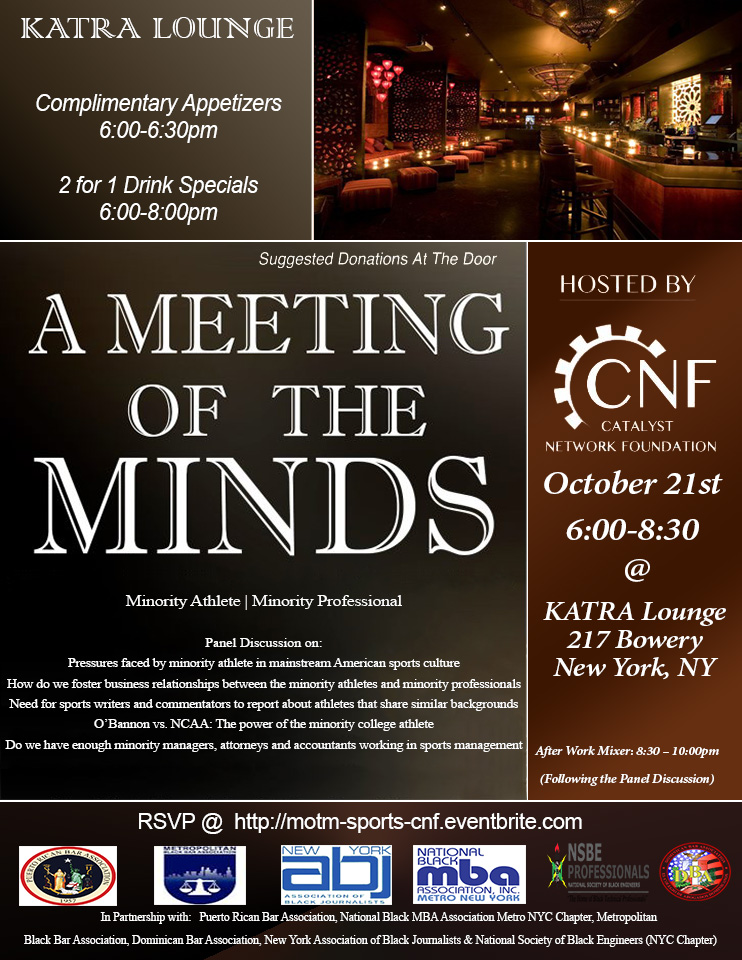 In Partnership with the New York City Chapters of:
National Society of Black Engineers
Metropolitan Black Bar Association
New York Association of Black Journalists
National Black MBA Association
Panel Discussion Centered around
Pressures faced by Black & Latino athlete in mainstream American sports culture
How do we foster business relationships between the Black & Latino athletes and professionals
Need for sports writers and commentators to report about athletes that share similar backgrounds
O'Bannon vs. NCAA: The power of the college athlete
Do we have enough accountants, attorneys and business managers working in sports management
Panelists 
Fatimah Gilliam, Esq. is the Founder and CEO of The Azara Group, which is a leadership development and strategy consulting business.  She started her career on Wall Street as a corporate attorney, worked for one of the top global financial services companies and the United Nations, and is a successful entrepreneur. Since launching her company, she has counseled institutional and Fortune 500 clients on being strategic in negotiations to expand leverage and bargaining power.  Ms. Gilliam has counseled leaders in sports in negotiating more lucrative business deals and spoken to and advised athletes about leadership, career mobility, and life after sports.  She is a graduate of Harvard University, Columbia Law School, and Wellesley College, and a member of the New York City Bar's Sport Law Committee.
Taneshia Nash Laird is the co-owner of the $21 million entertainment center MIST Harlem in NYC and is a Regional Director with the U.S. Women's Chamber of Commerce. She is also the founder and CEO of Legacy Business Advisors. Her consulting practice's entrepreneur clients have included current and retired professional athletes from the NBA and NFL and her business partners in other ventures have included NBA legend James Worthy with whom she launched Legendary Eats, a concessions concept on the Staples Center in Los Angeles in 2014.
Thomas Q. Jones is a captivating force on and off the field. While best known as an unstoppable running back that played twelve seasons in the National Football League (NFL), Jones has turned his post-NFL focus to the world of acting in both film and television. 
In film, Jones headlined the independent film, "Runaway Island," alongside Lorraine Toussaint and Aisha Hinds. He filmed "Straight Outta Compton," the feature film based on the lives and careers of the hip-hop group, N.W.A. He shared a memorable scene with Paul Giamatti. The film opened on August 14, 2015, and debuted in the number one box office position, and remained in the top position for three consecutive weeks. In television, Jones was featured in Seasons 2 and 3 of the BET hit drama series, "Being Mary Jane," in a multi-episode arc as "Brandon 'Cutty Buddy' Gibson," love interest to "Mary Jane Paul," played by award-winning actress, Gabrielle Union. On the TV ONE comedy series, "Born Again Virgin," Jones guest-starred as the irresistible commercial pilot, "Vince," a love interest to the series lead, Danielle Nicolet. He also appeared in featured roles in the acclaimed Showtimes series "Shameless," and IFC's "Comedy Bang! Bang!" 
Drafted 7th overall in the 2000 NFL draft by the Arizona Cardinals out of the University of Virginia, Jones went on to become one of the 25 leading rushers in NFL history, with more than 10,000 rushing yards. In addition to the Arizona Cardinals, he played for the Tampa Bay Buccaneers, New York Jets, Chicago Bears and the Kansas City Chiefs, becoming an AFC Rushing Leader, a 2006 NFC champion, 2007 Super Bowl XLI player, and 2009 Pro-Bowl selection within his career.
Jones received his Bachelor's degree in Psychology, in three years, from the University of Virginia, and established the Thomas Quinn Jones I Academic Scholarship, at his alma mater, among his other philanthropic endeavors. Committed to helping the NFL evolve, he has committed to donating his brain, for research upon death, to the Sports Legacy Institute which studies the link between sports and brain trauma. As a tribute to his 12 years in the NFL, he is also working on a documentary, "The NFL: The Gift or the Curse?"
Mike Roberts is an entrepreneur who specializes in the sports and entertainment industry. In 2003, Mike formed the Ivy Society Sports Group, where he was responsible for  a number of engagements with entities such as Sony BMG/Day 1, Leverage Agency, Madison Square Garden, Goldklang Group, GOOD Music, the Chinese Ministry of Student Sports, Liga de Beisbol Professional de Puerto Rico, Launch Snowboards, and others.  Originally focused on revenue streams for leagues, teams and athletes; the fully vertical Ivy Society Sports Group advisory practice grew into minor league baseball and NBA franchise acquisitions before being acquired in 2011.
In his early career, Mike has worked with the New York Yankees Foundation, the New Jersey Nets, MTV Networks, the New York Urban League's Annual Football Classic, Disney (Broadway) and the Puerto Rico Salsa Open on various consumer marketing and strategic consultations; establishing strategic partnerships with companies like Pepsi, Heineken, Merrill Lynch, Caribbean Tourism Company, Rums of Puerto Rico, Kraft and others. 
Mike was recognized with a private equity award from the Johnson School of Business at Cornell for his digital media business models in sports and entertainment. A former registered NFL Contract Advisor, Mike routinely utilizes his extensive relationships in the sports and entertainment sectors to create "turn key" opportunities for large-scale strategic partnerships and transactions, including athlete endorsements and corporate partnerships with athlete brands. 
Mike has a bachelor's degree from Cornell University where he was a member of the basketball team and a master's degree in Sports Business from New York University.  He also completed a research fellowship at Harvard University.
Mia Hall, is a speaker, content producer, and community strategist. A native of Brooklyn, New York, Mia specializes in women's empowerment and the Business of Sports for outlets such as Black Enterprise, SLAM Magazine, ESPNW, and her personal blog Mia's Full Court Press. Mia has worked with entities such as Madison Square Garden, the WNBA, and The High School of Sports Management. She currently serves as Barclays Center's first community manager, leveraging the arena's sports and entertainment assets to help improve programs and individuals in the Brooklyn community and beyond. Mia received her Bachelor's in Sport Management from Hampton University and her Masters in Education from Harvard University. Mia enjoys mentoring young and coaching future sports professionals. ​ 
Panel Moderator
Bert Gervais, Founder of Success Mentor Education. He is a national best-selling author, speaker, and he is the coordinator for Project D.R.E.AM. a mentor program for the children of incarcerated parents.
 Make a purchase on Amazon.com by clicking this link http://smile.amazon.com/ch/45-4513348
and Amazon will make a donation to Catalyst Network Foundation Inc.
RSVP via Facebook: https://www.facebook.com/events/1051030198241073/
Like CNF on Facebook    |   Follow CNF on Twitter
Join our group on Linkedin: LinkedIn | Follow us on Instagram
Stay up to date with CNF
Visit our blog @ CNF in the News 
Organizer
Catalyst Network Foundation Inc. (CNF)
The Catalyst Network Foundation Inc. (CNF) is a non-profit education initiative 501(c)(3) organization based in New York City and Washington, D.C. The social enterprise is fundamentally grassroots, steered by a volunteer leadership team in New York City and Washington, D.C. In July of 2012, Ranking Congressman Ed Towns awarded a proclamation to the Foundation, in recognition of the organization's achievements.

CNF was conceived after its two founding members had a conversation about the future of youth and veterans in their community. After reviewing the lack of communal resources, skill development programs, and career-field opportunities for adults – the founders developed a vision. Through their combined efforts and strategic planning, the two founders recruited additional professionals to support the formation of Catalyst Network Foundation.
Founded in 2011, the nonprofit focuses on life enrichment and professional development, with a mission to engage high-potential youth (ages 14-25) and veterans (ages 21-30) by providing the proper tools, networks, skill-building projects, and development opportunities to maximize talent.
CNF holds a Summer Intensive Program for rising high school juniors and seniors in New York City and Washington, D.C. Successful applicants are enrolled at a CNF partnership high school. Each student receives individualized attention and internships in preparation for higher education and community service. The fellowship scholars are trained from day one: they tour corporate offices, pitch business ideas, and develop professional skills. 200+ students have been admitted to the Fellowship Program and are CNF Fellows, 99% have graduated high school, and 98% enrolled in higher education institutions (including prestigious colleges and universities).
Through CNF's Mentorship Program, Fellowship scholars are paired with a mentor that is a trailblazer in the profession or career field the fellows aspire to pursue. The CNF Internship Program secures CNF Fellows with internships at startups, corporations, and medical institutions.
Since 2011, the Fellows have participated in corporate tours and create or pitched presentations about inner-city school challenges to several companies, including: Google, Goldman Sachs, NIKE, LinkedIn, Morgan Stanley, HBO, Microsoft, Covington & Burling LLP, GAP, BET, Essence Magazine, NPR, Kaye Scholer LLP, Hughes Hubbard Reed LLP, Bloomberg, Peebles Corporation, Infor, Deloitte, FOX News, and NBC Studios.
The youth initiative annually holds tech symposiums at Google,career, and college preparatory workshops throughout the school year, instructing over 1,500 high school students in the aforementioned metropolitan areas.
CNF performs screening and facilitates seamless partnership arrangements with high schools, nonprofits, and corporations. I.e., City Poly Tech High School < > Infor
The organization works with American veterans (ages 21-30), connecting them with resources and information to assist them with their career and academic ambitions.
CNF has curated 25+ professional networking events and diversity career recruiting sessions. The organization host a professional mixer and panel discussion called The Meeting of the Minds (MOTM) a gathering that is held quarterly it uniquely combines networking and thoughtful policy discussion on topics affecting minority communities. The goal is to provide a forum for critical conversation on issues often ignored by mainstream media outlets.
Sports Industry: Black & Latino Athlete | Black & Latino Professional