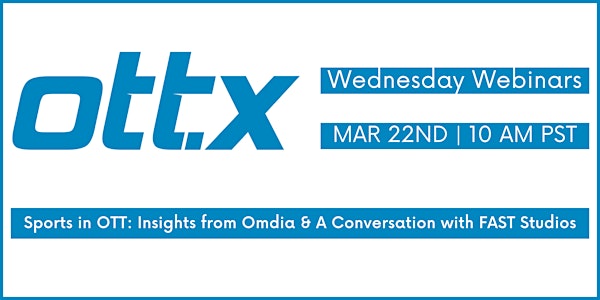 Sports in OTT: Insights from Omdia & A Conversation with FAST Studios
March 22nd | 10:00 AM PST | Sports in OTT: Insights from Omdia & A Conversation with FAST Studios
By OTT.X Wednesday Webinars
Date and time
Wednesday, March 22 · 10 - 11am PDT
About this event
The world of sports broadcasting is experiencing a seismic shift as streaming platforms increasingly spend billions of dollars on live sports rights to attract and retain subscribers, with Amazon's acquisition of NFL Thursday Night Football and Apple TV+'s MLS deal as prime examples.
This coincides with another fundamental development in the industry: the rapid growth of women's sport, which is finally getting exposure from broadcasters after years of being underserved.
Join Omdia's Senior Data Analyst, Ed Ludlow for an overview the progress of women's sport in this unpredictable media landscape and what needs to be done to capitalize on the opportunities this presents.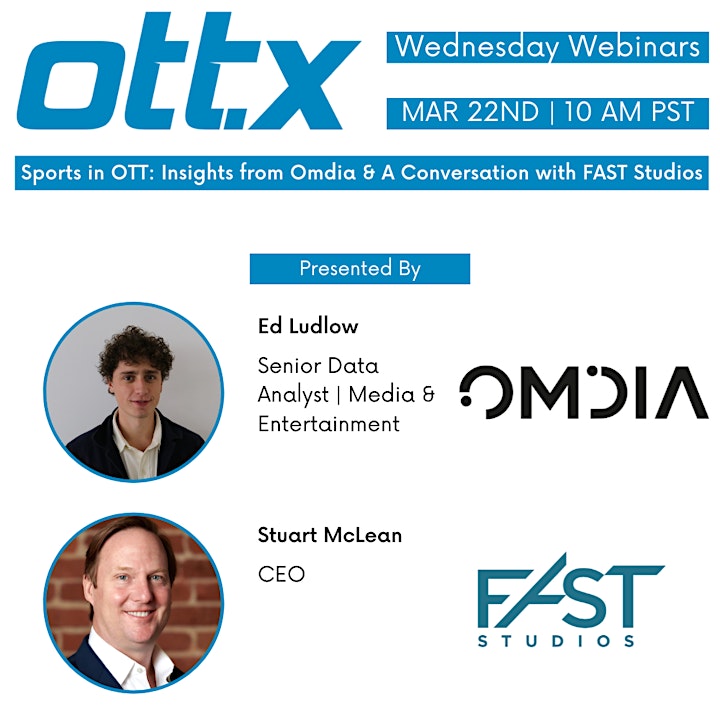 In addition, Ed will interview Stuart McLean, CEO of FAST Studios, a pioneer in providing sports related content via OTT. FAST Studios is the home for OTT channels including Spartan TV, Racing America, and most notably the Women's Sports Network with support from 12 professional women's sports leagues and federations including the WNBA, the LPGA, U.S. Ski & Snowboard, and Athletes Unlimited, the Women's Sports Network is the single point of access for the very best of women's sports.
Learn the latest insights on sports in OTT and first-hand experiences from a company actively participating in this new landscape.