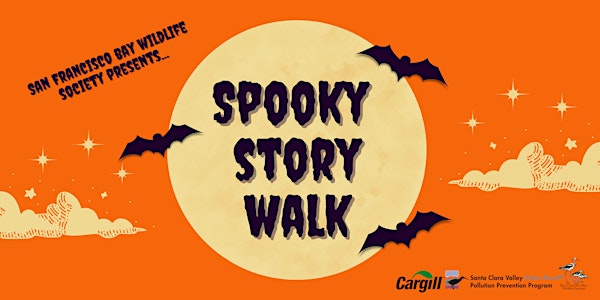 Spooky Story Walk: Detective Bailey the Bat
Solve the mystery of the "haunted" education center with Bailey the Bat!
When and where
Location
Don Edwards San Francisco Bay National Wildlife Refuge Environmental Education Center 1751 Grand Blvd San Jose, CA 95002
About this event
Join us for this special edition Spooky Story Walk! Celebrate the spooky season with your favorite Refuge Rangers and Nocturnal Animals! Fun for the whole family and costumes are greatly encouraged!
This Spooky Story Walk is a mystery! You must join us to find out who is haunting the Environmental Education Center late in the night. Bailey the Bat will guide us along the trail, interviewing all of her fellow nocturnal friends.
We will have a table set up to welcome you, an activity book to complete along with the Story Walk, and an activity to bring home! The Story Walk will be available from 4pm-6pm, so you can arrive anytime in this window. However, please leave about one hour to complete the walk and participate in any other activities.
Spots are limited, so sign up today!
Other Considerations:
- Driving Directions: We recommend using Google Maps and mapping to the "Environmental Education Center (EEC)" or 1751 Grand Blvd, Alviso, CA 95002.
- The early evening can often be quite windy at the Refuge, and we recommend bringing warm layers.
- ADA-compliant parking spaces, trails, and restrooms are available on-site.
- Restrooms will be available on-site in the form of an ADA-compliant portable toilet and hand-washing station.
- Please follow safety precautions and abide by CDC guidelines. https://www.sccgov.org/sites/covid19/Pages/home.aspx
Questions?: Email watershedwatchers@sfbayws.org.
This program is provided to you by San Francisco Bay Wildlife Society in partnership with U.S. Fish and Wildlife Service, Cargill, Inc., and Santa Clara Valley Urban Runoff Pollution Prevention Program.
The StoryWalk®️ Project was created by Anne Ferguson of Montpelier, VT, and developed in collaboration with the Kellogg-Hubbard Library. Storywalk®️ is a registered service mark owned by Ms. Ferguson.