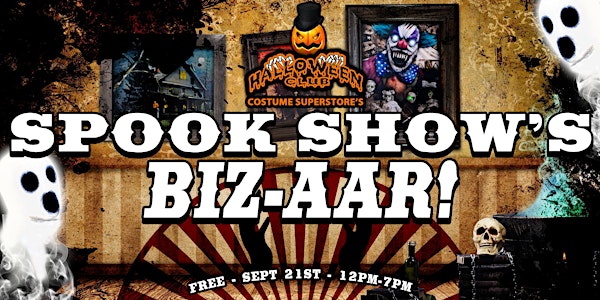 Spook Show's Biz-aar! by Halloween Club
A bazaar of the biz-aar for the bizarre! September 21st, 12-7pm. Hosted by Halloween Club in La Mirada.
When and where
Location
Halloween Club 14447 Firestone Blvd La Mirada, CA 90638
About this event
The original Spook Shows were hosted by magicians using an immersive "blacked out" setup from which ghosts and ghoulies would then ascend out of the dark beyond... and make their presence known to the audience.
These rowdy specters would frolic among the theater-goers and fill them with fright and laughter. This was achieved through the use of props, lighting, sound effects, and the audience's willingness to sacrifice logic in order to buy into surrealism.
Rather curiously, you may find yourself asking, "What happens with the items used in the Spook Show when all the entities return to the netherworld?"
They're sold at the Spook Show's Biz-aar!
It's our hope that Halloween Club sees you on September 21st, 2019. There'll be plenty of spooky vendors whose wares may be inhabited by paranormal beings looking to go home with their new familiar spirit.
The Spook Show's Biz-aar is a bazaar where Halloween enthusiasts, fans of gore and the macabre congregate in order to shop 'till they drop and be spooky. People from various walks of life are conjured to attend. Whatever your penchant, the Spook Show's Biz-aar is the place to acquire interesting pieces of art, clothing, and even edible goodies. Rest assured, all vendors will be carefully curated to be reminiscent of All Hallow's Eve.
Won't you come to visit us Saturday September 21st, 2019 from 12pm-7pm at Halloween Club's La Mirada superstore location so that you can take home some accursed items that'll fill your home and life with magic, mystery, and perhaps a ghost or three?
Event FAQs: http://www.halloweenclub.com/spookshow-faqs
For Vendor Registration: https://forms.gle/ztJXdYQ3bxyD21wx8
VENDORS (more coming soon!):
10:30 Midnight
All Hallows Eve
Ampersand Curiosities
Art By Tobias
Art of Anuchit Saseung
Artist Abe
As Above Arts
Bat in Your Belfry
Beneath The Moonlight
Bestias y Leyendas
Black Kat Creates
Black Magic Cakery
Black Willow Gallery
Bloodbath
Bloodlust Creatures
BooToYouStore
Craftsylvania
Crude Inc
Crypt Relics
Cursed Creatures
Deadcelebritee
Deathling Curiosities
Demonic Pinfestation
Devils Union
Discount Cemetery
DRKLGHT Clothing
Dulce Calaveritas
EMORBID
Erva Brew Co
Fabulous Frights
Fatalxdolliesxcreations
Frightwares
Funeral Classics
GLADRACKET
Gloomy Globes
Hilary's Vanity
House of Nahualli
JoceBoss Boutique
Katsdollies
Krafty Keeps
Lilpapercuties
Little Haus of Horrors
Little Munsters BOOtique
Lucky Hellcat Art
Madame Whiskers
Mama Dog Collars and Apparel
Monster Posse
Monster Under Your Bed Clothing
Morbid Empire Merchandise
MsFormaldehyde
Murders By Chelsea
Of Alchemy Apothecary
PinHead Monsters
PLAY IT BY FEAR
Poltergeists and Paramours
Queen of Havoc
Rad Coffee Truck
RedEye Media
Rey Paez
Rudy's Famous Cauldron
Sara Ray Art
Save The Panduhs
SCOOTER'S ITALIAN ICE
Sew Strange
Sex and Monsters
Spitfire Interiors
Spooksieboo
Stephies Doodles
Straight Outta the Coffin
The Art of Rizzo Michelle
The Art Of Sammy Ruiz
The Art of sketch
The Fiends
The Haunted House of the Ghoul Spook Show
The Horror Corner
The Past You've Never Seen
The Pretty Cult
Timeless Terrors
Verobravo art
VOIDEaD
We All Scream
West Coast Coffins Furniture
Whichcraft
(more coming soon!)