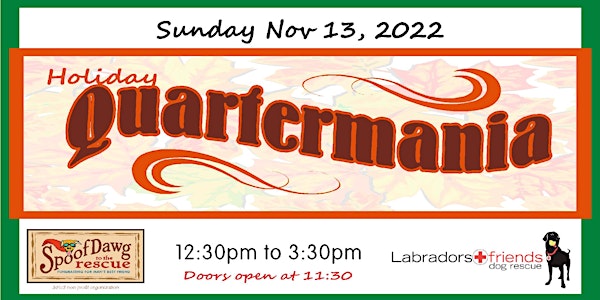 SpoofDawg Mania 2022
Quartermania is a FUNdraiser that is supporting Spoofdawg to the Rescue AND Labradors and Friends! Come and play with us!
When and where
Location
Straub Distributing 4633 East La Palma Avenue Anaheim, CA 92807
Refund Policy
Contact the organizer to request a refund.
About this event
A Little About SpoofDawg
SpoofDawg to the Rescue is a 501c3 non-profit charity that bridges the gap between pet supplies and small non-government funded animal rescue organizations in need.
Through our efforts and donor support, animal rescue organizations in the Southern California area receive pet food and supplies at no cost. SpoofDawg to the Rescue also assists rescue organizations and evacuees with donated emergency pet food and supplies during disasters including California wildfires, earthquakes, and pandemics
Past and Present We began as a small grassroots all-volunteer team in Southern California gathering small donations of pet food and supplies, distributing them to a few local animal rescue groups. Pet supply stores and distributors such as Kong Toys, Fringe Studio, Nature's Specialties, The Greater Good Charities and Chewy took notice and began donating needed items.
Permanent donation bins established at local pet related businesses and our "Fill the Truck" program collect new and gently used items from the communities supporting our mission.
Today we are proud of our accomplishments in our first five years, including donations of food and supplies to more than 90 animal rescue organizations and victims of disasters equaling more than $2.2 Million. Our hard-working volunteer team has doubled in size.
Donors and supporters are stepping up to help SpoofDawg to the Rescue expand our momentous mission. Stronger together, we can close the gap between lifesaving pet supplies and Rescue organizations that are dedicated to saving hundreds of thousands of dogs and cats that would otherwise be euthanized annually in county Animal Shelters.
For more information about our organization visit SpoofDawg to the Rescue
A Little About Quartermania
Our featured Rescue Partner for this event is Labradors and Friends Dog Rescue.
You've purchased your ticket and you are at the location. You've registered, gotten your paddle(s) and you've secured your seat at a table, spent some time looking at all the auction items up for display, you've visited all the vendors and maybe placed an order or two!! You've picked up your lunch plate (included in ticket price), grabbed a drink and you've joined your friends and family at the table & now its time to play!!
The auctioneer is describing the first auction item & telling you how many quarters it is - you would really like to win it so, you put your quarter(s) into the container - just like everyone else does! You hold your numbered paddle(s) way up high (cuz you really want that item like crazy!!), just like everyone else does! Now, the auctioneer stirs the chips & reaches in - pulls out a number and reads it to the crowd.
Now if it's your number - you WIN the item and you've only paid from 1 to 4 quarters for it (feel free to jump up and down and make a scene). However, if you didn't win the item it's ok - you've just 'donated' from 1 to 4 quarters to the rescue! The auctioneer will continue until all the items are auctioned off. You have a chance to win every item you bid with your quarters.
NOTE: ALL the quarters collected from your bid & everyone else's bids for that item - will be collected for animal rescue- remember you were going to donate some money to your cause anyway - so it's a Win/Win situation!!
Specifics about the event
11:30 Doors open for shopping and lunch
11:30-12:30 Lunch will be served
12:30-3:30 Quartermania Fun!
Don't forget to bring a roll of quarters. Additional quarters will be available for purchase throughout the event.
Sorry, no dogs allowed.
We kindly ask that you do not attend our event if you are feeling sick or feverish.
Note- Photos below are from previous events...