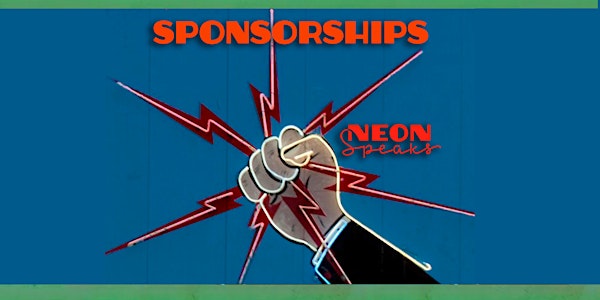 Sponsorships Neon Speaks 2022
Become a sponsor of the 2022 Neon Speaks & Festival Symposium to champion the preservation of neon signs and celebrate the future of neon.
About this event
Neon Speaks is a celebration of neon art, design, and vintage neon signs. These one-of-a-kind creations are cultural landmarks in a disappearing landscape.
Your sponsorship donation at any level is much appreciated, no amount is too little or too large. Our goal is to raise funds to support our annual budget (grants that funded Neon Speaks in the past are not available this year). Thank you to our sponsors who raise the bar each year by donating at the Noviol Gold level!
Choose a sponsorship at any amount, we'll include your name and/or organization's logo on the Neon Speaks website and in the colorful souvenir program. Sponsors will receive Zoom links to join online events plus free access to live and recorded events.
Sponsorship Ticket/Donation Levels
Choose your sponsorship level to support Neon Speaks and click the register button above. If you prefer to donate by check, contact us via neonspeaks@gmail.com.
Noviol Gold: $1,000–$5,000
Ruby Red: $600-$999
Cobalt Blue: $300–$599
Emerald Green: $100–$299
Neon Speaks sponsors at the Cobolt level and higher will receive a special promo code for free registration (+1) at checkout to the Neon Works Shop Tour in Oakland and the Neon Curiosity Lounge at MONA in Glendale, CA.
All sponsorships are tax deductible, you will receive a thank you letter with tax information for your records. Neon Speaks is under the the fiscal sponsorship of the Tenderloin Museum, a 501(c) (3) non-profit organization.
Hosts/Co-Producers: Al Barna and Randall Ann Homan, SFNeon.org
Questions? Contact the Al and Randall Ann at neonspeaks@gmail.com.
Browse the schedule for 2022 on NeonSpeaks.org