Description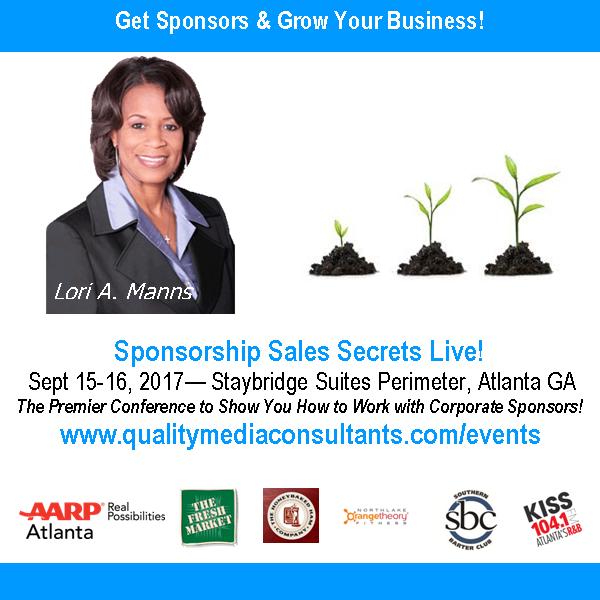 Feel like your business has a missing piece when it comes to revenue?
Sponsors may be the missing piece for you!
Attend Sponsorship Sales Secrets 2017 Live & get the answers you need!
Who should attend?

Small Business Owners, Entrepreneurs, Mompreneurs, Event Producers, Life & Business Coaches, Business Associations, Chiropractors, Dentists, Speakers, Authors, Musicians, Hair Stylists, TV/Radio Show Hosts, Filmmakers, Non-Profit Organizations, Day care/Private School Owners, Health & Wellness Practitioners, Athletes and Sporting Event Producers, Music Producers, Internet Hosts, Bloggers, Networking Organizations, Inventors, Business consultants and more.
THIS TWO DAY CONFERENCE INCLUDES:


LUNCH BOTH DAYS

Expert Training by a 25+ Year Sales Coach, Trainer and veteren Sales Executive

Training Materials (workbook, worksheets, templates/tools)

Masterful Networking & Meaningful Connections

Sponsor Quick Tips Q & A

***BONUS - BONUS - BONUS!***


Media/Press Kit Template for EARLY BIRD REGISTRATIONS ONLY

Sponsor Sales Pitch Makeovers on the spot

Sponsorship Sales Call Hot Seats

Opportunity to win a FREE Sponsorship Discovery Session
AGENDA
DAY 1 - FRIDAY (SEPT 15) 9:30AM-3:30PM - SALES MASTERY
DAY 2 - SATURDAY (SEPT 16) 11:00AM-5:00PM - SPONSORSHIP SELLING
Attend one day or both, either way, you'll get tools you can use to make more money in your biz.
The strategies I teach, work! Period.
PART ONE - FRIDAY 9/15/17
Winning mindset for sales success

Steps to overcome your fears and sell with confidence.

The one thing you must know to avoid the sleezy sales feeling.

Key ways to stand above the crowd and out-sell your competition.

How to sell your products and services on-line. soulfully and masterfully

Strategy to convert prospects into paying clients

Sales funnel management with ready-to-buy customers.

Lead generation system that attracts the right people

Learn the one thing you need to know to "always be closing".

The #1 way to increase your closing ratio.

Proven techniques to increase your profits.


PART TWO - SATURDAY 9/16/17
Proven ways to get sponsors to work with you

How to identify and engage the decision makers

How to Craft a Sponsorship Pitch that Gets You Funded

What goes into a killer sponsorship introduction letter to get noticed

What to Include in Your Sponsorship Proposal - the science behind it and #1 thing you must include

How to Build Sponsorship Packages that sell (step-by-step)

How to avoid costly mistakes when pitching sponsors

The budget formula profitable events so you ask for the right amount of money

Sponsorship Trends so you know what's hot & what's not

How to get media to attract sponsors

EXPERT SALES STRATEGIES that keep you from looking like a NEWBIE

Proven Closing SALES Strategies that help you get the deal done right

Renewal Strategies to sell long term contracts, again & again

Metrics to help you measure success and prove you're sponsor worthy



****************************************************
HERE'S WHAT OTHERS HAVE TO SAY ABOUT THIS EVENT:
"Wanted to give a shout out and big THANK YOU to Lori A. Manns of Quality Media Consultant Group for the Sponsorship Sales Secrets Conference I attended. Everything was quality and on target. One of the exercises really identified a missing element in my sales funnel and closed a loop that was letting $$ walk out the door! Great event for entrepreneurs and business owners!" ~ Dannella McWilliams Burnett, Owner Oakwood Occasions
"I took Lori's Sponsorship Sales Secrets training, followed the lessons and implemented the strategies I learned and it paid off early. Within a few weeks, I secured sponsors worth $25,000 for my national event." Dr. Shekina Farr Moore, B2F Girls, Inc. & Tween Star Awards
"I'm so happy I attended the Sponsorship Sales Secrets Conference. It was a huge eye opener and helped me to see how I can position my brand for incremental revenue. After attending the conference within a few months, I closed two sponsor contracts for over $25,000. This is one of the best training events I've ever experienced. Now I have a real plan for getting sponsors and it will be an attainable goal for my brand." – Shar Bates, Shar Bates Show, Atlanta, GA.