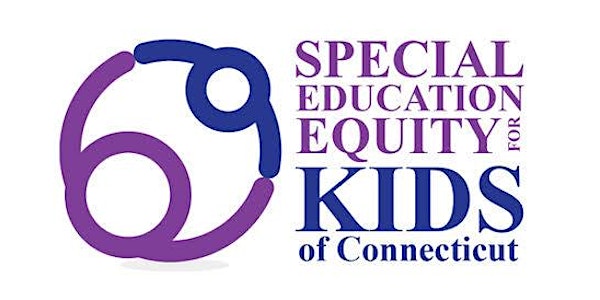 Sponsors/Exhibitors Open for SEEK 2019 Conference: Special Education Parent...
Event Information
Location
Omni New Haven Hotel at Yale
155 Temple Street
New Haven, CT 06510
Refund policy
Refunds up to 7 days before event
Description
ENDING SEPTEMBER 26th!
CONFERENCE SPONSORSHIPS and EXHIBITOR TABLES
Sponsors and exhibitors will reach Connecticut parents of special education students, advocates, attorneys and related service professionals at SEEK's 2nd annual conference. SEEK's conference features trending special education issues and must-know advocacy skills.
SEEK is Connecticut's only parent/professional run organization created to identify barriers in special education and SEEK solutions through changing policy and legislation.
---
PLATINUM SPONSOR

$1,500+Service Fee. SEEK 2019 Platinum Sponsors receive 3 conference tickets, special advertisement throughout the conference, full page listing in the program and an exhibitor table

GOLD SPONSOR

$500.00

+Service Fee.

SEEK 2019 Gold Sponsors receive 2 conference tickets, half page listing in the program and an exhibitor table.

SILVER SPONSOR

$250.00

+Service Fee.

SILVER SPONSOR.

SEEK 2019 Silver Sponsors receive 1 conference ticket and quarter page listing in the program.
SCHEDULE
9:00 a.m. Registration. Coffee, Pastries, Visit Sponsors
9:30 a.m. - 9:45 a.m. Welcome, Panel Introduction
9:45 a.m. - 11:00 a.m. Morning Panel: How Special Education Decisions are Made
Typhanie Jackson, Director of Special Education, New Haven Public Schools
Attorney Linda Yoder, Partner, Shipman and Goodwin LLP
Kirsten Dovenberg, Esq., independent mediator, Bureau of Special Education, Connecticut State Department of Education
Natalie Jones, Educational Consultant, Connecticut State Department of Education
Attorney Andrew Feinstein, Feinstein Education Law Group
Panel Moderator - Jacqueline Rabe Thomas, Education Reporter, The Connecticut Mirror
11:00 a.m. - 11:15 a.m. Coffee/Tea Break, Visit Sponsors
11:15 a.m. -12:30 p.m. Simultaneous Workshops
A1. IEPs, FBAs & BIPs for Children with Behavioral Challenges by Jeffrey Forte, Esq. & Solandy Forte, Ph.D., LCSW, BCBA-D
A2. Best Practices in Transition Planning for Individuals with ASD by Nicholas Gelbar, Ph.D.
A3. Understanding Your Student's IEP by Attorney John Flanders
A4. Reading Basics by Kathleen Whitbread, Ph.D.
12:30 p.m. - 12:45 p.m. Grab Bag Lunch, Visit Sponsors
12:45 p.m. - 1:00 p.m. SEEK Update, Panel Introduction
1:00 p.m. - 2:15 p.m. Midday Panel: The Future of Special Education
Rep. Bobby Sanchez, Chairman, Education Committee, Connecticut Legislature
Denise Marshall, Executive Director, Council of Parent Attorneys and Advocates (COPAA)
Patrice McCarthy, Deputy Director and General Counsel, Connecticut Association of Boards of Education (CABE)
Steven Hernandez, Executive Director, Connecticut Commission on Women, Children and Seniors
Robyn Kaplan-Cho, Connecticut Education Association
Panel Moderator - Andrew Feinstein, Esq.
2:15 p.m. - 3:30 p.m. Simultaneous Workshops
B1. Using Literacy Evaluations to Inform Instruction & Assess Progress by Sheryl Knapp, M.Ed., C/AOGPE, CDT
B2. School Refusal & Truancy by Jennifer Laviano, Esq.
B3. All About Independent Educational Evaluations (IEE) by Diane Willcutts, Education Advocate
B4. Parent Advocacy Playbook: Essential Tips for Navigating the IEP Process by Kit Savage, Education Advocate & Julie Swanson, Education Advocate and SEEK President
3:30 p.m. - 3:45 p.m. Coffee Break, Visit Sponsors
3:45 p.m. - 5:00 p.m. Simultaneous Workshops
C1. Trans-Students: Obtaining Educational Services via IDEA & 504 by Dana Jonson, Esq.
C2. Legal and Financial Planning: How to protect and preserve funds for your loved one's care - now and in the future by Michael Beloff, CFP & ChFC & Colleen Masse, Esq.
C3. Disciplining Students with Disabilities - suspension, expulsion & manifestation determination by Erin Shaffer, Esq.
C4. Mock PPT Meeting, an interactive performance. by Anne Treimanis, Esq.
5:00 p.m. Cash Bar Reception
Date and time
Location
Omni New Haven Hotel at Yale
155 Temple Street
New Haven, CT 06510
Refund policy
Refunds up to 7 days before event