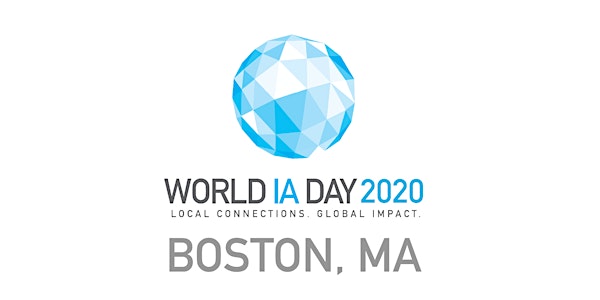 Sponsors for World IA Day Boston 2020
Help us produce this free community event on Information Architecture (IA) and design.
Date and time
Saturday, February 22, 2020 · 9am - 4pm EST
Refund Policy
Contact the organizer to request a refund.
Eventbrite's fee is nonrefundable.
About this event
As an volunteer-run nonprofit, we are looking for local sponsors to make this event possible for the fifth year in Boston, MA, on February 22, 2020.
Thank you for your interest in sponsoring World IA Day Boston 2020! Since 2016, we have drawn up to 350 attendees annually from diverse backgrounds and experiences, and reached hundreds more around the world via live-streamed and recorded conference sessions. We need your help to bring this event back to the Boston design, technology, and innovation community in 2020.
Note: Our payment processing method has changed, and we can no longer receive donations via Eventbrite. Contact boston@worldiaday.org for alternatives.
Past events and speakers
This community event has featured world-class speakers such as Dana Chisnell, Christina Wodtke, Richard Saul Wurman, Moshe Safdie, Margot Bloomstein, Steve Portigal, Dan Klyn, Peter Morville, and more. Our 2020 program includes Abby Covert, Information Architect at Etsy, accomplished IA thought leader, and author.
Through the generosity of sponsors, we have been able to provide an incredible education opportunity for local professionals and students, making these thought leaders accessible to the Boston community (as well as remote audiences as far as Tampa, Florida; Sheffield, UK; and Jönköping, Sweden) at minimal or no cost.
How your sponsorship will help
By sponsoring World IA Day Boston, your organization will help advance awareness and education in the information architecture and user experience fields while enjoying unique outreach benefits.
Your help will provide: A venue, free admission for attendees, travel reimbursement for speakers, quality live stream & Wi-Fi at event location, tea or coffee & snack for attendees, door prizes and raffles, and more...
Sponsor benefits and logistics
As a sponsor ($500 and up), you will:
Be promoted and thanked online via @WIADBOS tweets in the time leading up to, during, and after the event.
Have logo placement on marketing materials, our website, and registration page.
Be visually and vocally thanked at the start and end of the day, both at the event and in the live stream.
As a Silver Sponsor ($1,000 and up) will also be able to host an information table all day at the event.
As a Gold Sponsor/Co-Producer ($5,000), or as a hosting venue, you will be able to host an information table, your name and logo will be prominently displayed online, and on event signage, and you will be given prominent billing wherever possible.
Registration and payment instructions
The fiscal host for our event is World IA Day, Inc., a 501(c)3 nonprofit public charity registered in Florida. Contributions are tax deductible and can be made by paper check, PayPal, or credit card (subject to a processing fee). Contact us at boston@worldiaday.org for details.
For any members of your organization who are attending the event, we ask that they register as individual attendees at wiadbos20.eventbrite.com so that we have an accurate headcount.
Contact
If you have questions, ideas, or would like to be involved in any capacity, we would love to hear from you!
Dan Zollman is the lead organizer for WIAD Boston 2020. Contact Dan at boston@worldiaday.org.
This year's organizing team also includes Brian Durkin, Jason Reynolds, Caroline Sheridan, and Ibrahim Tannira.