Actions and Detail Panel
Sponsors and Vendors for #VIMF2017
Sun, September 3, 2017, 12:00 PM – 10:00 PM EDT
Description

Does your business support community awareness?
We are seeking to work with businesses who are interested in supporting awareness causes such as: Domestic violence against women, Gun violence, Human trafficking, Cancer awareness and Homelessness awarenss.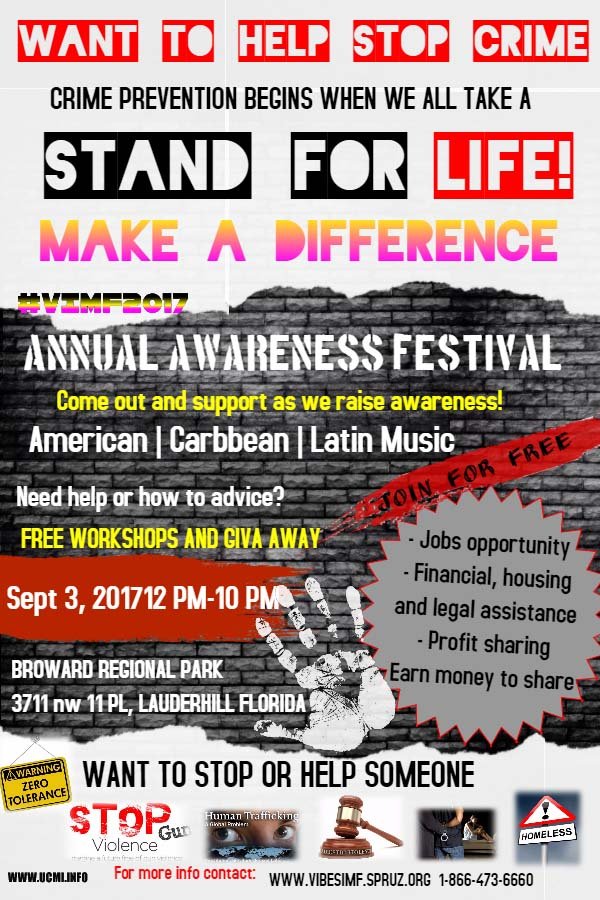 Unlike other music festivals we focus on registering thousands of subscribers nationwide who are dedicated to promoting our sponsors and vendors year round through our members social media accounts with millions of followers. (No additional cost)
We have a loyalty rewards program for our members and event attendees to get free tickets and free stuff, if they buy direct from our business and show proof of purchase (POP).
By choosing to support awareness we will offer the following.

Invite you to our exclusive Gala awards on Spetember 2, 2017

FREE to join our community job fair if you are hiring

FREE to participate in our Opening parade, where we will promote your business

Monthly blast your business ads on our social media each month to all our members accounts.
This event will bring together largest awareness audiences, groups and supporters to be held this Labor Day weekend, Sunday, September 3, 2017 at the Broward Regional Park in Lauderhill, Florida.
You can support this event by purchasing a sponsorship package that will give you lots of advertisement for your brand.
---


Music line up for the event : American, Caribbean and Latin includes catagories such as: Country, Latin, Reggae, jazz, R & B, Rock, etc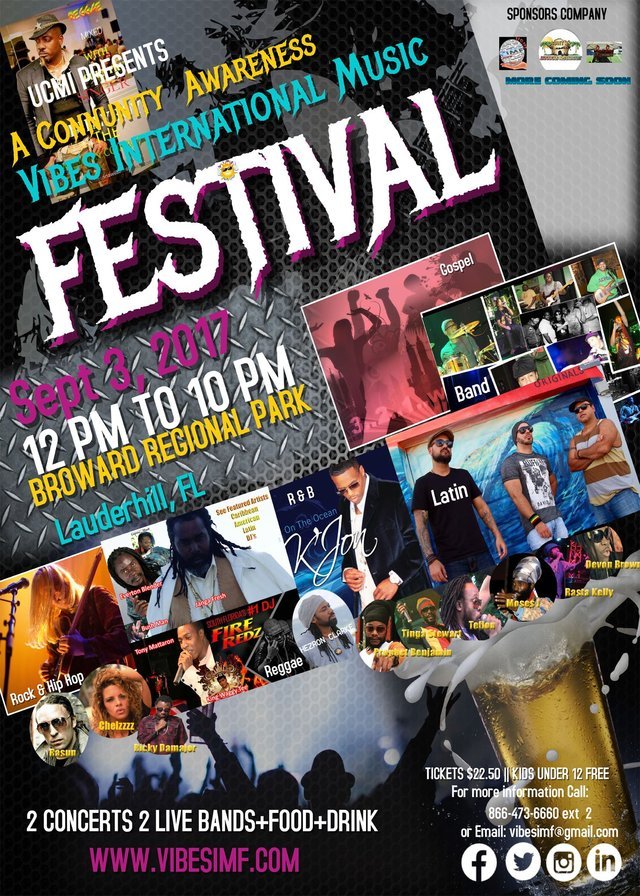 Our general promotion package for sponsors include:
Your logo on.
 T-shirts for VIMF2017 (1,000) to be given away
 Posters (500) Printed and distributed
 Post cards/Flyers (100,000) Printed and direct post to residents
 Social media campaign video with sponsor logo in the back ground
 Website/link to your site
 Documentary posted in blog about your business Media promotion:
 Full page ads once per month in Sun Sentinel include your logo/ads
 Media announcement on radio (WEDR & 96 JAMS). Event Promotion
 On stage recognition of sponsors
 Promotional booth/tables, 4 Chairs
 Lunch and dinner for your staff at the event
 Display 4 BY 6 banner against the fence for your business
 Distribute 5,000 postcards from 5 information booths at VIMF event.
 ¼ page ad in our event magazine guide
Please click here to review our sponsorship packages
Commemorative Sponsorship free with sponsorship packages(Presenter, Major, Gold, Silver) Company Logo to be placed on T-Shirt, Hats, Bags, Cups, Key Chain, Flags, etc.
This offer will end May 1, 2017 Commemorative sponsorship opportunities are available on a "first-come, first-served" basis to a limited number of business sponsors and will feature the company's logo on a single 2017 VIMF promotional item.

This is a community awareness music festival, our community site register hundreds of loyal members who will always support your business and promote your business on social media year round.Click Here


If you can be present you can support as a Virtual Patron Sponsor $100
Advertise from January through August for $100
 We will display your banner at the event (September 3, 2017)
 We will advertise your business at our website(s)
 We will place an ad (3 X 2) in our Event guide magazine
 We will distribute 5,000 business cards (over the promotional period) at any monthly promotional parties we send our staff to work. (You supply)
 Weekly blast on social media (FB, Instagram, Twitter) This promotional offer will include:
 Placing your logo on our Banner display your business at all 5 information booths setup around the venue/park.
 3 tickets for your company, staff or friends to attend the awareness VIMF2017. (Value $45 each)