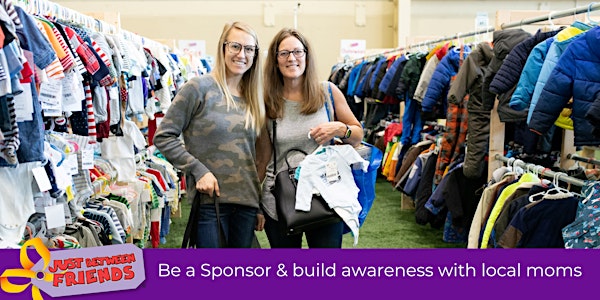 Sponsor Registration - Fall 2022 - JBF Woodbury
Be a sponsor for our upcoming sale event and build awareness for your business with our huge audience of moms, expecting moms, and families.
By Just Between Friends Woodbury
About this event
Shopping Cart Sponsor:
- Your business name, logo, & QR code to your website on a shopping cart
- Your business (with website link) listed in one email to our full customer base
- Your business (with facebook link) posted in our facebook event as a sponsor
- 10% Discount available for sponsoring 2-5 carts. 20% discount available for sponsoring 6-10 carts. Please contact SueEndle@jbfsale.com if you would like to reserve multiple cart sponsorships.
Presenting Sponsor:
"The JBF Sale - Sponsored By... Your Business!" Engage with the JBF Community in multiple email and social media posts leading up to and during the sale.
This opportunity is exclusive - only one business each sale.
The presenting sponsor will also be highlighted on-site at the Hospitality Station, where shoppers can stop and get complimentary waters.
Includes:
- Your business (with website link) promoted as presenting sponsor in at least 4 emails to our full customer base
- Your business promoted as presenting sponsor in at least 3 social posts (2 Facebook, 1 Instagram)
- Your business highlighted at the Hospitality Station. You may give us your banner to display or we will create a display on-site. You are welcome to send representatives to be present at the Hospitality Station for portions of the event.
- Your business name, logo, & QR code to your website on 3 shopping carts
- Your ads placed in 1,000 bags that go home with shoppers
More Information:
The limited number of sponsorships are available on a first-come, first-reserved basis, and are not held until payment is complete.
For a complete event schedule and more event details go to our website - woodbury.jbfsale.com.
Thank you for your interest in being a Sponsor at JBF Woodbury. We would love to help you reach new customers!
FAQs
What is a shopping cart sponsorship?
At the sale we have a limited number of carts available for shoppers. These are highly sought after and a great way to showcase your business to local moms. We will place your business on the cart placard along with a QR code directing the shopper to your website.
What other benefits are there to being a sponsor?
Just Between Friends Woodbury is trusted by thousands of moms for our support of them and their families. When you become a sponsor, your name gets brought into our circle of trust, and builds trust for your company with our customers.
Where is the sale event located?
M Health Fairview Sports Center, 4125 Radio Drive, Woodbury, MN, 55129
When is the sale event?
Sept 14 - 17, 2022
Is my registration refundable or transferable?
No, there are no refunds on Sponsor registrations and they are not transferable.
Have a question that is not answered here?
Please email Sue at SueEndle@jbfsale.com
About the organizer
Kids grow so fast and keeping up with their growth spurts is expensive!  Shop our HUGE children's consignment event loaded with high-quality items.  Thousands of moms find all they need for their growing families at 50-90% off retail!

Choose your ticket type below - Early Access, FREE General Admission, or Half-Price Sale First Dibs.  
#ShopHappy and get way more for less!