Spoken Word Showcase - Queens Underground Poets for the L.I. Nets Basketbal...
Description
It's Martin Luther Birthday and a Long Island Nets Basketball Game, Poetry Showcase, & Sip and Paint Options
The Arts Are Moving Back In This Season,
Nassau Coliseum has always been a great supporter of the Arts, Education, and Community Organizations, as well as business. This year, Queens Underground Poets has been invited to "take over" the Entertainment to show off our awesomely talented Poetry Squad and Painting Skills.
4 Ways To Help
1. Purchase tickets to the basketball game.
2. Purchase tickets to the game with a Courtside Sip and Paint (all supplies and wine included)

3. Donate (tax deductible) to support Queens Center Arts which brings you quality Entertainment such as live performances, a variety of creative art lessons, workshops, and networking events. We work very hard to not only promote the arts and all genres, but to help promote individual artists, and keep cover charges low. As we also raise funds to build our recording studio and launch our live broadcast radio/web show, your donated dollars are greatly appreciated and will benefit a great many visual and performing artists from 14 years on up. The Poetry Open Mic Nights, have especially become a vital forum for creativity, self-expression, sharing, acceptance, and building a stronger community!

4. Purchase Complitation Cds, Tee Shirts, Event Tickets, Books, and more during the game from any of the Queens Underground volunteer staff.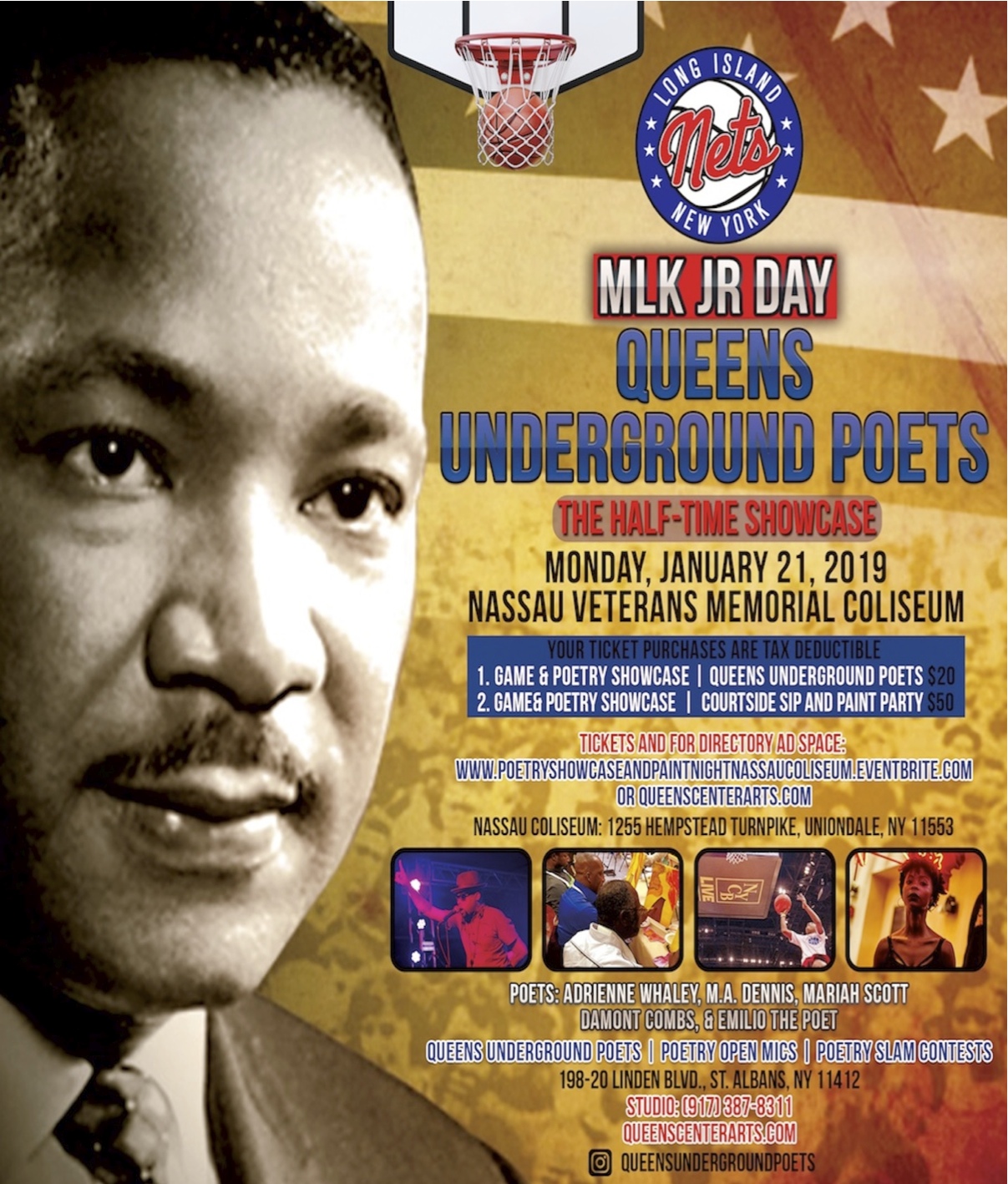 More About Queens Underground Poets:
Nestled in the historic districts of Addisleigh Park and St. Albans, Queens and
in keeping with the tradition of innovative performance and visual arts,
Queens Underground Poets features several nights of Poetry, Open Mic,
and Artist Showcases each month. With regular visits by Legends such as
Keith Murray,
Special K, M.A. Dennis,
Rakim the Comedian, Kevin Livingston,
Gato, DJ Fury and DJ Switch, to name
a few, Queens Underground is
the best-kept secret Creative Space for all
genres of Artistic shows and performances.
With live Jazz Open Mic, Talent Show Open Mic Nights,
Comedy
Shows, Poetry
Nights, Rappers Showcases, and Sip and Paint Nights, Innovations Creative Arts
is the best place in Queens, NY for
live
entertainment and you can rent our stage
for
a party or performance night of your own!
Visit: QueensUnderground718.com,
Open Wednesdays - Saturdays.
Studio (917) 387-8311
198-20 Linden Blvd., Jamaica, NY 11412
VIP Lounge and Street parking available
Purchase Tickets And Get A Free Ticket To A Poetry Night!