About this Event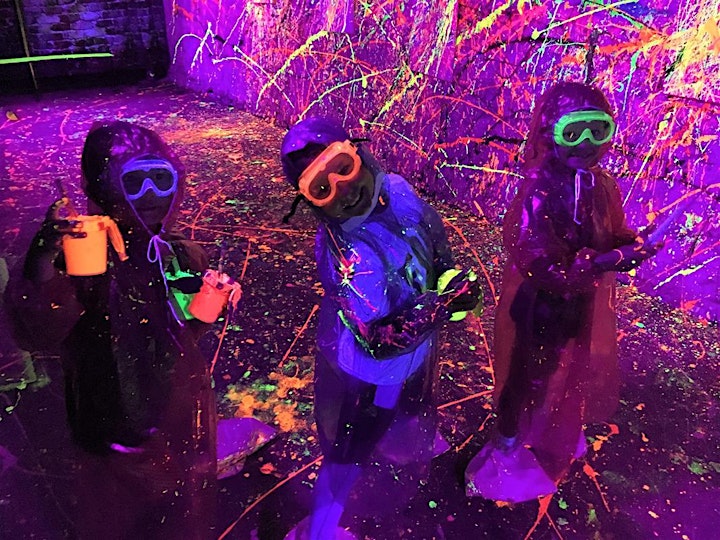 Get Your GLOW On!
Groups of 4 or more people ages 3 and up. Just want to throw some paint with friends! Prices are $25 per person and include 1 large 16" x 20" Canvas, Paint and Splatter Gear. Splatter sessions are 60 minutes long. 15 person-max. Not recommended for kids younger than 3. Plan on about an hour for the experience to allow time to change into protective gear and clean up. Dress for a mess! PLEASE NOTE: Splatter painting is VERY, VERY MESSY. The person booking the party will need to ensure all guests know to wear old shoes and clothes that can get messy.
Contact us to schedule a private event!
SPLATTER PARTY KIDS/TEENS /ADULTS $225 for up to 8 People Birthdays, Youth Groups, Team Building Workshops, Stress Relief Party, Scouts, Sports Teams, Gender Reveal, Bachelorette Party! BYOB allowed for groups 21 or older. 90-minute session includes rental of the "ART CELLAR" for cake, snacks and gifts! 1 large 16" x 20" Canvas, Paint and Splatter Gear for up to 8 people. (Fewer than 8 is ok, rate remains the same.) Each additional guest is $25 over 8 is $25 per person. 15-person max.
Please check out our website for more information and lots of pictures at www.bluefirearts.com , give us a call 920-728-0760 or email cindy.bluefirearts@gmail.com
OPEN TUESDAY-SATURDAY 11 am to 5 pm CLOSED SUNDAYS and MONDAYS.