Actions and Detail Panel
Splash J'ouvert Troupe
Wed, January 4, 2017, 4:00 AM – 10:00 AM AST
Description
Share in the ambience of music and masquerade mayhem. Abandon all social restraint, toss paint and powder and

drink rum punch while "wukkin' up" to the sweet sounds of soca music

.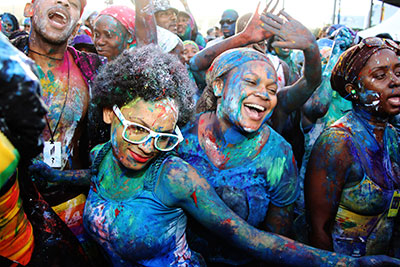 Tri-Island Top Fettaz's Splash J'ouvert Troupe offers a "fettaz" package that will include:
a t-shirt

a reveler's backpack -- stocked with j'ouvert must-haves

a tasty Crucian breakfast

a wristband that gets troupe members premium drinks

private security

and a warm welcome into the moving party that will follow the rumbling music truck through the streets.