Spiritualnaire™ Mentoring: How to Become Infinitely Rich Inside & Out - TeleWorkshop

Saturday, June 3, 2017 from 8:00 AM to 5:00 PM (EDT)
Event Details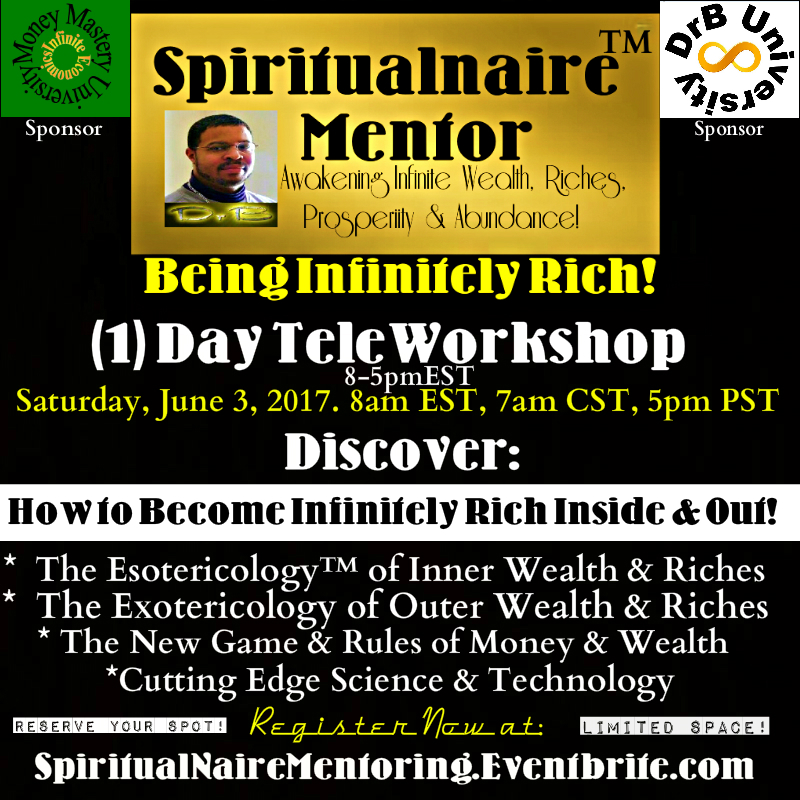 Are You Tired Of Being Depressed, Broke, Busted & Disgusted?
Are You experiencing the following:
Sleepless Nights Up Worrying about bills due to the lack of money and finances
Not able to buy a home, lovely furniture, a new car, a boat or other material possessions due to the lack of money and finances
Not able to acquire the possessions you desire due to the lack of money and finances
Not able to enjoy recreational activities like a simple picnic, golf, swimming, boating, hiking, , camping, fishing, concerts, athletic events, movies, chess, gardening, or other favorite activity due to the lack of money and finances
Not able to get you or your children more education formal or informal do to the lack of money and finances
Not able to travel or take trips due to the lack of money and finances
Not able to get much needed medical and dental care due to the lack of money and finances
Not able to retire or worried about retirement due to the lack of money and finances to support it
Living in poor conditions and in neigborhoods you do not want to live in due to lack of money and finances
Starving, going hungry and not able to buy groceries, or eat as healthy as you would like due to lack of money and finances
Low Self Esteem and Confidence due to not having money in your pocket, and trying numerous ways to pursue it, and failing, and may have even given up trying any further
Feeling Like Giving Up and not trying anymore due to the numerous lies you have been told and the repetitive failures you have experienced in your pursuit of money
You are limited in your choices of what you can and can not do due to the lack of money and finances
You feel under constant pressure due to the lack of money and finances and are always suffering from anxiety and depression
You are not able to provide and do for your loved ones due to the lack of money and finances
Your marriage or relationship is on the rocks, with constant arguing and stress due to the lack of money and finances
You feel enslaved, trapped, helpless and imprisoned in life due to the lack of money and finances
You have to beg other family members, people and agencies for help, sometimes having to do things you don't want to do in return, or be put down for the conditions you are in...
You are constantly in a state of fear, wondering what is going to happen from one moment to the next. Wondering what will be cut off, or what you are going to lose......
There is one thing guaranteed. If you keep on doing what you have always done, you will continue to get what you have always got. Don't you agree that NOW is the time to change this pattern, and that you deserve better in life?
Are You Tired Of Scraping for Every Last Penny or Dime?
Poverty is:
A Form of Hell on Earth...............
A dirty, uncomfortable, and degrading experience
A Form of Mental Dis-ease
A state of Consciousness that has taken what is a lie, false or dishonest as true; thus mistaken, in error and missing the mark of truth
A Form of Insanity in its most acute phases
Poverty causes:
Prisons to be filled with thieves and murders
Drives men and women to drinking, prostitution, drug and dope addiction, even suicide
It drives potentially fine, talented intelligent children to delinquency and crime
IT makes people do things they otherwise would never dream of doing
Promotes false or dishonest notions that create problems where none exist. The result being unrealistic states of mind based on rationalizations, conclusions, and assumptions that do not follow realiity.
False realities that create unnecessary problems and unnatural destructions.
Lies, falsehoods and dishonesty that pervert and dis-ease human consciousness and creates the Stupidness disease
Causes Worry, Strain and Tension which lead to ill health
Mental Hospitals to be filled with people who have found that financial strain over a long period of time impaired their minds and bodies to the point of incapacity
It has been estimated that 90%, nine tenths of mankinds ills are caused by the strain, misery and unhappiness of poverty
IT destroys values where they exist, thus it is suicide on all levels (Personal, National & World)
Produces No Honest Values
Silently and undetectedly takes and drains the power of your livelihood, steals your money or values through clever manipulations of dishonest and false notions, assumptions and conclusions.
Allows Shrewd, dishonest and lazy people to have power over you to usurp values that you and others have earned
Has allowed this type of cheating and usurpation to go on for over 2020 years in hidden, unnoticeable ways
The Present Power and Wealth structures of business today subvert the average working class person in order to provide low-effort, high paying livelihoods to those in which you have given Power and Control (upper management).
Makes you feel like you are a victim of circumstances
The results of Poverty know no ends
Do You Wish to Continue Living in a State of Poverty and Financial Slavery?
You do not need to continue living in a financial vice.
There is a way out!
I'll see you at the TeleWorkshop,
Join Me for this Powerful Live TeleWorkshop
Exposing for the First time.....the Secrets of Inner & Outer Wealth & Riches!!!
P.S. Attendance is strictly limited to the first 250 people who are serious about moving up from Poverty to Power.

If this is you, keep reading. If not, remember that nothing is going to change and you will continue to experience poverty's lack and limitations.

P.P.S. Here's what you'll get when you join me on that Saturday, Starting at 8 am EST - 5 pm EST to discover how to move from poverty to power...

You get 8 sessions of 45 minutes of fast moving proven techniques to help you win in any economy

This gives you 15 minutes to reflect, relax, take a break and be ready for the next session

We take an 1 hour break for lunch at 11:45 am EST to 12:45 pm EST

So you have 4 sessions from 8am to 11:45 AM AND 4 sessions from 1 pm to 4:45 pm ending at 5 pm
Reserve Your Spiritualnaire Mentoring 1 Day Live TeleWorkshop Now!
1 day TeleWorkshop: 8 hours Live
$1,120.00 No! $800.00 No! $549.95 ($570.05 Savings)
Have questions about Spiritualnaire™ Mentoring: How to Become Infinitely Rich Inside & Out - TeleWorkshop?
Contact DrB Ministries