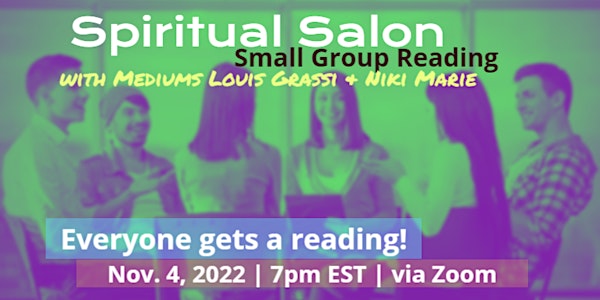 Spiritual Salon - Small Group Reading
Don't miss these two wonderful mediums for a very intimate group reading in the presence of your loved ones in Spirit!
Refund Policy
Contact the organizer to request a refund.
Eventbrite's fee is nonrefundable.
About this event
You'll be guaranteed a reading at this group reading with Spirit. What makes our event special is that your loved ones will communicate through not just one medium, but two! Both Louis & Niki will "double-link" with Spirit, which makes for more elaborate and healing messages for everyone. This group event is also intimate, and we have limited the amount of tickets being sold to just 6. In addition, each person may choose the type of reading, whether it be mediumship (communicating with Spirit), intuitive/psychic, or a pet reading (animals passed or present). No matter what, this will be a heartwarming and healing event that is always special.
Like all their events, mediums Louis Grassi & Niki Marie will hold space for their audience in order to communicate with Spirit. Their messages will bring peace in the awareness that our passed-on loved ones remain a prominent force in our everyday lives. Also, when the mediums communicate with the Spirit world, they will bring through evidential information, pertaining specifically to your loved ones. They do this so you know for sure that it really is that special person. Finally, Louis & Niki both feel compelled, by virtue of Spirit, to deliver a powerful message that will resonate deeply with the sitter.
*Attendees must be at least 18 years of age unless permitted by parent or guardian. No Refunds. Event duration 2-2.5 hrs. Each attendee must have a ticket. Attendance limited to 6.
DISCLAIMER: Information, communication, and/or consultations with Medium Louis Grassi (or any other participating mediums) are for educational, spiritual and entertainment purposes only. In addition, psychic, mediumship, and/or Akashic Records readings never take the place of professional services including but not limited to: medical, legal, financial, business and/or psychological. All sales are considered final; due to the energy exchange, we cannot offer refunds. RECORDING: The recording of the event is the sole property of Medium Louis Grassi; attendees do not have permission to privately record or share any replays publicly. In addition, the ticket fees only cover admittance to the event. In the case of a recording being provided, it is a purely complementary service, and it is not guaranteed. It is not to be shared, and may only be kept for commemorative purposes. We will never share or divulge your private information at any time.