Description
Sponsored by SECC Family & Children's Ministries
Come join us as we talk Spiritual Parenting with Dr. Michelle Anthony.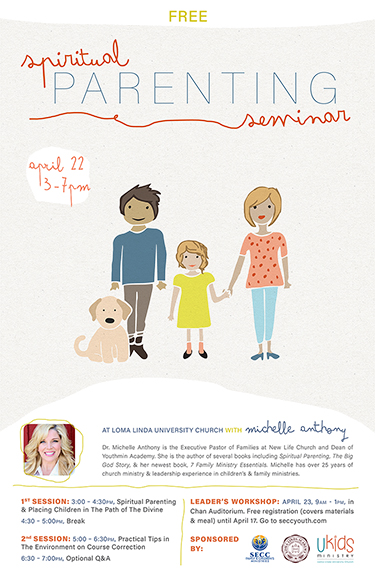 About Her - Dr. Michelle Anthony is the Vice President & Publisher of Learning Resources at David C. Cook. She is the author of several books including Spiritual Parenting, The Big God Story, & her newest book, 7 Family Ministry Essentials. Michelle has over 25 years of church ministry & leadership experience in children's & family ministries.
Schedule
FAMILY & CHILDREN'S LEADERS' WORKSHOP: April 23 9am-1pm (Chan Auditorium)
8:30 am Registration & Continental Refreshments
9:00 am Welcome & Devotional Thought
9:15 am General Session 1 - "Exploring the New Landscape of Family Ministry"
10:20 am General Session 2 – "Awakening Spiritual Parenting in Today's Families"
11:15 am Break/Light Refreshment
11:25 am General Session 3 –"Transformational Teaching: Teaching to the Heart"
12:20 pm Lunch & Closing
To provide a quality experience, children are not allowed in the seminar.