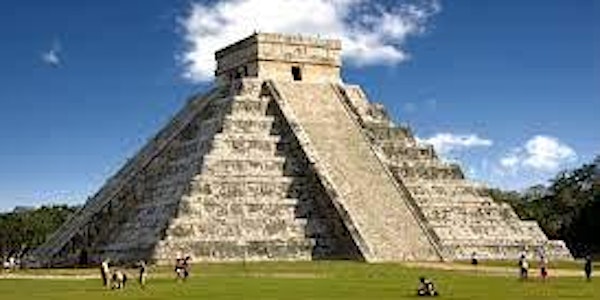 Spiritual Mayan Tour
Spiritual Mayan Tour
Refund Policy
Contact the organizer to request a refund.
Eventbrite's fee is nonrefundable.
About this event
Spiritual Mayan Tour, January 20 - 26, 2022
Join us as we explore the Mayan culture, from a spiritual perspective.
The Mayan Civilization
The Maya are probably the best-known of the classical civilizations of Mesoamerica. Originating in the Yucatán around 2600 BCE, they rose to prominence around 250 CE in present-day southern Mexico, Guatemala, northern Belize and western Honduras. Before the Spanish conquest of Mexico and Central America, the Maya possessed one of the greatest civilizations of the Western Hemisphere.
As early as 1500 BCE the Maya had settled in villages and had developed an agriculture based on the cultivation of corn (maize), beans, and squash. They began to build ceremonial centers, and by 200 CE these had developed into cities containing temples, pyramids, palaces, courts for playing ball, and plazas. They practiced mainly slash-and-burn agriculture, but they used advanced techniques of irrigation and terracing. They also developed a distinctive system of hieroglyphic writing, which has now largely been deciphered.
Attuned to astronomy, the Maya also used the movements of the Moon, the Sun and planets in the development of an intricate calendar system based on cycles. (This included the famous Long Count cycle that concluded on December 21, 2012, and gave rise to the belief that the world would end on that day.) Mayan astronomers compiled precise tables of positions for the Moon and Venus and were able to accurately predict solar eclipses. Regarding mathematics, the Maya invented the concept of zero.
Spiritually speaking, the Maya believed in a pantheon of nature gods, including those of the Sun, the Moon, Rain, and Corn. A priestly class was responsible for an elaborate cycle of rituals and ceremonies.
At its height, Mayan civilization consisted of more than 40 cities, each with a population between 5,000 and 50,000. The peak Mayan population may have reached two million people.
Tour Sites
We will definitely be visiting Chichen Itza and Uxmal, with other sites determined by the group while on location. We are leaving space open for ample opportunities to take detours and pit stops at ancient temples half-consumed by the jungle.
Chichen Itza is classified as one of the New Seven Wonders of the World and in 1988 was listed as a UNESCO World Heritage Site. A massive step pyramid, known as El Castillo or Temple of Kukulcan, dominates the ancient city, which thrived from around 600 A.D. to the 1200s. Graphic stone carvings survive at structures like the ball court, Temple of the Warriors and the Wall of the Skulls. Nightly sound-and-light shows illuminate the buildings' sophisticated geometry.
Uxmal is an ancient Mayan city of the classical period. It is considered one of the most important archaeological sites of Mayan culture, and is considered one of the Mayan cities most representative of the region's dominant architectural style. Home to the huge Pyramid of the Magician, which, due to its impressive height and rounded sides, is considered one of the Mayan's most unique structures. It has been designated a UNESCO World Heritage Site in recognition of its significance.
Labna, designated as a UNESCO World Heritage Site, is celebrated for its famous arch. A Classic Maya site (600-900 A.D), it was abandoned around 1200 A.D. and is still being restored.  It offers a two story Palace built atop a raised platform, which is richly ornamented with geometric designs and Chaac (rain god) masks. The Temple of the Columns is a restored palace structure and El Mirador is a towering pyramid-temple. Across from El Mirador is the famous Labna arch. This is the most elaborately designed arch in the Maya area. It is in actuality called a portal vault. The arch is built atop a raised platform and acted as the entry way between two courtyards.
Tulum is a resort town on Mexico's Caribbean coast. The 13th-century, walled Mayan archaeological site at Tulum National Park overlooks the sea. It incorporates the clifftop Castillo, built as a watchtower, and the Templo de las Pinturas, with a partially restored mural. During the 13th and 14th centuries, Tulum served as an essential Mayan trading post (namely for jade and turquoise), thus making it one of the most powerful city-states in the region.
The ruins at Coba can be found deep within the Yucatan jungle, just 30 minutes from Tulum town. Coba contains the largest network of stone causeways of the ancient Mayan world, and it consists of a variety of archaeological sites connected by winding jungle pathways. At its center lies a tall pyramid temple, one of the last Mayan structures in the Yucatan that visitors are still allowed to climb!
There are also numerous cenotes in the area. A cenote is a natural pit, or sinkhole, resulting from the collapse of limestone bedrock that exposes groundwater. The regional term is specifically associated with the Yucatán Peninsula of Mexico, where cenotes were commonly used for water supplies by the ancient Maya. Today, the cenotes offer an escape from the heat by descending into these large underwater caves and diving into cool, crystalline waters.
The Tour
Only 8 spots are available for this intentionally small group for Spiritually Adventurous travelers.
Exact locations visited each day will be determined by tour participants on site, and in the moment, as we tune into the Guidance we receive from the Divine. This is a tour of total Faith, as we release any preconceived notions about schedules, agendas, and certainty, and experience the flow of being Aligned with Spirit.
We are staying at the Mayaland Hotel and Bungalows in Chichen Itza, which is located in the historical district. In 1923, Mayaland was the first Hotel built in Chichén Itzá, making it the first resort within an ancient site in the world. It is as much of a landmark as the pyramids that tower above it, and one of the best hotels in Yucatan. Mayaland is a creation of Old Yucatan, built and operated by its original owners and their descendants. This 4-star resort is 0.1 mi from Pyramid of Kukulkan and 1.8 mi from Cenote Ik kil. All of our hotel rooms come with a view of the ancient pyramid. Relax and unwind with massages, body treatments, and facials at the spa, enjoy their 3 outdoor swimming pools, dine in one of the resort's 3 restaurants, and enjoy tasty beverages at one of the 3 bars/lounges on location.
The tour is $2,100.00 for a single room occupancy, and $1,500.00 for a double room occupancy. If you would like to come on this tour and share a room with another traveler, please register early and let us know. We will look to match you up with another single, although this cannot be guaranteed. If you prefer to share a room with a friend who is traveling with you, please let us know that too.
A refundable deposit of $250. reserves your spot on the tour, up until the end of the registration period. The registration period will end on December 31, at which time, any remaining balance is due. Once final trip arrangements are made, all payments become non-refundable.
Price includes transportation in Mexico (including airport pick up and drop off), lodging, and tour coordination. Transportation/Flights to and from Cancun and meals are not included. Please be sure your passport is up-to-date, with an expiration date at least six months past the final date of our tour.
Contact Reverend Lucy at 740-272-2560 with questions about this tour,or you can register with your paid deposit at Eventbrite.
* Registration ends December 31 *