Spiritual Juice Fasting Retreat | Gabriel Cousens, M.D. & Shanti | Europe - Israel | May 16-24 2011

Monday, May 16, 2011 at 3:00 PM

-

Tuesday, May 24, 2011 at 2:00 PM (IDT)
Event Details
צום מיצים בהנחיית שנטי וד"ר גבריאל קאזנס - מידע באתר בעברית הקליקו כאן 
9-Day Spiritual Juice Fasting Retreat  
Europe - Israel  2011

Take a Giant Leap towards Well-Being & Self Fullfilment
A True Reset  for Body & Spirit

Gabriel Cousens, M.D., M.D.(H)      Shanti GoldsCousens
Tree of Life Rejuvenation Center, USA 

  "
The Fasting
Destination of Choice
"  

Our flagship program, the fruit of over 26 years of experience with thousands of successful participants worldwide -
The Tree of Life Juice Fasting Retreat
is a 9-day ultimate wellness vacation. The diverse program features: the ultimate body cleanse, detox & rejuvenation, recreation activities, music, wild nature, self development,
and…
a true opportunity to take a leap in your quality of living.
We Call it
The Reset Effect.

The Tree of EU-IL fasting program is one of the largest held in Europe, twice a year,
Sold Out
since 2004, with 80 participants. It is an international gathering attracting people of all walks of life, from over 25 countries.
To reserve your place, choose your ticket at the top of this page.

 

 

Full-Board - 'all included' 9-day program. Village accommodations rooms in crusader's design

 

Variety of Daily Activities to Choose from:

4 Organic juices a day
‪TriYoga

™

Flow practice with Shanti GoldsCousens ‬
‪Tai Chi
Dancing
‪Nature walks, stunning view & a 12th century crusaders fortress‬ to explore.
‪Meditation, Spiritual Talk & Kundalini Shaktipat Attunements‬
‪Keys & guidelines for a healthy & holistic lifestyle‬
‪Live music, chanting & artists workshops‬

 
 
 
 
 
 

Workshop & Traveling Info

   

Supplements Order

  
Tickets Prices & Info
Payment Methods: All major credit cards  |   Bank Wire Transfer

Submit a registration Form. Once apprvoed pay by Fax/Phone.

For Israeli credit card holders: up to 12 installment payments
The prices represent a basic pack including everything that one needs for a successful fast.
Prices include: participation | full board accommodations | organic food & juices | a basic fasting kit | basic fasting supplements | 2 visits to the Fortress

Extras include: Advanced Detox Supplements -(online orders in advance only) | Individual fasting aids | Bodywork sessions

Prices are charged in Israeli Shekel ₪ (The exact $/€ charge to your credit card is subject to the Israeli Shekel ₪ currency at the time of reservation)

Please reserve your space early so we can serve you better. The previous retreats were booked-out.
Rooms
Yehiam offers clean and simple village accommodations that has been recently re-designed in a 'Crusaders' style to match the nearby Fortress.
All rooms are of the same standard and size, and can be arranged as either: 2 Single Beds or 1 Double bed:

For a Single Room/ A Couple: a double bed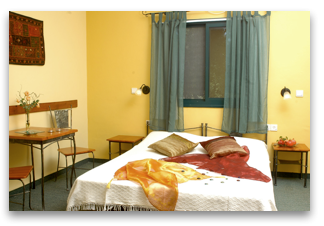 For a Shared Double Room: 2 Single Beds in the same space;
2 people using attached bathroom. The room has 3 beds.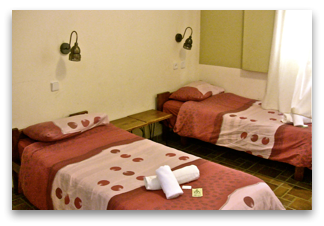 If you are sharing a room with a partner: We will pair a partner for you of the same sex.

You will each need to leave the room for an hour everyday, to allow privacy for your partner to do the daily detox practice. (enema, etc').  Once arriving at the workshop, changing rooms or partners is unlikely to be possible. Upgrading to a single room is subject to availability and costs for both partners. We recommend to come with a friend or simply be considerate and willing to share the space. From our experience with most people, sharing a room works just fine, and sometime even great!
Workshop & Traveling Info Click Here          Supplements Order Click Here 
General Info - Table of Contents:
 The Program Schedule

 The Place: Yehiam - Village Accommodations and National Park

 Before You Come - What to Bring

 Advanced Detox Supplements – Online Orders Only!

 Participation Terms Agreement & Cancellation Policy

 How to Get There: Israel & Yehiam
For questions about your participation, Please contact us at treeoflife.israel@gmail.com
The Program & Schedule
9 days - 8 nights long
Arrival: Monday, May 16th, Between 3-5pm
Please arrive by 5:00 pm latest!, so you could check-in and be in time for dinner and 'Entering the Fast Talk'.
If you are flying to Tel Aviv early on that day, and wish to check-in earlier please make that request on your registration form. :)
Daily schedule 8:00am-9:00pm
Organic Juices are served 4 times a day on a group gathering: 8:00, 12:00, 3pm, 6pm. You can have some extra juice and drink water and herb tea as you like.
Every morning: group Check-in talk with Dr. Cousens - medical supervision and follow up through the process. Here you can ask questions about your experience.
Everyday Activities:
TriYoga / Tai Chi / Dance

Silent Sitting Meditation - with guidelines if you're new to meditation.

Detox Processes

Nature Walks

Free time to chill out in the room/nature, the Japanese Garden, Fortress or Community hall.

Live Music & singing with musicians. Artist workshops.

Kabalistic Mediation & Kundalini Attunement

Spiritual Talk/ Conscious Living Talk with Dr. Cousens

Kabbalat Shabbat Ceremony on Friday
Departure: Tuesday, May 24th between 1-2pm
We'll check-out and clear the rooms by 10:00am and gather for the closing talk and lunch.
Day 1: Arrival, after checking-in and dinner, we'll enter the fast. The opening talk is 'Must Attend'.

Days 2-8: 7 full juice-fasting days with daily activities to choose from

Day 9:  Break-fast, Important closing talks, Lunch & Departure.
It's important to come off the fast in the right way, so you will have a safe and pleasant return to everyday activity with minimal difficulty. Nearly all people can return to work on the day after.
During the fast:
The workshop is a relaxed, joyful process with space for silence, music, nature & meditation. The daily schedule offers various activities to choose from and yet leaves space for slowing-down and being in nature. Resting greatly supports the rejuvenation process.

Your attendance is only required for the daily morning Check-in talks with Dr. Cousens from 8:00-9:30, and the opening & closing talks on Day 1 & 9.

As a retreat workshop, you are requested to stay within the village area all days. Leaving the area in anyway requires the Dr.'s and workshop organizer approval, and is at your own responsibility. Driving a car while fasting requires Dr.'s permission and is limited to 15 min.

Language: The workshop is led in English and designed for international audience. Two of the talks will have group translation to Hebrew.
The Place: Kibbutz Yehiam Countryside Accommodations
Countryside Accommodations  |  12th Century Crusaders Fortress  |  National Park

Kibbutz Yehiam is located in the green north of Israel, about 3 hours drive from Tel Aviv Airport. At 400m/12,000ft elevation, overlooking the Mediterranean Sea and Yehiam River.
Happy Journeys,
Dr. Gabriel Cousens & Shanti GoldsCousens
Yoav Agmon, General Manager & Stuff of Tree of Life EU-IL
For questions about your participation, Please contact us at treeoflife.israel@gmail.com
‬
החופשה האולטימטיבית

סדנת הדגל של עץ החיים, פרי של
למעלה מ
-26
שנות נסיון עם אלפי משתתפים ברחבי העולם - צום המיצים הוא חופשה אולטימטיבית, המשלבת, ניקוי גוף ייחודי, התחדשות, פעילות נופש, מוזיקה וטבע, התפתחות עצמית... והזדמנות

לחוות קפיצת מדרגה של ממש באיכות החיים

.
סדנת מיצים מהגדולות באירופה וארה"ב, מתקיימת בישראל בצפון ובדרום, פעמיים בשנה, עם 80-100 משתתפים בצום. זהו ארוע בינלאומי המושך לישראל משתתפים מ-25 מדינות, 'Sold Out' מאז השקתו בישראל ב-2004.

כמו תמיד אנו מכינים עבורכם את הטוב ביותר, והשנה ביחיעם. 3 שעות נסיעה צפונה מת"א, בגובה 400 מ', צופה לים קיבוץ יחיעם ובו גן לאומי עם מבצר צלבני.
>> להרשמה יש לבחור כרטיס בראש עמוד זה או להרשם בעברית באתר

Have questions about Spiritual Juice Fasting Retreat | Gabriel Cousens, M.D. & Shanti | Europe - Israel | May 16-24 2011?
Contact Tree of Life EU-IL
When & Where

Yehiam, Israel

Yehiam, ISRAEL


Monday, May 16, 2011 at 3:00 PM

-

Tuesday, May 24, 2011 at 2:00 PM (IDT)
Add to my calendar
Organizer
Tree of Life EU-IL
The Tree of Life Europe-Israel is an extension of Tree of Life, AZ, USA, a non-profit, a college and a world leading rejuvenation center, directed by Shanti GoldsCousens & Dr. Gabriel Cousens, M.D., M.D.(H). We offer workshops, lectures and events for natural wellness, healing and self transformation.
www.treeoflifeisrael.com
www.DrCousensGlobal.com
www.treeoflife.nu
www.drcousens.com
‪Best selling author and world expert on natural healing, with over 40 years of experience, fully vibrant and teach worldwide at the age of 70. Dr Cousens is a licensed physician in Western Medicine, Homeopathy & Ayurveda. Founder of the international Tree of Life Rejuvenation Center, USA.
A yogi carrying the Kundalini lineage. A world peace worker leading groups in 40 countries.‬
Senior TriYoga‪™‬ teacher with over 20 years of experience. A senior Rawfood Chef and Aromatherapist. Shanti brings the smiling grace into The Tree of Life programs worldwide.
Spiritual Juice Fasting Retreat | Gabriel Cousens, M.D. & Shanti | Europe - Israel | May 16-24 2011