Spiritual Houses United Juneteenth Celebration
Description
Spiritual Houses United Juneteenth Celebration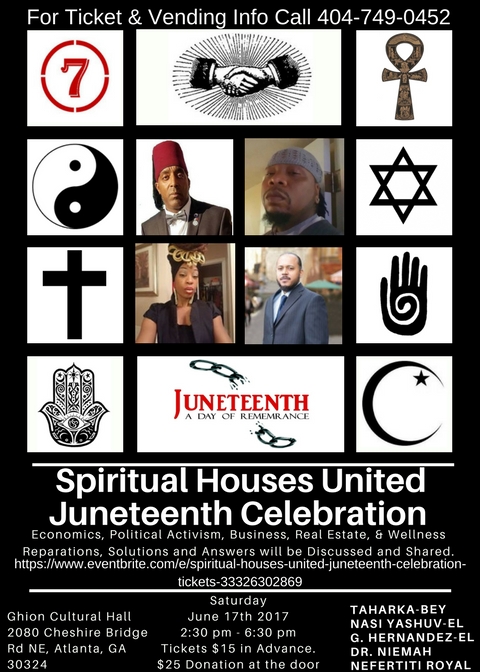 Saturday
June 18th, 2017
5:00 pm - 9:00 pm
Tickets $15 in Advance. $25 Donation at the door
We will have Interactive Lectures and Presentations on:
Economics, Political Activism, Business, Real Estate, & Wellness, Reparations, Solutions and Answers will be Discussed and Shared.
Special Guests and Presenters:
BRO. Taharka-Bey
BRO. Nasi Yashuv-El
Dr. Niemah Nefertiti Royal
BRO. G. Hernandez-El
For Ticket & Vending Info Call 404-749-0452
Ghion Cultural Hall
2080 Cheshire Bridge Rd NE, Atlanta, GA 30324
The Family is encouraged to enjoy Amazing Vegan Abbasynian Cuisine during and after the event The menu includes:
VEGETARIAN
Shiro
Roasted and powdered chickpeas simmered to perfection with onions and tomato. Served with a salad.
---
Vegan Drek Tibs
Small cuts of vegan beef (mocked) sauteed with onions, rosemary, jalapeno peppers and tomato. Served with awaze sauce.
---
Pasta with Veggie
Pasta with vegan ground beef, cooked with fresh tomato, garlic, and spices.
---
Rice with Veggies
Basmati rice cooked with mixed vegetables and other seasonings.
---
Veggie Plate
A combination of different lentils and other vegetables dishes.
---
Vegan Awaze Tibs
Small cuts of vegan beef marinated and cooked with tomato, onion, garlic, berbere, jalapeno peppers and other spices. Spicy.
---
Pasta Marina
Vegetarian sauce, fresh tomato, garlic, and basil.
---
For Ticket & Vending Info Call 404-749-0452
Ghion Cultural Hall
2080 Cheshire Bridge Rd NE, Atlanta, GA 30324