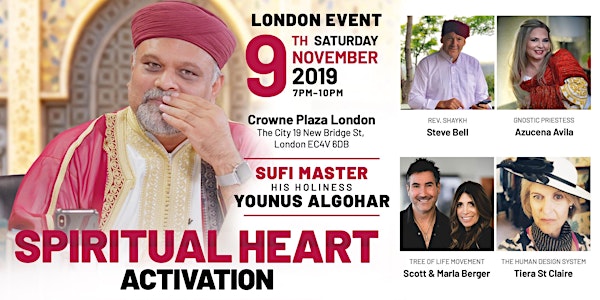 Spiritual Heart Activation
Learn some of the most effective, practical methods of the great ascetics - regardless of your religious background!
When and where
Location
Crowne Plaza London - The City 19 New Bridge Street London EC4V 6DB United Kingdom
About this event
Click Here For Digital Event Invitation
Join us to welcome Sufi Master Younus AlGohar, who will deliver a discourse about divine love and the significance of the purification of the heart. Experience powerful blessings and enjoy healing energies in this one-of-a-kind event. Feel the difference with the Opening of the Spiritual Heart Ceremony. Share and receive higher vibrations by partaking in the Ring of Love - a sacred dance circle celebrating love, harmony and togetherness.
Keynote Speaker:
- Sufi Master Younus AlGohar
Host: Rev. Shaykh Steve Bell
Other Speakers:
- Azucena Avila
- Scott & Marla (Tree of Life)
- Tiera St. Claire (The Human Design System)
The Opening of the Spiritual Heart Ceremony
The Opening of the Spiritual Heart Ceremony is a practical method that changes humanity into divinity - one heart at a time. It is a revolutionary means through which humanity is becoming One United Nation!
According to various spiritual practices, there is an entity that sits near the physical heart - the heart chakra - or as we call like to call it, the Spiritual Heart.
The Spiritual Heart is dormant unless you awaken it. Once awakened, the Spiritual Heart becomes the divine gateway, expediting you on your journey to higher consciousness and divinity. The Opening of the Spiritual Heart Ceremony is one of the methods used to awaken the heart.
Sufi Master Younus AlGohar Bio:
Sufi Master Younus AlGohar is a peace activist and spiritual leader who advocates tolerance, divine love and interfaith harmony. He is the CEO of Messiah Foundation International, an interfaith organisation which aims to raise awareness of universal spirituality.
Sufi Younus AlGohar grew up practising Sufism (Islamic mysticism) but his thirst for the path was never quenched until his destiny led him to meet his Spiritual Guide, His Divine Eminence Gohar Shahi. He learnt a unique form of spirituality - Sufism without boundaries - and performed transcendental meditation under the personal supervision of HDE Gohar Shahi. Aided by his compassionate heart and brilliant mind, Sufi Younus AlGohar swiftly progressed on his spiritual journey to becoming the representative of HDE Gohar Shahi. He was thereafter appointed by His Divine Eminence Gohar Shahi to serve humanity with the transformative knowledge, message and energy that HDE Gohar Shahi entrusted him with.
Sufi Younus AlGohar has been travelling the world ever since, visiting people of all faiths to share his unique energy, methods and message without discrimination or preconditions.
Sufism:
Sufism is a way of life for the past 5,000 years in which a deeper identity is discovered and lived. This deeper identity, beyond the already known personality, is in harmony with all that exists. This deeper identity, or essential self, has abilities of awareness, action, creativity and love. A Sufi is one who represents the mystical dimension of his religion and spirituality, one who seeks direct experience of God.