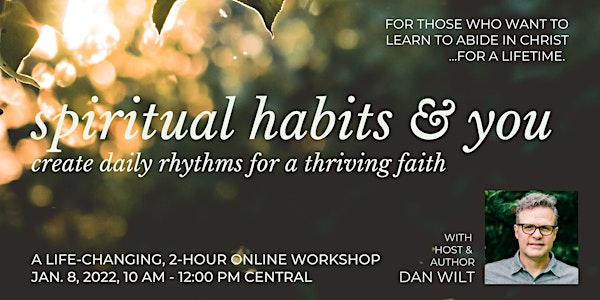 Spiritual Habits & You with Dan Wilt
Grab your journal, a pen, and your Bible—and get ready to create fresh daily rhythms to shape your life with Jesus into the future.
Refund Policy
Contact the organizer to request a refund.
Eventbrite's fee is nonrefundable.
About this event
Join author and speaker Dan Wilt (Sheltering Mercy) for this powerful 2-hour online experience happening Sat. Jan. 8, 2022, from 10 AM - 12 PM Central.
WHAT THIS WORKSHOP IS ALL ABOUT
"In short, if you are what you love, and love is a habit, then discipleship is a rehabituation of your loves. ... A matter of 'aiming' our loves, of orienting our desires to God and what God desires for his creation." (James K.A. Smith, You Are What You Love: The Spiritual Power of Habit, 19)
If you're a follower of Jesus, we probably all learned in the past two years just how weak in faith we can actually feel at times. Many of us think we're inwardly strong—only to realize in crisis that we've been quietly relying on local church experiences, community life, and online validation to keep our faith struggling along.
We are designed to keep the fires of faith lit and burning brightly through daily rhythms and disciplines, creative patterns in our day-to-day, that keep us close to—abiding in (Jn. 15:5)—Christ.
This 2-hour Workshop with author and educator Dan Wilt is designed to lead you as a Christian in experiences with personal habits, creative and historic patterns of prayer, and practical ideas in Christ-centered spiritual formation that will help you stoke the flames of your own Spirit-filled faith.
The workshop will cover topics like:
What is a spiritual habit, and how does real change happen?
How can I creatively and joyfully approach my daily spiritual habits?
How can I stay close to Jesus over a lifetime of joy and sorrow?
What does neuroscience have to do with my journey into Hope?
Why do daily rhythms and patterns matter the most?
Could I actually become addicted, in a good way, to powerful habits?
Is there a fresh way to pray and absorb Scripture I might actually enjoy?
What spiritual habits can we learn from history?
Why your calendar and your phone are more powerful than your goals
What "Cinematic Prayer" is, and other energizing ways to approach prayer and devotional habits
What does a Spirit-filled life look like in today's world?
Can and should I really change the way I do life?
And much more
Take-aways you can expect:
Fresh and creative ways to experience God and feast on the Scriptures
Practical tools for creating a sustaining faith that flourishes over time
Actual decisions about how you will engage spiritual habits for 14 days
Breaks mid-workshop to journal and practice
A renewed connection between Sunday morning and Monday morning
BONUS MEDIA & RESOURCES for each participant, for nurturing your (re)new(ed) habits
If you follow Jesus and love the work of the Holy Spirit in your life—revealing the Father's love to you and through you—you'll want to join us for this workshop!
HOW SHOULD I PREPARE?
Come with your Bible, a journal, a pen, and your smart phone (yes, you heard that right), settled into a quiet and comfortable environment (alone or with others)
There will be no video of you on screen, and little ongoing chat; prepare yourself to rest, learn, journal, and meet with God
Ask family and others to pray for you as you participate, and to leave you undistracted for the session
Again, be in a quiet, comfortable space and chair, with drinks and snacks as desired. Also, you'll need a good, solid internet connection (if you can get one outdoors, great!)
ABOUT DAN
Dan Wilt is the co-author of Sheltering Mercy | Prayers Inspired by the Psalms (Brazos), and is a writer, speaker, worship leader, poet, songwriter, and encourager of Christians in many streams of the Church.
Over 30 years, Dan has impacted thousands in the US, UK, Canada, Northern Ireland, New Zealand, Australia, and Brazil with his unique blend of Spirit-filled teaching and ancient-future faith. Drawing from many traditions of the Church, Dan explores topics such as finding our identity in the love of God, following the way of Jesus, worship, the Spirit-filled life, and creativity.
While Dan is a part of the Vineyard and Anglican communions of the Church, he has taught in conferences, university settings, seminaries, and churches across streams of the Body of Christ.
Dan is a doctoral candidate at Asbury Theological Seminary in KY, USA and holds degrees from Messiah University (B.A. Religion and Philosophy), St. Stephen's University (M.Min. Classical Christian Spirituality and Formation). He has also studied at the Tantur Ecumenical Institute (Notre Dame, Jerusalem) and the Webber Institute for Worship Studies.
Dan lives with his wife Anita outside of Nashville, TN, and they have three grown children.
::
Group tickets available. If you are interested in covering registration for your entire congregation (more than 30 people), please email danwiltresources@gmail.com for details.