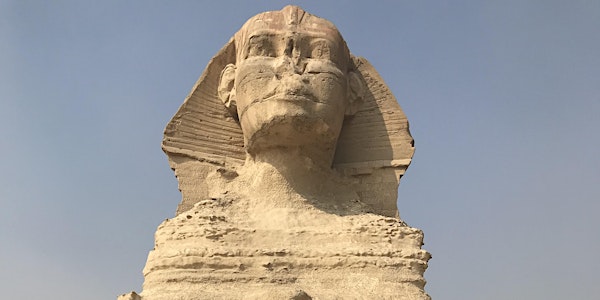 Spiritual Egypt Experience Tour 2022
This tour is being spiritually guided to enhance your connection to the ancient energies and initiations of Egypt.
When and where
Location
230 N Sandusky St 230 North Sandusky Street Delaware, OH 43015
Refund Policy
Contact the organizer to request a refund.
Eventbrite's fee is nonrefundable.
About this event
Spiritual Egypt Experience 2022!
Different from other tour groups that are larger and focused on seeing Egypt as a tourist, we will be making a spiritual pilgrimage of focused spiritual intention, allowing our consciousness to expand, adding light to the consciousness grid of the planet. We will travel in an intentionally small group (only 8 spots are available) for greater mobility and connection. EIGHT UNESCO World Heritage Sites are on the list!
Experiencing each site is of utmost importance, so ample time will be provided at each site to ensure completeness of the experiencing. Experiencing will be facilitated through ceremony, meditation, and direct initiation to the available energies of each site.
If you have a heart call to visit Egypt or to participate in this special project to assist Humanity as it moves forward in it's ascension process, please consider coming on this tour. It will definitely be a life changing experience!
Here is a list of the specific sites we are being called to visit, it includes EIGHT UNESCO World Heritage Sites!
The Great Pyramid of Giza.
The Great Pyramid of Giza is the oldest and largest of the pyramids in the Giza pyramid complex in Greater Cairo, Egypt. It is the oldest of the Seven Wonders of the Ancient World, and the only one to remain largely intact. Egyptologists have concluded that the pyramid was built as a tomb for the Fourth Dynasty Egyptian pharaoh Khufu, yet spiritual seekers hold a different view, seeing it as an initiation chamber providing access to the field of unity consciousness. It has been preserved as a UNESCO World Heritage Site since 1979.
The Sphinx.
The Sphinx, carved from a single rock, is the oldest known monumental sculpture in Egypt and one of the most recognizable statues in the world. Carved with the head of a human and the body of a lion, it is believed to align with the zodiac sign of Leo. Egyptologists report the age of the Sphinx as 4,500 years old, yet others have speculated that the wear patterns indicate an age in excess of 10,000 years. The Sphinx energy helps one move beyond surface understanding of who you are and into a greater understanding of innate gifts, talents, purpose and divinity.
Memphis.
One of the oldest and most important cities in ancient Egypt, Memphis is believed to have been founded by King Menes. Serving as the first capital of ancient Egypt, Memphis thrived as a regional center for commerce, trade, and religion. Memphis was believed to be under the protection of the creator god Ptah, said to have formed the other gods, thus being the patron of crafts-people. Today, the ruins of the former capital offer fragmented evidence of its past. The energy of Memphis helps one to access a library of consciousness and find inner guidance and self-empowerment. It has been preserved as a UNESCO World Heritage Site since 1979.
Sakkara or Saqqara.
Known as a vast, ancient burial ground of Egyptian pharaohs, kings, and royals, Sakkara served as the necropolis for the ancient Egyptian capital, Memphis. Sakkara contains the oldest complete stone building known in history, a pyramid believed to have been build for King Djoser. The underground burial chamber of King Unas's pyramid contains the earliest version of the Pyramid Texts, detailing how humans can achieve unity with the Divine. Sakkara helps activate awareness of unlimited abundance and an understanding of symbols and synchronicities. Archaeologists say this is where Egyptian culture began. It has been preserved as a UNESCO World Heritage Site since 1979.
Abydos.
One of the oldest cities ever discovered, not only in Ancient Egypt but in the entire world. It is also considered to be one of the most important archaeological sites ever discovered. There is a strong connection to Osiris here, the god of renewal, resurrection, and the underworld. The Osireion, a much older structure is found in the back of the temple, and contains the sacred geometric pattern of the Flower of Life. The energy of Abydos helps to raise vibration, resurrecting passion and love of life, awakening one to the vastness of their being.
Dendera.
Explore this temple dedicated to Hathor, goddess of dance, music, love, frivolity, and ecstasy. This well preserved temple contains crypts, staircases, roof chapels, and a sacred lake. The ceiling offers a depiction of Nut, the sky goddess, who stretches across the ceiling to swallow the sun each night. There are also illustrations of the zodiac and astrological signs, within the Egyptian pantheon. Depictions of Cleopatra which appear on temple walls are good examples of Ptolemaic Egyptian art. There are also stone reliefs that appear to depict an ancient form of light bulb. The energy of Dendera helps one to release fears and anxieties, and restore passion and joy in life.
Karnak.
Covering 200 acres, Karnak is the largest ancient religious site in the world. Within the complex is the Temple of Amun-Ra, the largest religious building ever built. While the main temples are dedicated to Amun-Ra, his wife Mut, and their son Khonsu, there are also important chapels dedicated to other Egyptian gods and goddesses. There are huge pillars, towering columns, a 97 feet tall obelisk, a well preserved sacred lake, and a recently restored two mile row of sphinx like statues that connects Karnak to Luxor Temple. The energy of Karnak helps one to achieve self-acceptance and inner resonance. It has been preserved as a UNESCO World Heritage Site since 1979.
Luxor Temple.
Constructed over hundreds of years by Amenhotep III, Ramses II, Tutankhamun, and other pharaohs, Luxor Temple was one of the largest and most significant religious centers in ancient Egypt. Luxor Temple is built to reflect the structure of the human form, as you enter from the feet and move up to the head, representing the spiritual development of humans. The energy of Luxor Temple helps to awaken and activate Divinity codes within the human body. It has been preserved as a UNESCO World Heritage Site since 1979.
Kom Ombo.
One of the most unique temples of Ancient Egypt, Kom Ombo is dedicated to two different deities, the local crocodile-headed god Sobek, and the falcon-headed god Horus. This double dedication was deliberate. Not only is it architecturally duplicated, with two sets of courts, two halls, and two sanctuaries, the twin temple is symbolic of the themes that the two different deities represented. Within it's inherent duality, both sides of the temple are in perfect balance and harmony. Visiting Kom Ombo offers energies to assist in restoring ideal frequencies and resonance.
Elephantine Island.
Elephantine is an island along the Nile River, forming part of the city of Aswan in Upper Egypt. The Nile is particularly shallow in this area and structures were built on the island to measure and predict water levels. Now mostly in ruins, twenty three layers of different temples have been found at Elephantine Island. Many blocks of older temples were used as foundation blocks for later temples. Just as the temples evolved over time, the energy of Elephantine Island helps one to connect with the evolution of the soul. It has been preserved as a UNESCO World Heritage Site since 1979.
Philae.
This temple was built to honor the goddess Isis, and it was the last temple built in the classical Egyptian style. Construction began around 690 BC, and it was one of the last outposts where the goddess was worshipped. The energy available at Philae is that of pure divine love. Due to flooding concerns with the construction of the Aswan High Dam, completed in 1970, Philae was dismantled over a seven year period from it's original location and reassembled on a nearby island. It has been preserved as a UNESCO World Heritage Site since 1979.
Abu Simbel.
Like the temple of Philae, the temples of Abu Simbel were dismantled and relocated in the 1960s in order to avoid being flooded due to construction of the Aswan High Dam in 1970. Abu Simbel contains two temples, carved into a mountainside. The larger of the two temples contains four colossal statues of a seated pharaoh Ramses II at its entrance, each about 69 feet tall. It was dedicated to the gods Amun, Ra, and Ptah. The smaller temple is also notable in that it is the second time in ancient Egyptian history that a ruler dedicated a temple to his wife, Nefertari (the first time being the Pharaoh Akhenaton, who dedicated a temple to his queen Nefertiti). The energy of Abu Simbel provides access to the Divine, unified mind, connecting heart and mind. It has been preserved as a UNESCO World Heritage Site since 1979.
Registration
A $250.00 deposit reserves your spot on the tour. It is fully refundable until the date of the closing of reservations. Reservations close on January 10, 2022.
The tour price includes:
4 night's accommodation in Cairo at MENA HOUSE or 5* similar hotel with a Bed & Breakfast basis;
4 night's accommodation on board a 5 * star Deluxe Nile Cruise on full board basis (all meals included) including all above shore excursions Nile Premium or similar;
1 night's accommodation in Steigenberger Achti Luxor hotel on bed & breakfast basis;
All transfers as per above mentioned program;
Private and personalized sightseeing shore excursions for 3 nights on the cruise;
Expert Egyptologist, scholar guide with excellent English, knowledgeable and courtesy;
Ceremony and initiation supplies used at the Temples;
Entrance fees for all sightseeing mentioned in the itinerary;
Private and deluxe air/conditioned vehicle for all transportation;
All applicable taxes;
Arrival/departure assistance;
Private Visit to Great Pyramids & Private Visit to Sphinx between Paws;
Special Visit to Sekhmet Chapel at Karnak;
Private Lecture for Egyptian History from ONE PHD Director of Karnak Temple;
2 small bottles of mineral water per day per person during day tour & excursions; and
Farewell Dinner.
The tour price does not include:
Airplane tickets to and from Cairo;
Tipping at hotels, sightseeing, tour guide, driver, assistants;
Any optional tours or excursions not mentioned in the itinerary;
Any other expenses, including additional meals or souvenirs;
Domestic flight ticket (CAI/LXR-ASW/CAI)($250. USD per person). Price of flight could change at issue of ticket.
Tour Price: $5,000. USD for a Double room occupancy, $6,000. USD for a Single room occupancy.
Please let us know in advance if you have a travel partner or would require us to pair you up with someone, if available. We cannot guarantee a travel partner will be available.
Plan to arrive in Cairo on January 10, 2022 and leave on January 19, 2022. Make sure your passport is current, and expires in excess of six months past the last date of our trip.
Due to the rapidly changing nature of requirements for international travel, we will inform registered guests of any special precautions regarding masks, testing, and/or vaccines, closer to the date of departure.
Contact
Reverend Lucy Frances, MA, Usui/Karuna/Multidimensional/Holy Fire® III Reiki Master is organizing and conducting this tour.
You can make arrangements directly with Reverend Lucy, by calling or texting her at 740-272-2560.