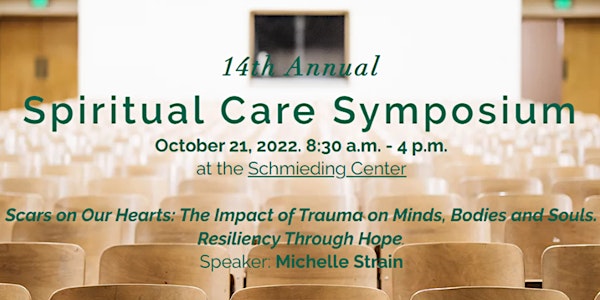 Spiritual Care Symposium for NWA in 2022
Scars on Our Hearts: The Impact of Trauma on Minds, Bodies and Souls. Resiliency Through Hope.
When and where
Location
2422 N Thompson St 2422 North Thompson Street Springdale, AR 72764
About this event
October 21, 2022. 8:30 a.m. - 4 p.m. at the Schmieding Center in Springdale, AR.
TICKETS are FREE but REQUIRED.
8:30 - 9:00 - Registration, Coffee and light breakfast provided
9:00 - 11:30 - In this interactive session, attendees deepen their understanding of trauma, learn how trauma impacts the brain and acquire practical tools to use when working with those who are in the midst of trauma or have been traumatized.
11:30-12:30 Lunch provided
12:30 - 4:00 Attendees engage in group work, discuss the power of hope, agency and mindset.  Learn the importance of goal setting and using hope theory.  
This event is open to the public and is particularly designed for those who serve and support others with experiences of trauma and trouble.
Most of our participants are Chaplains, Clergy, Counselors, Therapists, Nurses, Social Workers, Doctors, Faith/Spiritual Leaders, Lay Ministers.
PRESENTER: Michelle Strain, LPC-C,  is the Executive Director of Prevention and Intervention Services at the Oklahoma State Department of Education. Michelle leads crisis response at the OSDE, as well as the OSDE Crisis Response and Recovery Team. Her team also includes those working in school climate transformation, multi-tiered systems of support, alternative education, prevention, and trauma. Michelle has a special interest in crisis and trauma after her 12 years as a school counselor. She has trained thousands of people in working with people who have experienced trauma and in hope.
Michelle was formerly the Crisis Team School Counselor and the Director of Prevention Services at the OSDE. She has also served as the district leader over counselors in a large suburban district. At Norman Public Schools in Oklahoma she served as a middle school counselor, high school counselor, and Student Advocacy Coordinator. Michelle additionally worked part time for the Oklahoma School Security Institute as an instructor. She also has served on the Oklahoma School Counselor Association Board of Directors.
Michelle has a Master's Degree in Clinical Mental Health Counseling and a Master's Degree in Human Relations Counseling. She also has a Bachelor's Degree in Journalism. All her degrees are from the University of Oklahoma. Prior to receiving her master's degrees and entering education, she was a journalist who worked as a newspaper reporter. She also worked for the American Red Cross as the Emergency Services Director, and she worked at Oklahoma City University as the Coordinator of Student Activities and Yearbook Advisor. She taught journalism part time at OU, as well. 
For questions please contact BSnyder@wregional.com or call 479-463-1000 and ask for Beth in the Pastoral Care Department.
​