Description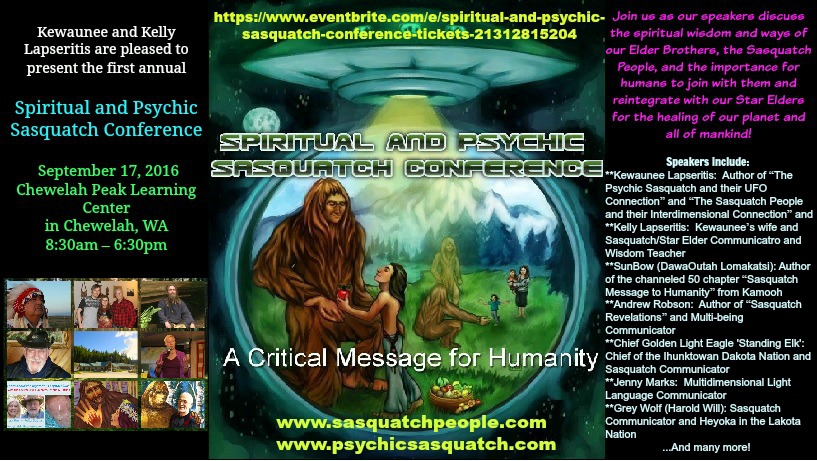 Kewaunee and Kelly Lapseritis are hosting the first annual Spiritual and Psychic Sasquatch Conference on September 17-18th, 2016 at the Chewelah Peak Learning Center in Chewelah, Washington. Our Elder Brothers, the Sasquatch People, have a critical message for humanity to share. Our speakers will share the Forest People's wish for the Human People to join with them and reintegrate the Council of our Star Elders and tell of their own experiences with these gentle Nature Folks. The way to begin to heal ourselves and our collective karma is to practice unconditional love, understanding, acceptance, and to help one another, which is the focus of this meeting.
The speakers for this event include:
-Kewaunee Lapseritis – Author of "The Psychic Sasquatch" and "The Sasquatch People,"
-Kelly Lapseritis – Inter-species communicator and event coordinator,
-Andrew Robson - Author of "Sasquatch Revelations,"
-SunBow (DawaOutah Lomakatsi) from Canada whom transcribed the Sasquatch Message to Humanity from Kamooh,
-Chief Golden Light Eagle (Standing Elk) of the Ihunktowan Dakota Nation,
-Jenny Marks - Multidimensional Light Language Communicator from Sasquatch & the Star Nations,
-Dr. Igor Burtsev - Director of the Center for Hominology in Russia, and
-Grey Wolf (Harold Will) - Sasquatch communicator and Heyoka as known in the Sasquatchi Nation.
On behalf of the Sasquatch People, Mother Earth, and all of Humanity, we propose a spiritual and ecological approach to healing our planet and our own collective soul consciousness. We are all related, all children of Mother Earth, and it is our responsibility to live and work together to create peace and harmony for all living beings.
PURCHASE YOUR TICKETS HERE: https://www.eventbrite.com/e/spiritual-and-psychic-sasquatch-conference-tickets-21312815204
The Chewelah Peak Learning Center is beautiful wilderness facility about 50 miles north of Spokane, WA and just a few minutes away from the 49° North Ski and Mountain Resort. This location is a perfect setting for this event and has many accommodations for everyone. Tent and RV camping is available on-site (NOW SOLD OUT) or you can also choose to bunk with others in the dorm room which has room for 43. The town of Chewelah also has 3 nice motels and a nice variety of restaurants and places to dine about 9 miles from the Chewelah Peak Learning Center (as well as many places between Chewelah and Spokane). The premises has a small hiking trail, a pavilion, fire pit, and an amphitheater for your enjoyment also, and would present wonderful opportunities to connect spiritually with the Sasquatch and Ancient Ones. If you camp, no food is allowed outside; there is a kitchen indoors to store and refrigerate food. Do not leave food out for the Sasquatch People either as it will attract bears and unwanted animals on the property while others are camping. No guns, drugs, or alcohol are allowed on the premises!
We have extended the event into the following day from the original plan of only being on 9/17, and it is open to everyone whom purchased a ticket for the conference. The conference is 9/17/16 from 8:30-6:30 in the lodge and then on 9/18/16, we will gather at the outdoor amphitheater for a more casual gathering from 10am-3pm. Additional speakers and teachers will talk briefly, music will be played, and there will be many opportunities to meditate, hike, explore, connect, etc. around the area. The amphitheater seats about 150-200 so we encourage lawn chairs. Please also bring your musical instruments and spiritual tools that you may wish to use, share, or teach to others. If you are staying at the facility, there is no limit on the amount of time you spend in this area. Although there is no additional charge for the gathering on the 18th, donations are accepted.
Prices for this event are $49 (plus a $3.69 fee) per person for sales by May 31, 2016. After 6/1/16, the cost will be $69 (plus fee) per person until online sales end on 9/13/16 at 5:00pm PST. All tickets after this date will be $80 at the door. Seating is limited to 380 people in the lodge during the event. If you would like to stay in a bunk in the dorm at the facility, it is $22 per person per night. Bedding such as blankets and pillows is NOT provided, so please arrange to bring your own. You do not need to specify the nights at this time, but both are limited to a 4 day stay. Tent and RV campers may use the outdoor amphitheater and pavilion and those staying in the dorms have a restrooms and showers to use (another group will be using the pavilion on Saturday but our guests are welcome to use the larger amphitheater). Food may be stored in the kitchen, but at this time, we are not able to use the kitchen to cook meals. During daytime hours, all guests have access to the whole facility, but please be respectful of the other small group in another building.
Tickets for the event and bunks can be purchased here: https://www.eventbrite.com/e/spiritual-and-psychic-sasquatch-conference-tickets-21312815204
Food will NOT be provided during the event but we will have a vendor with organic snacks and there is also a large kitchen that you can use to store perishables. We also plan to have a salad bar available for which you may pay the caterer directly. Otherwise, there are several places in downtown Chewelah to eat and shop (9 miles down the mountain from the event). No food is permitted to be left outdoors unattended, even if sealed. Safe storage will be provided.
For anyone planning a trip from afar, Spokane International Airport (GEG) is the closest one to fly into. Chewelah is about 60 miles from the airport (almost 90 minutes with traffic). There is a bus service called Gold Line that can transport you from the airport to the city of Chewelah, but the only stop in town is at the Safeway gas station which is 9 miles from the Chewelah Peak Learning Center up Flowery Trail Rd (Main St.) We do plan to have a van and a couple other vehicles as shuttles to and from the facility to town where food and shopping is, but they will most likely be set up for trips at designated times (still to be determined). Gold Line's bus fares are currently $22 from the airport to Chewelah. You can learn more about Gold Line here http://www.gold-line.us/schedule.htm
There is also the Coeur d'Alene airport in Idaho which is also about a 90 minute drive from Chewelah but I do not know of any provided transportation from there.
The Spiritual and Psychic Sasquatch Event will be streamed live online through Crowdcast on September 17, 2016 from the location in Chewelah, Washington! You can REGISTER, join the CHAT, suggest TOPICS, and ask QUESTIONS starting now! This will help our speakers to plan and incorporate your suggestions into their presentations during the live event. While the conference is streaming live on September 17th, it will automatically be recorded at this same link so that you can go back to watch it any time you like.
Click here to register to participate on Crowdcast now for only $1. Contributions are accepted as well, but the dollar registration fee is to ensure that everyone joining us is a person (not robots or spammers), and it also saves your spot and allows us to see the analytics so we can better plan for next year's event! https://www.crowdcast.io/e/SpiritualandPsychicSasquatch2016
A fundraiser has been started to help us meet our goal of $8,000 to make this conference happen and to cover travel expenses for our speakers. Any amount is a blessing and we know that this first event will take its own flight and carry through for many years. Help us bring the Sasquatch's message to Humanity to the world, by investing in this first historic step to creating a reality. It is Universally appreciated! https://www.gofundme.com/u4khpw3w
* Chewelah Peak Learning Center's website: http://www.awsplearningcenters.org/chewelahpeak/facilities/
* The Sasquatch Message to Humanity (50 chapters): http://sasquatchpeople.com/2015/09/29/sasquatch-message-for-humanity/
* Spiritual and Psychic Sasquatch Conference on facebook: https://www.facebook.com/events/569336789882090/
* Kewaunee and Kelly Lapseritis' website: www.psychicsasquatch.com
* Andrew Robson's website: www.sasquatchrevelations.com
* The Sasquatch People on Facebook: https://www.facebook.com/sasquatchpeople
* Chief Golden Light Eagle (Loren Zephier's) websites:
Star Knowledge http://www.star-knowledge.net/ AND Establishing Contact http://www.establishingcontact.org/Chief-Golden-Light-Eagle
* SunBow's website: http://www.isuma.tv/fr/ironwood-log-project
* Jenny Marks' website: http://jennymarks.com/
* Dr, Igor Burtsev on facebook: https://www.facebook.com/igor.burtsev
* Grey Wolf (Hal Will): http://www.compassionateseattle.org/group/friendsoftheforestpeople
* Wisdom from our Elders (facebook group): https://www.facebook.com/groups/elderwisdom/
* One United Nation for the Great Earth Peace (facebook group): https://www.facebook.com/groups/oneunitednation/
We are really looking forward to this event and so are the Sasquatch People! They are gathering many tribes and leaders for this event to connect with kindred spirits. This event is a one-of-a-kind, never one like it, so it may be unconventional from other conferences, but that is what we want! Feel comfortable being yourself and connecting with higher vibrations. If you have any questions or concerns, please email Kelly Lapseritis at kellyjlapseritis@outlook.com.