Description
This is the 8th Annual Spirited Woman Awards
The event takes place at The Pier V hotel 711 Eastern Ave, Baltimore, MD 21202 Friday August 11, 2017.
MyCity4Her.com, The Giving Spirits Foundation and Pier V Baltimore, part of the prestigious "Curio Collection by Hilton, will host the 8th annual "Spirited Women of Baltimore" Power Lunch to honor Baltimore's "Spirited Women," and the First ever "Spirited Man of Baltimore" and "Spirited Young Man Rising". The profits of the event will be designated to support the continued efforts of The Giving Spirits Foundation as well as Benevolent Baskets, a non-profit that endeavors to help displaced, in recovery and homeless women advance through work therapy.
The Power Luncheon and Awards Presentation takes place from 11:30 AM – 2 PM, Immediately after, guests will be invited to savor dessert, coffee and tea while experiencing "Fall Memo", a Luxe Lifestyle Salon featuring bespoke fashion, beauty, wellness and lifestyle purveyors until 3:30pm at which the Salon will be opened up to shoppers and those wishing to enjoy a fun afternoon in Baltimore's Inner Harbor until 5pm. Passes to "Fall Memo" are only $10 and offer the opportunity to win a $150 shopping spree with vendors at the event. Fall Memo passes are included with each regular ticket.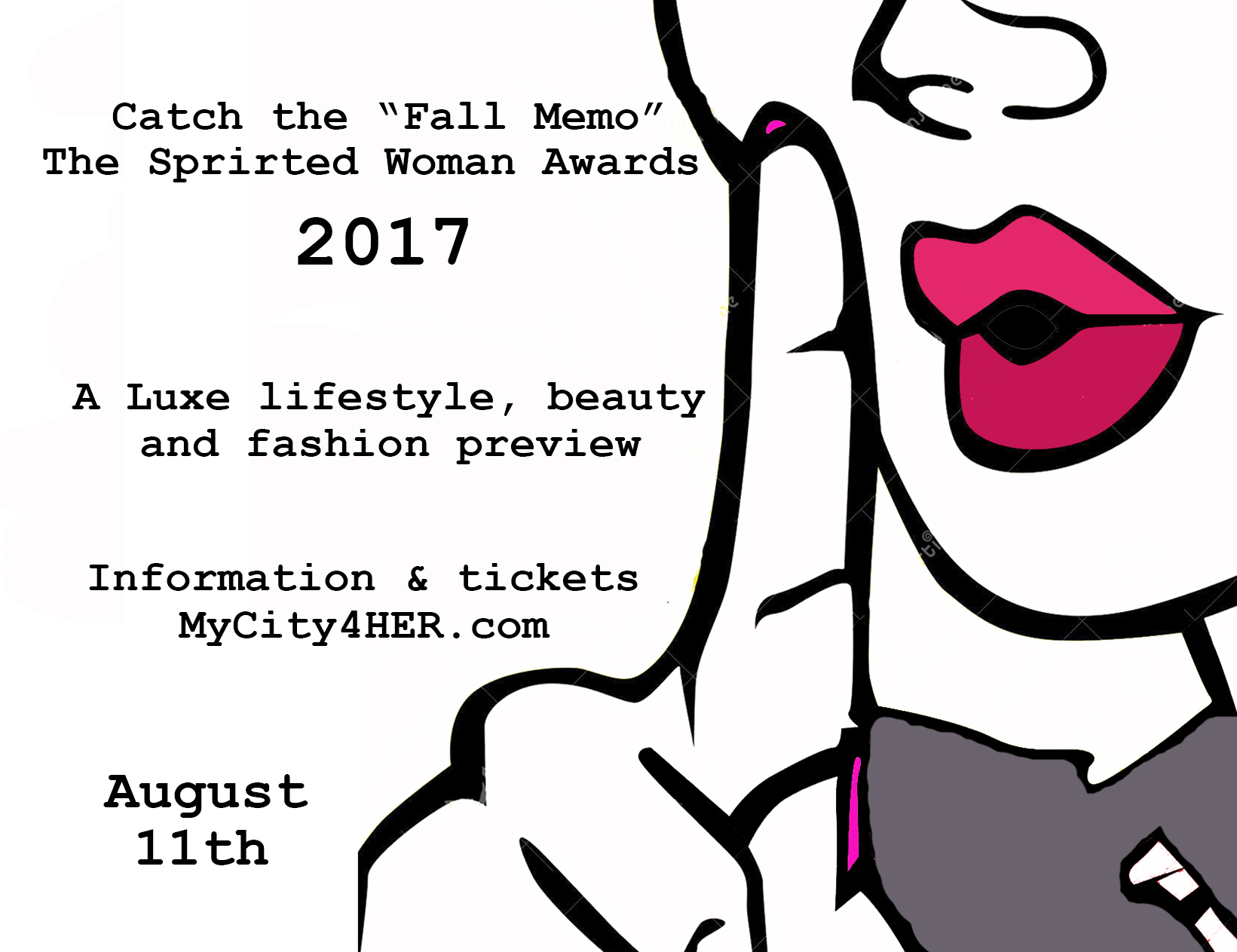 The Spirited Woman Power Luncheon was founded by MyCity4Her.com Publisher and Founder Monyka Berrocosa in 2006 in response to a national philanthropy award she had received on behalf of The Red Cross and Morton's "Women of Spirit" program.
In 2007, an Awards component was added to increase interest & provide inspiration. Over the year the event has grown and resumes this summer, in the Inner Harbor. This year's honorary Co-Chair is Owen Michael O'Donnell, a celebrity makeup artist, fashion expert and creative business expert. The event will be held at Baltimore's welcoming and most lovely, as well conveniently located Pier V Hotel right in the heart of our beautiful Baltimore waterfront.
This year's event includes "Fall Memo" - A fun, curated and lively preview of what's going to be hot for fall...including trends in fashion, makeup, tasty indulgences and more. Fall Memo will feature a wide range of offerings, raffles and be open as of 11am and will also feature fashion, coffee, tea and dessert, post luncheon until 3:30 for event attendees, then be opened up to the general public for a modest donation until 5pm.
Parking is available on site, as well as valet. The hotel is also able to make overnight packages available to guests, please call PierV Hotel for more information. For a link to what's going on in Baltimore that weekend - visit here.
Tickets are non refundable and there are no menu substitutions. Unreserved seating is first come first serve - doors open at 11:45am