Description
Gather in the Great Smoky Mountains' Happy Valley for a special autumn journey into the practice of Japanese forest bathing (Shinrin Yoku) and Ecstatic Dance. Our guest forest guide Nichalos Napoli will lead participants through a full day of opportunites to fall in love with Earth and connect with one's truest self.
Event Details
~ Begin the day with meditation, medicine music and spoken word.
~ Our Wisdom Circle will include greater connection with Nicholas as he shares his personal spiritual journey. He will also teach us about the benefits of Shinrin Yoku (forest bathing).
~ Practice Shinrin Yoku during a guided walk to a forest tea garden. Enjoy a tea ceremony, one-to-one guidance sessions and an animal spirit card reading. There will be ample time for personal reflection and journal writing in the forest.
~ The evening will feature an Ecstatic Dance, which is a meditative form of movement, to further draw us to connect with nature. Followed by a bonfire, intention and gratitude ceremony, spoken word, medicine music and mantras.

What's included: We will provide a health conscious bag lunch, assorted teas and at dinner we will supply soups and salads.
A basic animal spirit card reading and one-on-one guidance with Nicholas is included, however, arrangements can be made with Nicholas for a deeper reading for anyone called to dive deeper.

All taxes & fees are included in your ticket price.
What to bring: A dish to share at the community dinner. Any personal comfort items such as a blanket, walking stick, personal journal, etc. Plus an open heart & mind.

About Our Forest Guide:
Nicholas Napoli is a Human and a Healer. He is a traveler who was most recently leading Shinrin Yoku (Forest Bathing) activities in the Pisgah National Forest. Nicholas also conducts guided meditations, animal spirit card readings, personal guidance sessions, and sound healing with a hand pan. Prior to that, he helped poets and recovered addicts express themselves via the written word as the coordinator of MadTown Poetry and the Spiritual Potluck Poetry Groups. He is a founding member of the Madison Mutual Aid Network (madisonman.coop) and the former President of the 501(c)3 non-profit makerspace/art gallery, Confluent (www.confluent.space), in Richland, WA. Long ago he studied the physical and philosophical foundations of the universe as an engineer and academic. He enjoys traveling the globe, writing, and meeting authentic human beings. To learn more, see HowToFallInLoveWithEarth.com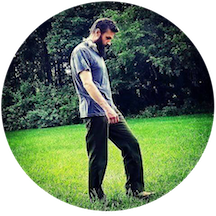 Questions: Can be directed to an event organizer.
Diana - db.bogan@gmail.com.
Hunter - hunter.farley@yahoo.com
Angelia -