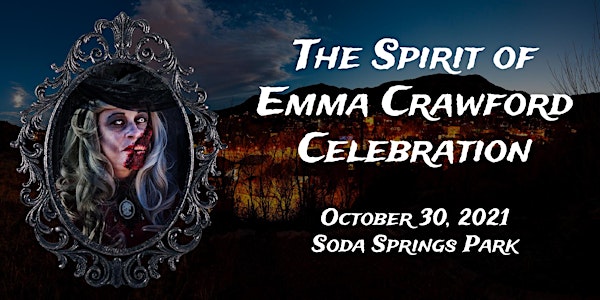 Spirit of Emma Crawford Celebration
Location
Soda Springs Park Pavilion
1070 Manitou Ave
Manitou Springs, CO 80829
Sales Have Ended
Ticket sales have ended
We'll see you there soon!
Spirit of Emma Crawford and the traditional Coffin Races that are held annually. No races this year, a parade, gathering & celebration.
About this event
In the sequel to "The Year that Wasn't", we're back again to honor the legend of Emma Crawford in our own Manitou way.
While there are no Coffin Races this year, there will be a celebration of all things Emma Crawford, complete with a hearse parade through downtown Manitou Springs, food and beverage vendors & live music in Soda Springs Park, door prizes and costume contests!
Check out www.manitousprings.org to get information on joining the hearse parade - and get your tickets here to attend the Halloween event of the season-the one where you're going to look out of place if you're NOT in costume!
Additional festivities will be announced here and on www.manitousprings.org.
Schedule:
12 pm - Hearse parade departs from Memorial Park and heads Westbound on Manitou Ave to Soda Springs Park
12 pm - LIVE MUSIC with ALL ABOARD in Bud Ford Pavilion at Soda Springs Park. Food and beverage vendors open!
1:45 pm - LIVE MUSIC with FAMILY ELEPHANT in Bud Ford Pavilion at Soda Springs Park.
3:30 pm - Best Emma, Best Couples Costume & Best Team Theme prizes awarded
3:45 pm - LIVE MUSIC TBD
HUGE THANKS TO OUR SPONSORS!
Pikes Peak America's Mountain
Manitou Cliff Dwellings
Manitou Springs Real Estate
*Kids 10 and under are free, but please get them a ticket to attend. Your 4 legged kids & fam members are allowed to attend, but please keep them leashed at all times so we don't need to ask you to leave the good times in the park!
You have questions? We have answers.
Why are there no Coffin Races this year?
After missing the beloved coffin races in 2020, we very much hoped to be racing up Manitou Ave again in 2021. Unfortunately, with the onset of the COVID Delta variant this summer, the City of Manitou Springs decided not to approve moving forward with an event of this magnitude in 2021 to protect the health and safety of attendees and residents/businesses in Manitou Springs. The Coffin Races has, in recent years, attracted over 10,000 visitors to the City, lining sidewalks with walls of people in close proximity and with no capacity limits to come and view this iconic event.
Manitou is currently the only community in El Paso County requiring an indoor mask mandate, emphasizing the importance of keeping those who live, work, and visit here safe.
How come we can gather for a celebration but not for races?
After the Coffin Races were set to be cancelled another year, event planners compromised with the City on still hosting the hearse parade and after-party in the park. There was ample uncertainty about having any "Coffin Race" events whatsoever, so organizers agreed to promote the event as "The Spirit of Emma Crawford Celebration". Without the use of shuttles and by limiting marketing/attendance, the City authorized the Chamber of Commerce to proceed with plans for a parade/celebration.
Why not close the street to bystanders, do the races, and livestream it. Pikes Peak marathon did JUST FINE with the absence of an audience.
Yes, we did livestreaming in the past for Coffin Races and it was fantastic! However, let's address the number one issue here: financing. Without our sponsors (who come for the benefit of big-time awareness and promotion in front of thousands of people), we do not have the means in which to close the street, barricade the sidewalks, hire event security and traffic control, and so on and so forth. Also, when we close the street, we shut down access to our local businesses - which, in this scenario, would be counterintuitive to the original purpose of hosting Coffin Races - to bring visitors to downtown Manitou Springs! So you see, spending lots of money to close the street to everyone for a livestream, in turn takes revenues directly out of the pockets of our downtown merchants.
Circling back around here- even though coffin racers pay an entry fee, it's a FRACTION of the cost that runners pay to race in the Marathon. Also, for those who were actually at the Marathon this year, there definitely was an audience as always. It just wasn't the 10,000+ attendees that Coffin Races will attract.
Why are you charging for entry to the Emma Crawford Celebration? The Coffin Races were always free.
Yes, races are free but they DO cost a whole lot, which is why we need our sponsors to support this event each year - it wouldn't be happening without them.
The Spirit of Emma Crawford Celebration is strictly bound to 500 attendees as an agreed upon capacity with the City of Manitou Springs. Going from 10,000 to 500 is a big jump. If we were to let tickets be free, there would be plenty of folks who might grab one (or ten) of those limited- quantity tickets and never have intentions of actually showing up. The $5 charge is as minimal as it gets, and your kids are FREE! This allows us to easily keep the event at it's capacity limit and still provide a Halloween-style party in the park in honor of Emma.
Why cancel the coffin races but have a coffin parade? Doesn't seem COVID related at that point..
This year's parade will not be the typical coffin team show-off down Manitou Ave. There will ONLY be vehicles in the parade. This allows Eastbound traffic to stay moving and limit detouring while this quick hearse parade leaves from Memorial Park at noon and heads to the roundabout in downtown. Again, races are a much more invasive and costly event that would attract an unsafe level of visitors to Manitou Springs.
You have to buy a ticket to stand on the sidewalk and watch the hearse parade? Or just if you enter the park itself?
No, you do not need a ticket for the parade! Check it out anywhere between the 600-900 block of Manitou Ave, starting at NOON on Saturday, 10/30.
Tickets are only needed to attend the Spirit of Emma Crawford Celebration in Soda Springs Park from 12 pm - 5 pm.