Spirit of Autumn – a celebration of Mid-Autumn Festival through folk music(Chicago)

Friday, September 5, 2014 from 7:00 PM to 8:30 PM (CDT)
Event Details
Spirit of Autumn, hosted by the Asian Culture & Media Group, will take place at Chicago, Chapel Hill and Boston during the September. Famous musicians and special guest artists will join a group of nationally-renowned singers from China to ignite the stage with the rhythm and colors of Chinese folk culture. This cultural treasure—every bit as mesmerizing today as it was 3,000 years ago—is packed with fun for families of all ages!
"民族风-中秋情" 2014 中秋联欢晚会
中国国家一级歌唱家团队.中国当红选秀节目青年歌手赴美演出.湖南卫视导演团队倾力打造   
遥望明月共此时,欢度佳节同相知。农历八月十五恰逢三秋之半,故名"中秋节",也叫"仲秋节",是中华民族古老的传统节日之一,也是我国仅次于春节的第二大传统节日。
为共庆中秋佳节,美国亚洲文化传媒集团将于今年九月在美国芝加哥、教堂山、波士顿三地举办"民族风-中秋情"2014中秋联欢晚会。 中国优秀青年音乐家、国家一级歌唱家们将在湖南卫视著名导演团队的带领下赴美为美国当地居民、海外华人华侨献上一场高水平的文艺联欢晚会。
时间DATE|城市CITY|地点 VENUE
2014年9月5日周五 Friday, Sep.5,2014|芝加哥Chicago | McAninch Arts Center, College of DuPage 
2014年9月7日周日 Sunday, Sep.7, 2014 |教堂山Chapel Hill|Memorial Hall, Carolina Performing Arts
2014年9月12日周五 Friday, Sep.12, 2014|波士顿Boston|John Hancock Hall, Boston
芝加哥演出售票地点
时间:2014年8月1日 -- 9月2日
地点:2463 S. Archer ave. Chicago IL 60616
电话:312-225-7520
票价:

$15   $25   $50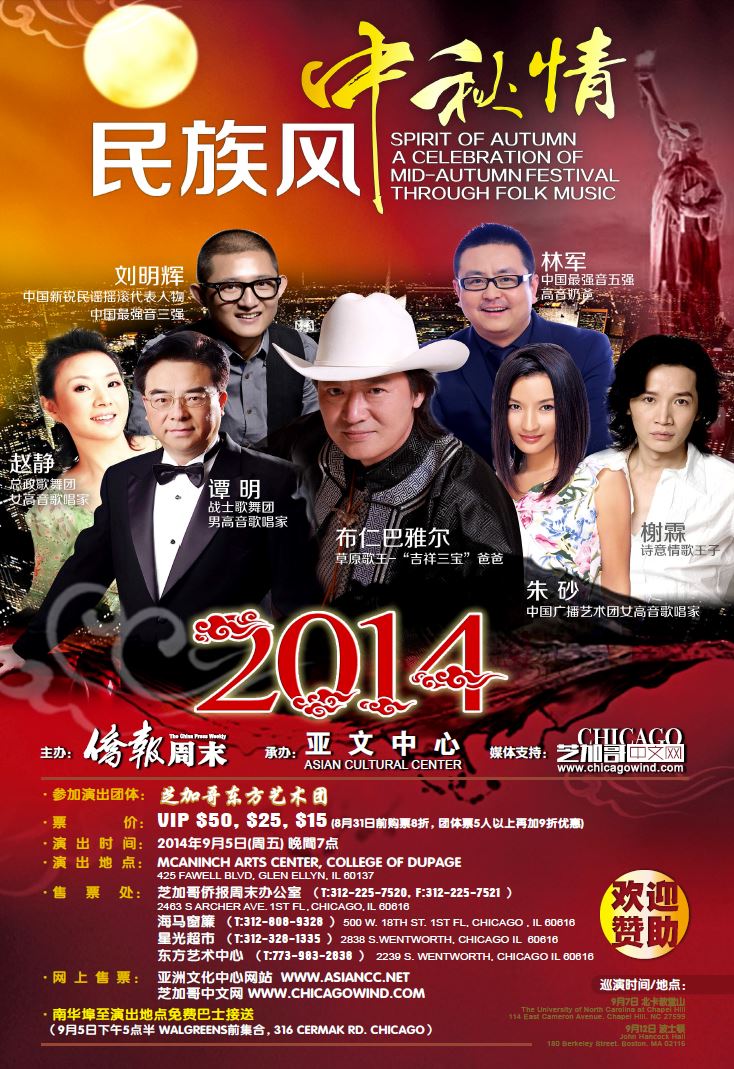 布仁巴雅尔
国家一级演员、著名蒙古族歌唱家。现任内蒙古呼伦贝尔学院北方民族艺术研究院院长、内蒙古呼伦贝尔学院北方少数民族艺术团团长。 "吉祥三宝"的词曲作者及演唱者。他被称为"蒙古族音乐教父"。
Buren Bayaer
He is a National First-Class Artist and famous Mongolian singer, currently serving as the Head of Hulunbuir Northern Ethnic Group Art Research Institute and the Inner Mongolia Hulunbuir Institute's Northern Ethnic Group Art Troupe. He is praised as "the Godfather of Mongolian Music".
国家一级演员、著名男高音歌唱家。中国音乐家协会会员、广州军区政治部战士歌舞团著名男高音歌唱家。
Tan Ming
National First-Class Artist, Member of the Chinese Musicians Association, Well-known Tenor of the Guangzhou Arts Troupe of the Army.
原中国人民解放军总政歌舞团女高音歌唱家。毕业于中国音乐学院歌剧系,现为中国音乐家协会会员。
Zhao Jing
Zhao was a Soprano of the PLA General Political Department Chorus. She graduated from the Opera Department of the China Conservatory of Music and now serves as the member of the Chinese Musicians Association.
朱砂
中国广播艺术团女高音歌唱家、国家一级演员。全国民歌精英赛金奖获得者。参加多年的中央电视台春节联欢晚会。全国青联委员。
Zhu Sha
Zhu is a member of the China Broadcasting Performing Arts Group, National First-Class Artist. Zhu is a Gold medalist of National Folk Song Elite Competition and a member of the All-China Youth Federation.
谢霖
毕业于广州星海音乐学院、首都联大艺术系、北京电影学院。曾在多部影视剧中担任角色。
Xie Lin
Xie graduated from Xinghai Conservatory of Music, Capital Union University and Beijing Film Academy. Xie has been starring in movies and TV series.
刘明辉
中国最强音全国三强。 新锐民谣摇滚歌手,原創音樂人。
Liu Ming Hui
Top 3 of "China's Strongest Voices" Contest (The X Factor); Rock singer-songwriter.
林军
"中国最强音"参赛歌手。擅长演唱摇滚作品。
 LIN Jun
 Rock Singer; participated in "China's Strongest Voices" Contest.
When & Where

Belushi Performance Hall
425 Fawell Blvd,
McAninch Arts Center at College of Dupage
Glen Ellyn, illinois 60137


Friday, September 5, 2014 from 7:00 PM to 8:30 PM (CDT)
Add to my calendar
Organizer
Asian Cultural Center U.S.A
Spirit of Autumn – a celebration of Mid-Autumn Festival through folk music(Chicago)