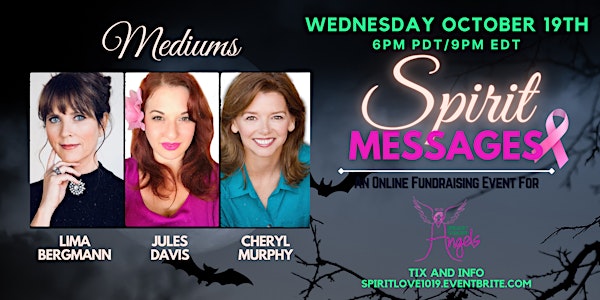 Spirit Messages Online - with Mediums Jules, Cheryl and Lima
Please join us for a Special Evening of Spirit Messages from the comfort of your own space to support Breast Cancer Angels.
About this event
Please join us for a Special Evening of Spirit Messages from the comfort of your own space for this 2 hour event!
Bring a friend for just $15 more (select add on at checkout).
This is a group event, and while we will do our best to reach as many people as possible, a ticket does not guarantee a reading.  Each person attending requires a separate ticket, even if you are sharing a device. This event will be held on ZOOM. Please make sure you have the latest version of ZOOM so you can easily log in to the event. The Zoom link will be sent via Eventbrite (confirmation email, on event link page, reminder emails), so please check your spam or other folders if you don't see it. Make sure you scroll through the entire email.
About the Organization:
Breast Cancer Angels provides direct financial and emotional assistance to breast cancer patients (and their families) as they undergo breast cancer treatment in the South Bay, Orange County, and San Diego areas. Depending on available funds, they also provide one-time emergency assistance in Los Angeles County and the Inland Empire. Corporate sponsors pay their overhead which enables us to give 100% of all funds raised, directly to the women and their families in need.
Each year they assist more than 600 clients and their families. Sadly, the need for support continues to grow. They are in critical need of Angel sponsors so that Breast Cancer Angels can continue this important work!
How the funds are spent:
Food Program
Housing Assistance
Clothes and Other Needs
Medical Co-pays & Cobra Costs
Transportation
Home Health Care & Final Expenses
Second Opinion Fund
Transportation and Related Costs
Utility Payments
They also assist with legal aid
Medium Jules Davis
Jules is a professional Psychic, Medium, Reiki Master, Crystal Healer, Spiritual Teacher and Owner of Auralux in Los Angeles. She has spent many years training with some of the most highly regarded teachers in all of her specialized fields. In Mediumship she has intensively trained both in England at the internationally acclaimed Arthur Findlay College and in the US with the same tutors from the college.  Jules' Psychic and Mediumistic abilities have been evident since she was a very young child. Many of her earliest memories include experiences with Spirit.  Jules works with all the Psychic Senses, she is clairvoyant, clairsentient, clairaudient, claircognizant and can even smell and taste.
Having experienced many significant losses and challenges herself, she has an abundance of love and compassion for the people she connects with through her work.  Her desire is to give her contacts another moment to share with their loved ones, and to create an environment for healing when needed.
Jules' work has been featured on BuzzFeed, E! TV, Mixed Makeup, Sunset Magazine, SuperDeluxe and LATV.
Medium Lima Bergmann
Dr. Lima Bergmann is a Soul Guide and Spiritual Medium with a background as a clinical psychologist. She uses this unique combination of skills to help people achieve psychological and spiritual transformation. Whether she is speaking to the public, working one on one with clients, or sharing messages from Spirit, Lima's goal is to help people live in alignment with their soul to create a deeper and more meaningful life.
Medium Cheryl Murphy
Cheryl has studied metaphysics for over 20 years including international studies in Brazil and Germany, and at England's prestigious Arthur Findlay College.
She has oriented her practice as a spiritual medium towards channeling loved ones who have passed over. She is a clairvoyant, healer, and ordained minister, as well as a certified hypnotherapist and an intuitive facilitator.
She loves helping people find their inner strength, and her delivery comes through in the most gentle and loving way. Cheryl often uses her ability as a psychic and a medium to help people make life's important decisions.
She is the founder of The Healing Prayer Circle, a member of Bob Olson's Best Psychic Directory and volunteers her time and energy locating missing persons with the Find Me Group, a non-profit organization.
_________________
Please Note:
By signing up for this event your email may be used by the Mediums to promote future events/services. You may opt out of these newsletters at anytime.
NO REFUNDS, However, tickets may be transferred to another name.
Purchasing a ticket does not guarantee a reading.  
A Demonstration of Mediumship is for entertainment purposes only. 
Additionally, information given is not meant to replace Medical, Legal or other Professional advice.
We cannot guarantee who will come through on the day of the event, nor who will receive a reading from the audience, but we can assure you that the messages from Spirit will be channeled from the highest vibration of LOVE.
We look forward to serving Spirit and connecting you with your loved ones!