Description
Spirit-Led Preparedness Conference Oct. 14-15th from 9 am to 5 pm both days.
Hosted by: Wendy P. Thueson, owner of Raw Chef Wendy, LLC and Claudia Orgill, owner of Healthy Preparedness, both are authors, speakers and entrepreneures.
What: This is a two day event where Wendy and Claudia have chosen specific presenters they knew would bring in the Spirit and would teach about experiences and knowledge that will help us be better prepared - spiritually, physically, and emotionally - for times ahead.

----------------------------------------------
The wonderful topics that will be covered include:
Strengthening our physical selves NOW for harder times ahead.
Healing from emotional trauma.
Healing from physical trauma.
Preparing foods in ancient ways.
Using our faith and angels to help us when we need them.
Understanding the power and protection of music.
Delivering babies naturally.
Understanding the poverty of health and disease.
And much more.
(See List of Presenters and Topics Below.)
---------------------------------------------
This is NOT your typical conference.
ALL presenters have been hand selected.

There will only be one class at a time so everyone can attend each class.

We don't do hype or major marketing to sell you all kinds of things. The speakers are the vendors too and will talk about what they have to help you in a variety of circumstances that pertain to the topic of preparedness.

Lunch is included the first day to help you feel the difference a healthy, highly nutritional meal makes in preparing your body physically now for what is to come. This is part of Wendy's class/lunch. Bring your own lunch or go out to eat the second day.

Speakers are hand-picked because of their skills, experience and expertise. You will come to love each and every one.


CLASSES: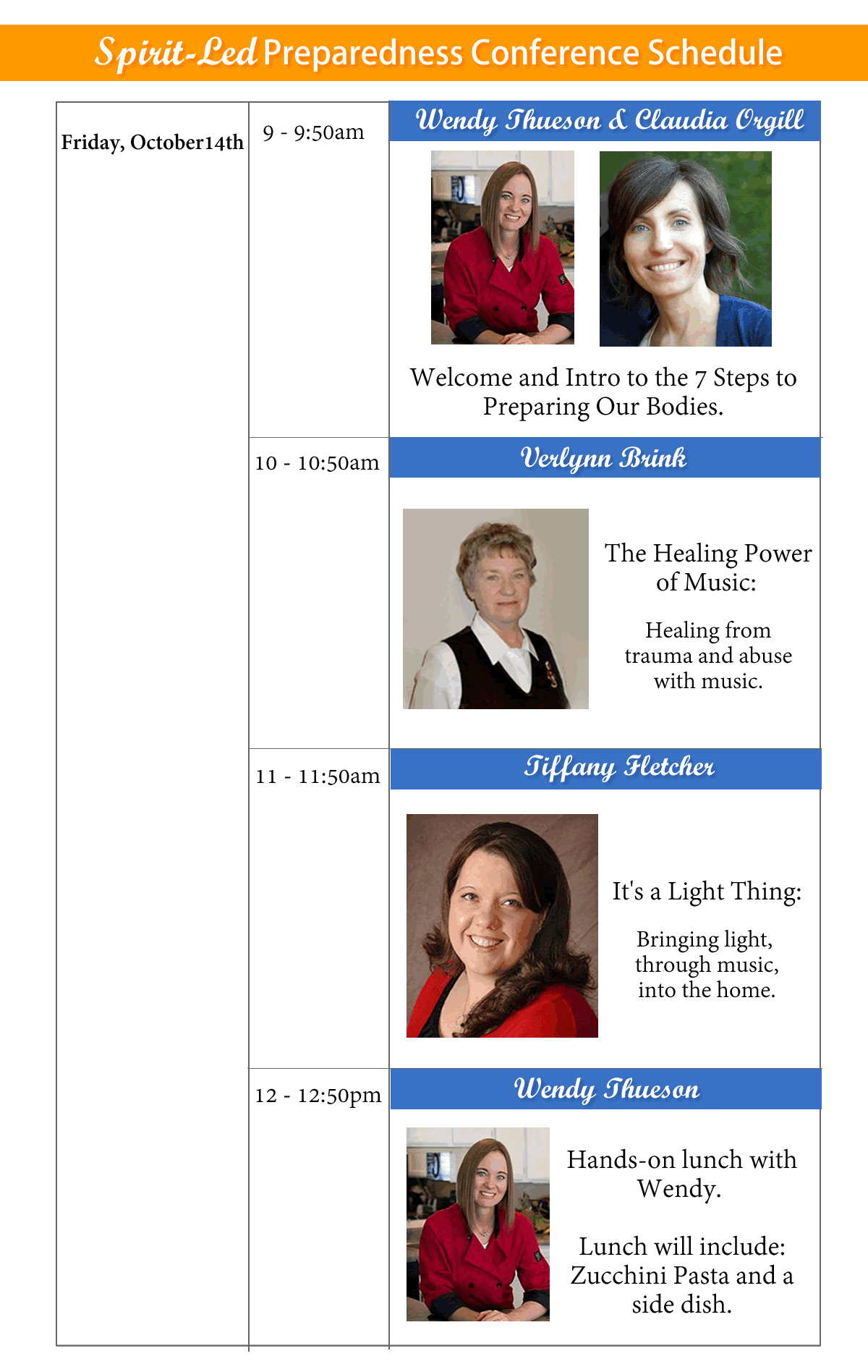 TEACHERS:
Ticket Price: $65 for both days. Includes a light lunch the first day during Wendy's Raw Food demonstration. Her 1 Day Raw Challenge will be served which includes:
Green Smoothie, Zucchini Pasta with fresh Marinara, Green Salad with Balsamic vinaigrette, and a Chocolate Brownie Bite. (Possible allergies: pecans, zucchini, tomatoes) Please bring your own lunch/snack if you desire.
Bring your own lunch the 2nd day or go out to eat at a restaurant nearby.
Purchase your tickets while they last. Seating is limited and this event will fill up fast! We are excited to see you there!
A recording will also be made of this two day event and is available for $35. Please pay through this link to reserve your copy. Thank you!