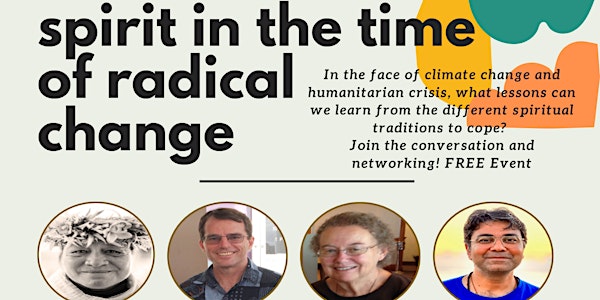 Spirit in the Time of Radical Change
In the face of climate change and humanitarian crisis, what lessons can we learn from different spiritual traditions to cope?
By BDK-Fujitani Interfaith Program, CUH
Date and time
Sunday, March 19 · 2 - 4pm HST
Location
Chaminade University of Honolulu, Mystical Rose Oratory 3140 Waialae Avenue Honolulu, HI 96816
About this event
Aloha! Join us for this in-person Discussion with an opportunity to network after.
Livestreaming of the event, courtesy of Chaminade University's Campus Ministry.
Livestream: Spirit in the Time of Radical Change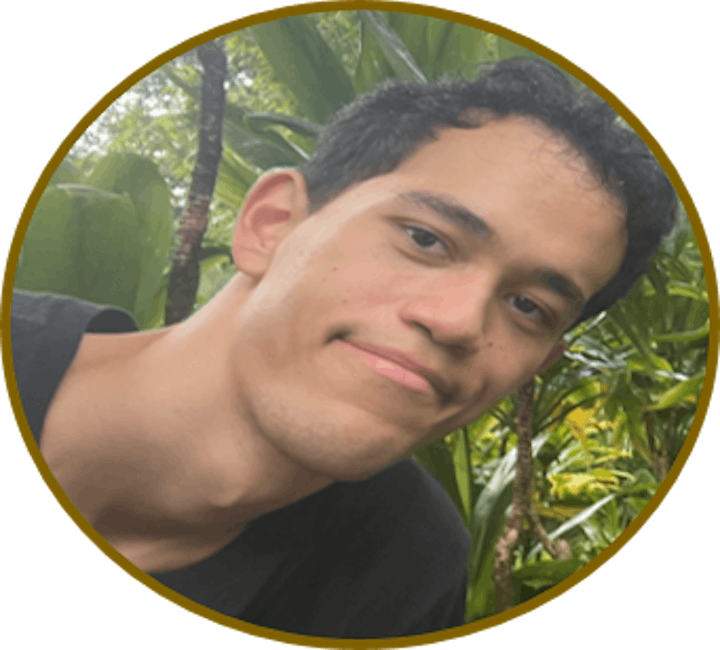 La'a Kyle-Jacob Gamiao, Chaminade University c/o 2026, Host
La'a is a transfer student to Chaminade University and in his freshman year of undergrad studies. He is double-majoring in Environmental Science and Environmental Studies, with a minor in Data Science, Analytics, and Visuals. La'a is interested in ecology in general. However, he would like to focus on the ecology of the Hawaiian islands and eventually work his way towards the Continental US. to share whatever he finds with the community. He also wants to study unique habitats in the states as well as in other countries. La'a's future dreams would be working for the United Nations Institute for Training and Research (UNITAR) to help contribute an indigenous Hawaiian perspective to the scientific community and the world at large.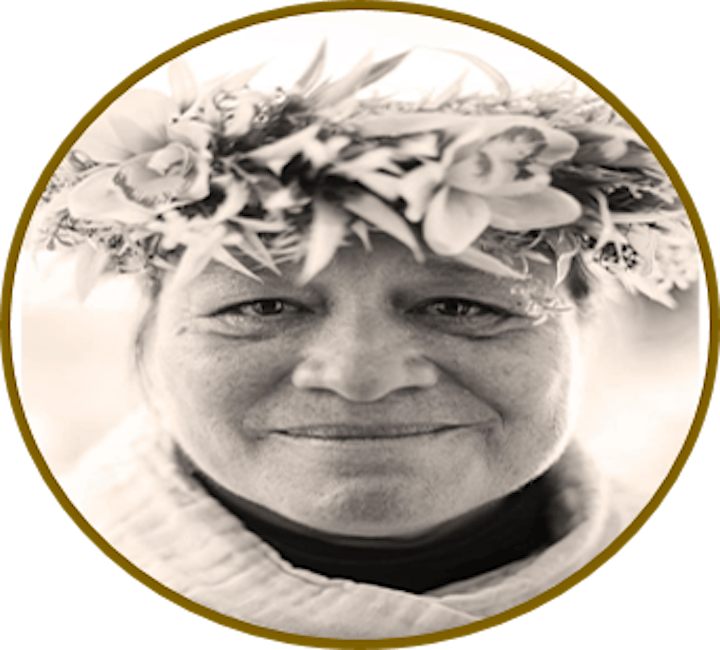 Manulani Alulu Meyer, Konohiki of Kūlana o Kapolei - University of Hawai'i West Oahu , Discussion Guest
Manulani Aluli Meyer is the fifth daughter of Emma Aluli and Harry Meyer who grew up along the shorelines of Mokapu, Kailua and Hilo Palikū. She is a twin sister to Moana and both are part of the larger Aluli ʻohana dedicated to ʻike kupuna and aloha ʻāina. Manu is a native Hawaiian scholar-practitioner coming home to O'ahu after 40 years -- 27 years in Hilo, 7 years on the continent, and 6 years in Aotearoa. She is a world Indigenous scholar dedicated to the clear expression and creative activation of ancient knowledge systems to better address the needs of our time. She earned her doctorate (Harvard Ed.D, 1998) on the topic of Hawaiian epistemology - philosophy of knowledge - and remains dedicated to its mythic capacity to inspire, instruct and heal. Dr. Aluli-Meyer is active in the food sovereignty, aloha ʻāina, EA Hawaiʻi, and hoʻopono movements throughout Hawai'i and Oceania. She is now the Konohiki of Kūlana o Kapolei - a Hawaiian Place of Learning at the University of Hawai'i West Oahu, and lives in the mauka lands of Palehua with her beloved Ngahiraka Mason. Aunty Manu has been a wahine kalai pōhaku (rock carver) for many years. She is also a practitioner of hoʻoponopono, and enjoys her work in the cultural agroforestry movement called: Niu NOW! – Honoring our coconut heritage. Hoʻopono: Mutual Emergence is her second book and will be out in 2023.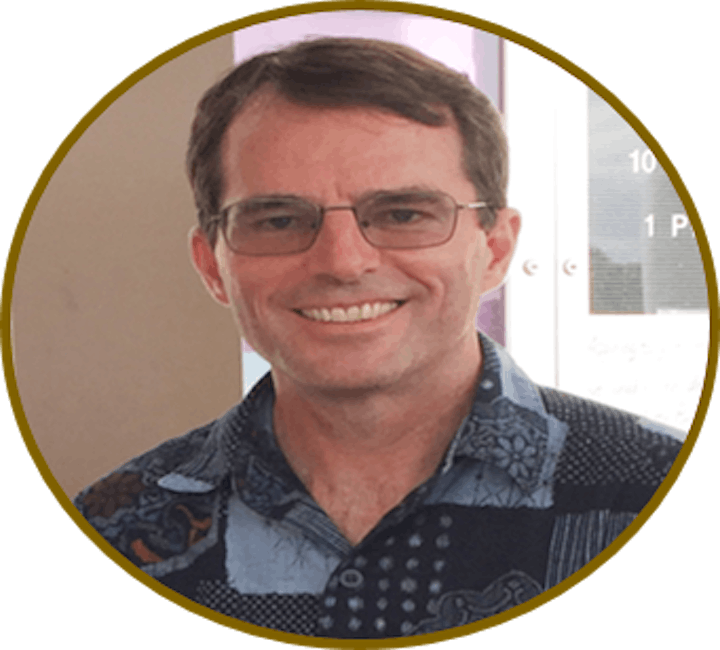 David Atcheson, Board Member, Honpa Hongwanji Hawaii Betsuin, Discussion Guest
David grew up in Washington State, mostly in Seattle. His father (deceased) was an Episcopal priest and his mother was an educator. The outdoors became a big part of David's life through Boy Scouts, a summer job in trail maintenance, and kayak trips in Canada and Alaska. After college in California, where he majored in English with a creative writing emphasis, David returned to the Northwest and worked as a technical writer and later environmental campaigner and website developer. David, his wife Penny, and their daughter Koki were members of Seattle Betsuin Buddhist Church before moving to Hawaii in 2011, the year Koki started high school at Pacific Buddhist Academy. David currently serves on the board of Honpa Hongwanji Hawaii Betsuin and on multiple statewide Hongwanji committees, including Social Concerns and Archives. For parts of 2021 and 2022, he served as Interim Executive Director and Business Manager at Hawaii Betsuin.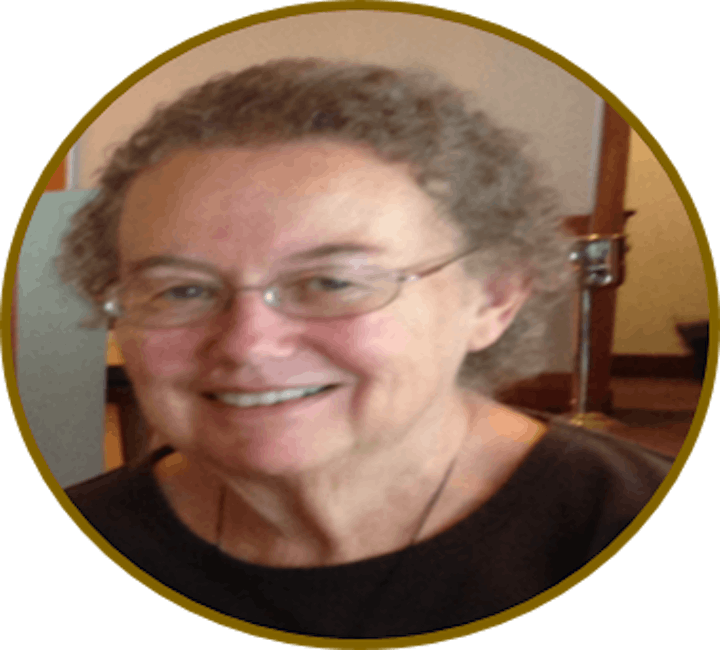 Mary Anne Magnier, Honolulu Friends Meeting, Clerk, Discussion Guest
Mary Anne was born and raised in Philadelphia . She moved to Honolulu with her husband and 2 children in 1975. She attended William S Richardson law school and graduated in 1983. She clerked for the Intermediate Court of Appeals and worked at Native Hawaiian Law Corporation until 1985 when she joined the department of the attorney general in the area of Family Law. She supervised the family law division for about 20 years and retired in 2016. She has been a member of the Honolulu Friends Meeting since her arrival in Honolulu and is presently serving as Clerk. Her husband passed away in 2011. She remains close to her two children and three grandchildren. Since retirement she has continued her studies at the university of Hawaii.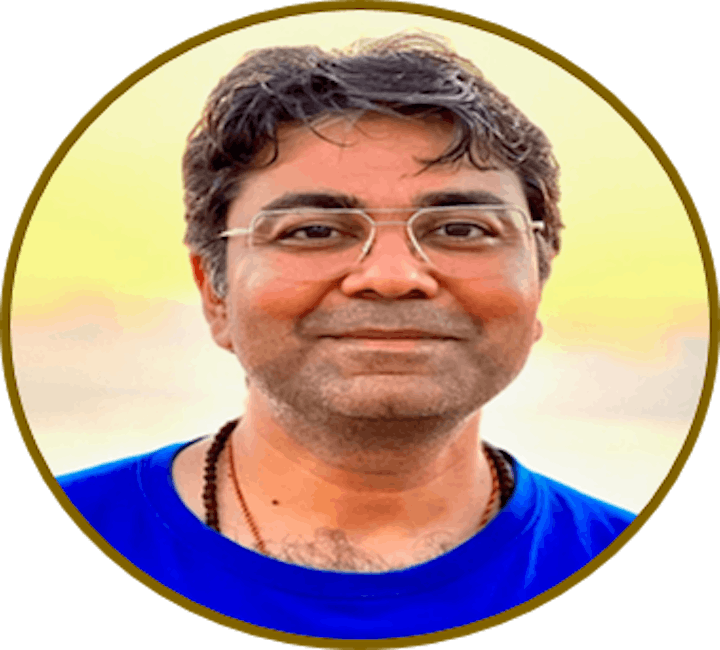 Akhilesh Tiwari , PhD Student, University of Hawaii at Manoa, Discussion Guest
Akhilesh joined the PhD program at UH Manoa in January 2022. He came to Hawaii in December 2021 from Jaipur, his hometown in India. This was his first time to Hawaii — he was not planning to come here and Hawaii was not even on his list — but circumstances worked in a way that he found himself here. When he arrived, he felt — rather strangely — that he has come home! He felt a deep sense of belonging and connection and felt as if the land has embraced him.
Akhilesh has multidisciplinary education and more than 20 years of multifarious work experience. He did his BA in Philosophy, Political Science, and Economics, from the University of Rajasthan, India; Post Graduate Diploma in Business Administration from Cardiff University, Wales, UK; Master of Business Administration (MBA) from Durham University, England, UK; and Master of Public Administration (MPA) from Kennedy School of Government, Harvard University, USA. He has worked as a farmer, a strategic management consultant, and an entrepreneur setting up a construction and real estate businesses and manufacturing plant in his home state Rajasthan, India. He has also participated actively in politics and contributed to public policy reforms especially in the field of education. He feels nourished in academic environment and aspires to be a teacher and a researcher. To get trained in that and later on pursue an academic life he left his successful career behind and joined the PhD program at UH Manoa.
Inspired by his family that upholds the Indian Vedic spiritual tradition of Sanatana Dharma and his encounter in his undergraduate years with the work of the Greek philosopher Plato, especially The Republic, he embarked on the quest for the meaning and significance of life and has with time evolved into becoming an ardent seeker of Truth. In personal capacity, not in an academically critical fashion but with an attitude of respect and appreciation and a sympathetic emotional disposition, he has studied the central tenets of the major religions of the world. His aim has been to uncover gems that could help enrich his personal spiritual cultivation and growth. He finds himself home in the philosophy and mantric poetry of Sri Aurobindo and aspires to walk the spiritual path of Integral Yoga offered by Him. He is a devotee of the Divine Mother and seeks eternal refuge at Her Lotus Feet.