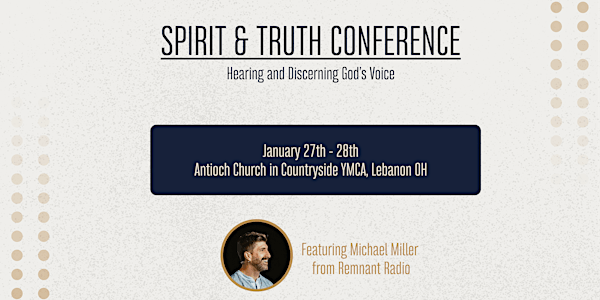 Spirit and Truth Conference
Join us for a weekend of learning to hear and discern the voice of God.
When and where
Location
Countryside YMCA Event Center 1699 Deerfield Rd Lebanon, OH 45036
About this event
Over the past several years God has been leading our church on a journey as we worship Him in Spirit and Truth. It is our desire to know and love the Lord and experience the fullness of all He has for us. To this end, we have sensed the Lord leading us to host a conference to further grow in this process. We are so excited and we hope that you will join us!
Here are the details:
What: Spirit & Truth Conference - Hearing and Discerning God's Voice
Where: Countryside YMCA Event Center
Schedule:
Friday, January 27
6:30pm - Session 1 - Who does God speak to?
Saturday, January 28
9:30am - Session 2 - How does God speak?
Break for lunch (not provided)
2:00pm - Session 3 - What happens if we get it wrong? What is a false Prophet?
Break for dinner (not provided)
7:00pm - Session 4 - How should Prophecy be exercised inside the church?
Michael Miller will be joining us from Denver, Colorado. He is a Practical theologian whom we have come to trust. He co-hosts a podcast called "Remnant Radio". We would love for you to learn more about him here (https://theremnantradio.com) or here (https://www.thomasministries.org/about).