Spirit and Place: Fordson: Faith Fasting Football

Friday, November 9, 2012 from 7:00 PM to 9:00 PM (EST)
Event Details
Join us for a viewing of the film  Fordson: Faith, Fasting and Football at the NCAA from 7-9pm.   
How does an Arab-American football team compete while fasting for Ramadan? Muslim teens in Detroit confront rivals on the field during this holy month and struggle for acceptance in post 9/11 American in the documentary Fordson: Faith, Fasting, Football. See the movie, listen to a discussion with players, coaches, and film directors, and take part in a Q&A with the film's producer, Rashid Ghazi!
Parking in NIFS parking lot at IUPUI. 
 --
Register above or through the Spirit & Place Festival! Either way, we look forward to your attendance.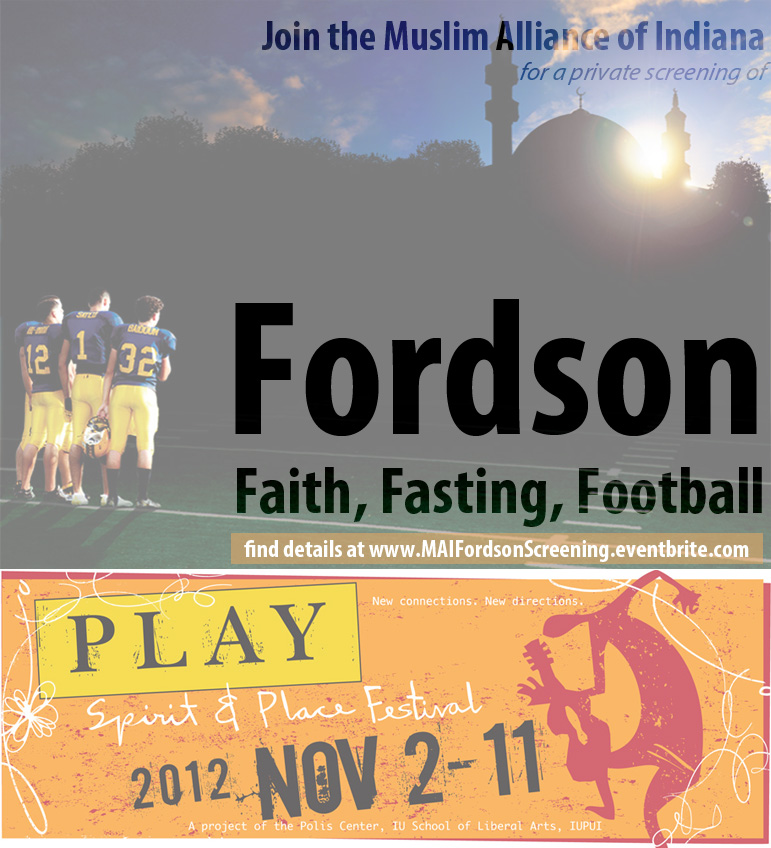 Organizer
Muslim Alliance of Indiana
THE MUSLIM ALLIANCE OF INDIANA
...advocate, collaborate, empower, engage, serve

After the events of 9/11, mis­in­for­ma­tion regard­ing Mus­lims and Islam rapidly spread through­out the nation and Indi­ana alike.  A small group of lead­ers within the Mus­lim Hoosier com­mu­nity real­ized that the most effec­tive path to dis­pel these mis­con­cep­tions was to rally Mus­lim Hoosiers together and to encour­age civic engagement.  From this small group, the Mus­lim Alliance of Indi­ana was born. 
Since its incep­tion, the MAI has worked consistently for an Indi­ana that not only ensures social jus­tice for Mus­lims, but for all Hoosiers.  We rec­og­nize that in bring­ing Mus­lims together, we reignite those tenets of our faith that lead us to serve and to ded­i­cate our­selves to a bet­ter world.  We are com­mit­ted to devel­op­ing high-quality edu­ca­tional, outreach, and social, pro­grams designed to fos­ter coop­er­a­tion and under­stand­ing both with other reli­gious com­mu­ni­ties as well as civic and ser­vice organizations. 
As the Mus­lim Alliance of Indi­ana cel­e­brates its sec­ond decade of ser­vice, our focus areas are: Access to Justice, Civic Engagement, and Interfaith Cooperation. 
Spirit and Place: Fordson: Faith Fasting Football