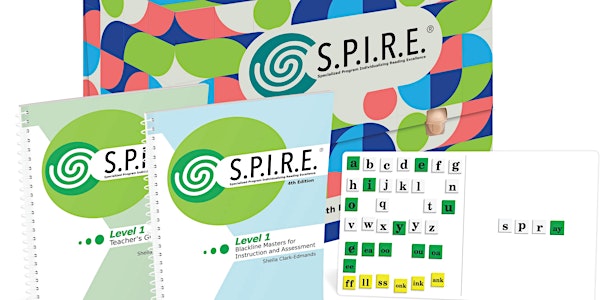 S.P.I.R.E. 4E Full Day Workshop: Virtual Professional Development (Central)
This hands-on, virtual S.P.I.R.E.® workshop is designed to provide you the skills and strategies to effectively teach the SPIRE program.
Refund Policy
Contact the organizer to request a refund.
Eventbrite's fee is nonrefundable.
About this event
S.P.I.R.E. Virtual Professional Development:
This interactive, structured-literacy based professional learning is designed to provide you the skills and strategies to effectively teach the S.P.I.R.E.® program. Registration is limited so be sure to get your ticket and check your email for your Eventbrite order confirmation, which will include a link to the online zoom meeting.
About S.P.I.R.E.
S.P.I.R.E.® - Intensive Reading Intervention providing explicit Teacher-led Instruction for nonreaders, struggling readers, and students with dyslexia. 
About the Workshop
Attend our virtual S.P.I.R.E. workshop to learn specific hands-on strategies for direct multi-sensory teaching, utilizing SPIRE's explicit 10-Step lesson plan and its unique scope and sequence to effectively begin implementing SPIRE. This workshop will lead you through instruction in phonological awareness, phonics, fluency, vocabulary, spelling, and comprehension all within a carefully designed format based on how struggling students learn. In this engaging, interactive workshop, participants will:
An overview of Structured Literacy
Learn how to assess the phonetic level of students and how to place them at the appropriate S.P.I.R.E. level
Optimize the use of the S.P.I.R.E. materials and the time saving, teacher-friendly lesson plans included for each lesson
Understand and practice the multisensory teaching techniques utilized throughout the 10-step lesson
Identify the progress monitoring assessments built into the program to ensure student success
Discuss S.P.I.R.E.'s structure, pacing and opportunities for differentiation with experienced practitioners
Sound patterns and division rules
Discussion forums with other participants
Trainer(s):  Scott Green
What is included:
The materials provided are designed to be used as working materials for this professional learning workshop only to include one each of the following S.P.I.R.E. 4th Edition materials (note, this is Not a complete Level Set):
• (1) Level 1 Teacher Guide   
• (1) Level 1 Blackline Master 
• (1) Level 1 Student Workbook 
• (1) Level 1 Word Cards 
• (1) Small Phonogram Cards Level 1-5
• (1) Manipulative Kit 
• PD Manual - The SPRE Family PD Manual must be accessible to each participant during the workshop.
Note: The materials provided are designed to be used as working materials for the professional learning workshop. The actual SPIRE 4E STAR materials will need to be purchased separately to include the Complete Sets which include the Digital Teacher Companion and the STAR assessment with the Student Bundles.
Shipping Course Materials: Registrations and payment must be received 14-days prior to allow sufficient time to receive materials. Registrations received within 14-days will receive the PD manual, materials not guaranteed to arrive however before PD.
Workshop Agenda: We'll be providing the virtual workshop via Zoom in 3 modules, each 1.5 hour.
Module 1 9:30 AM - 11:00 AM (central time)
Break
Module 2 11:15 AM - 12:45 PM (central time)
Break
Module 3 1:30 PM - 3:00 PM (central time)
The final Eventbrite email reminder to all paid registrants will include the Zoom link to join the session prior to the professional learning. Online Check-in suggested 5 minutes prior to the start. Note, your registered Name and Email on Eventbrite must be the same when you log on to Zoom for the workshop.
**This is a virtual event that will be hosted on Zoom - you will need access to a computer or other device that is capable of accessing and sufficient Internet access. If you have not used Zoom before, you may consider referencing Getting Started with Zoom.**
Who should attend?
This workshop is valuable for all educators: Special Education Teachers, IEP & SETSS Teachers, General Education Teachers, Resource Specialists, Reading Specialists, and other staff who work with students with reading difficulties.