About this Event
SPINDRIFT is a cinematically-driven, psychedelic "western" rock band based out of Los Angeles, CA, led by singer-songwriter-producer-composer-guitarist Kirpatrick Thomas with Becca Davidson (Guitar, Vocals), Riley Bray (Vocals, Bass & Baritone Guitar), and Joe Zabielski (Drums, Percussion, Synths & Sampler). Among many various EP/Single releases, they've produced and released two feature films with soundtracks available on Teepee Records, (The Legend of God's Gun, Ghost of the West), in addition to two full LP albums on Xemu Records, (Classic Soundtracks Vol 1, The West). SPINDRIFT has contributed to several film scores and soundtracks, most notably HBO's "East Bound & Down", Quentin Tarantino's "Hell Ride", and Viceland's "Hamilton's Pharmacopeia."
The band has actively toured the U.S. and Europe since 2004 while performing with acts such as X, The Dandy Warhols, Black Rebel Motorcycle Club, Dead Meadow, The Black Angels, and Kurt Vile. They've helped ignite the psychedelic revival of the 2000's, with highlighted performances being Austin Psych Fest, Roadburn Tilburg, Levitation, Liverpool Psych Fest, SXSW, and film screenings accompanied by performances at Park City's Slamdance Film Festival and Spain's Almerian Western Film Festival 2014, 2017. Members of the band have crossed over with other acts such as The Brian Jonestown Massacre, Psychic TV and have had strange collaborations with punk legend Jello Biafra on tunes such as "Ghost Riders in the Sky" during their Ghost Town Tour of 2012. A ambitious tour which was documented in the film "Ghost of the West"(Directed by Burke Roberts).
While in their formative years in the 1990's, SPINDRIFT slowly developed their own mixture of sounds reminiscent of 60's psychedelic rock like The Doors and 90's shoegaze similar to My Bloody Valentine, however, while relocating from Newark, DE to Los Angeles in 2001, Thomas & Co. were captivated by the wide, expansive, unfolding western landscape and began to develop a more mature, conceptual approach to songwriting. Utilizing Ennio Morricone influenced chord progressions, spacey soprano vocals, twangy doubleneck bass/baritone guitar, and string section like guitar effects, their sound has evolved into that of a psychedelic, spaghetti western rock orchestra which continues to evolve with each film they score.
Most recently the band collaborated with Hollywood/Bollywood actor Bivas Biswas and actress Sapna Gandhi on the Hindi sung "Dil Gera Na De (Don't Fall For Me)". The new single was released by Divine Droid Records in the United States and India with a new video directed by Mike Bruce (Noel Gallagher, The Legend of God's Gun). In Winter 2018, the original East Coast lineup reunited to celebrate the release of the first 8 songs the band recorded (in Newark, Delaware) from 1991-1995 a newly added studio tune "Cabin Fever," through SDS distribution. Currently, the band is actively working on finishing the next studio release for 2019 and continue to book US and European tours and Festivals.
The Asteroid No.4 is an American psychedelic band based in San Francisco, CA. Originating from Philadelphia in the late 1990s, the A4 remain an active studio and live act who are considered stalwarts of the modern "psych" genre. Known for their prolific discography of reverb-drenched recordings and liquid-projected live performances, the band is often categorized as "neo-psychedelic" or "shoegaze". Happily in acceptance of often made comparisons to acts like Spacemen 3 or "Paisley Underground" kingpins, The Rain Parade; the band indeed has a sound all its own. The Asteroid No.4 is slated to release their ninth full-length album in early 2018.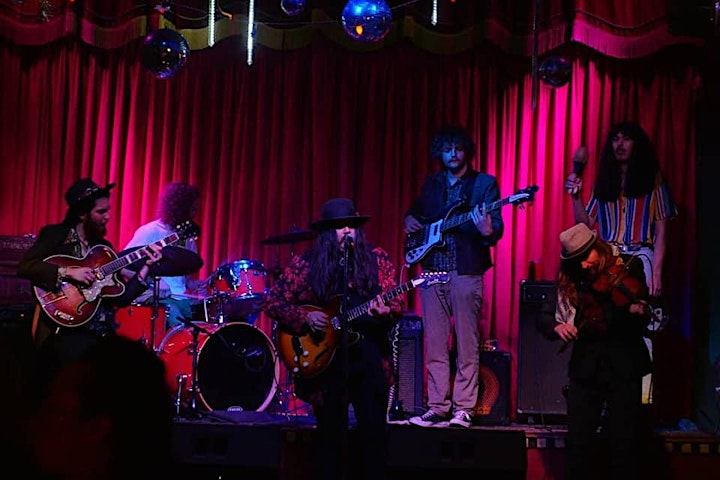 Floating above the blanket of fog covering the sacred lands of San Francisco our mother earth partook in the phoenix ceremony with the dying cosmic correlation conspiracy and birthed a new entity. Father-Times' magic Bolero hat of black matter thread and space colored felt. Within the crown of the Bolero are the ballads of the Four Themes: Reality, Folklore, Mysticism and Love. These themes are actualized in a physical band that performs by the name BOLERO. The group performs a dynamic and rich range of compositions that ride the sharing boarders of blues, jazz, soul, rock and roll, folk, latin and gypsy music, yet while sounding distinctly their own.
Performers
Date and Time
Location
Refund Policy