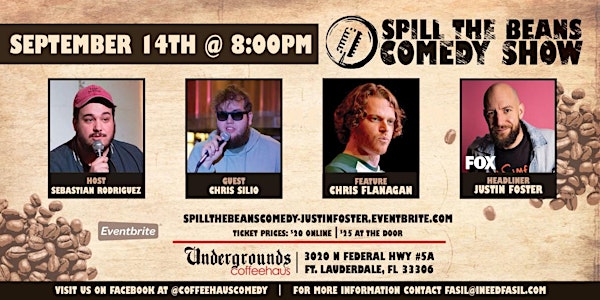 Spill the Beans Stand Up Comedy Show- Justin Foster (Special Event)
When and where
Location
Undergrounds Coffeehaus 3020 N Federal Hwy #5a Fort Lauderdale, FL 33306
Description
Please purchase your tickets in advance! This venue is perfect for an intimate comedy club feel, however, there is a limited seating of just 40 per show!
---
Justin Foster is a native Texas comedian now living in Los Angeles. Justin quickly charms the audience with his weird, slightly off, yet likable personality that allows him to delve into personal stories of sobriety, his fear of flying, and moving in with his girlfriend. Strange, hilarious, and often unpredictable, Justin travels the country performing at theaters in Seattle, bar basements in North Dakota, and every place in between. Justin has been featured on the Joe Rogan Podcast, in the Burbank Comedy Festival, the Cape Fear Comedy Festival in North Carolina, San Diego Comedy Festival, "Fresh Faces" at the Laugh Factory, and has been voted one of the Top Funniest Comics in Texas by the Improv multiple times. His debut comedy album, 'DANGERLESS', released worldwide 3/2/18 and debuted at Number One on iTunes. He is also the host of the popular "Foster the Podcast", now available on iTunes".
Click here to get a glimpse of Justin's style of comedy.
What is Spill the Beans Comedy? Click here to see what is Spill the Beans Comedy and here to read about the Broward Palm Beach New Times article about Spill The Beans Comedy.
Drink coffee? Like to laugh? Perfect, sounds like we just figured out your Saturday night plans. Join some of the funniest comedians in South Florida as they spill the beans AND the laughs, at the Undergrounds Coffeehaus for another Spill the Beans Comedy Show. Catch a glimpse of what you'll experience by clicking here.
Just like the wide selection of coffee, we brew an eclectic mix of comedians to ensure a little something for everyone – no matter their palate. Like your coffee strong and bold? There's a comedian for that. Maybe you prefer a smooth roast with understated hints of flavor. Yea, we've got laughs to match that too.
The Spill the Beans Comedy Show is produced by the award-winning comedian, Fasil Malik. Fasil is known for his one-liners and deadpan delivery. He is a three-time Ultimate Miami Comedian finalist (2015,2017 & 2019), a 2018 top 101 World Series of Comedy Comics in the Country and the winner of the Coconut Grove Comedy Festival and Coral Gables Comedy Festival. He's funny, he's quick, and he's a huge fan of people who don't heckle comedians.
Be sure to get your tickets now as these shows usually sell out!
*Show contains adult content